Digital tools driving innovative clinical trials
Views & Analysis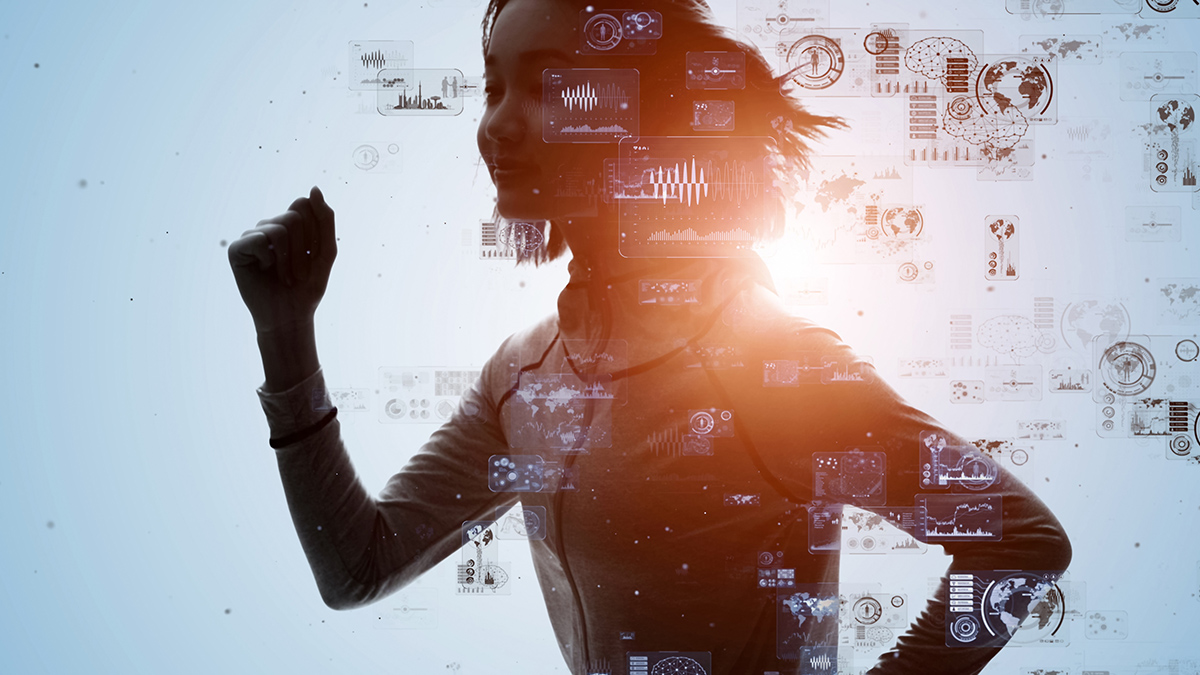 The COVID-19 pandemic has catalysed significant changes in the way pharma develops drugs, particularly in the clinical trial space. Hybrid or decentralised clinical trials (DCTs) have gained traction as technology, infrastructure and knowledge have evolved to support their use.
Preliminary research suggests that hybrid DCTs can reduce trial timing and resources, improve patient-centricity and  patient engagement, and expand access and recruitment and increase diversity, mitigate bias, and reinforce inclusion in clinical trials. A recent Science 37 survey noted that nearly three-quarters (73%) of respondents from the pharma industry were planning a hybrid or DCT, up from 49% in 2021.
"DCTs have been around for many years, long before the pandemic, but now companies have had the opportunity to utilise DCT approaches," John Reites, CEO of Thread, told pharmaphorum. "They can solve some immediate challenges with participation in research by conducting eCOA (electronic clinical outcome assessment) remotely or doing virtual visits. We have also seen the regulators actively support the use of these hybrid decentralised research approaches. Importantly, they enable pharma to be more patient-centric and design trials that are more conducive to people's lifestyles, giving participants choice on how they want to participate in a study. In addition, the modern clinical trial can be more inclusive, because it opens up the geographic boundaries that may otherwise limit participation."
New sensor technology revolutionising data collection
A variety of digital and sensor technologies have been developed for use in clinical trials to allow the collection of high-quality, reproducible data and provide trialists with real-time insights (Table 1). These tools are already being used by big pharma to monitor congestive heart failure, arrhythmias, hypertension, sleep disorders, diabetes, and respiratory disorders and their use in other therapeutic fields is likely to expand. Significant opportunities exist for pharma to partner with technologists to leverage digital and sensor technologies to drive further time-and cost-efficiencies in clinical trials.
Table 1: Digital and sensor technology available for use in clinical trials

Source:  Izmailova et al, 2017
A new generation of wearable injectors and connected devices emerging that may also have an important role to play in hybrid and DCT trials, these include on-body injectors from Novo Engineering and Tsachi Shaked that ease home administration for the subcutaneous delivery of time-dependent, high-volume, and viscous drugs including biologics and chemotherapeutics.
However, few of the current digital solutions are medical-grade devices and more work is needed to develop tools that are fit for purpose. As Reites points out, "there are two main categories of digital sensors: 510(k) cleared and CE-marked medical devices. These devices and/or the endpoints they generate are with the rigour required to be submitted to regulators. The other type is consumer wearables, voice activated tools and images that can be generated on mobile phones."
Each device type has an important role to play in hybrid and DCT trials.
"Consumer wearables demonstrate value on exploratory endpoints, whereas medical-grade devices have higher value both as secondary and, in some cases, primary endpoints," notes Reites.
Novel digital endpoints
Pharma companies have begun to explore a host of novel digital endpoints that could have far-reaching implications for accelerating drug development and adoption. For example, a mobility quality of life metric could be invaluable in demonstrating the efficacy of a drug versus conventional tests in the treatment for musco-skeletal disorders and voice activated devices and wrist-worn activity monitors may be useful in the diagnosis and monitoring of neurodegenerative disorders (Table 2).
"There is no doubt there is an opportunity to develop and validate a variety of digital biomarkers for public health purposes, but the question is what biomarkers are of commercial interest? There are opportunities for biomarkers for public health but from a commercial perspective the jury is still out," observes Steven LeBoeuf, Founder of Valencell.
However, many of the digital endpoints are still in their infancy and it may take several years before they are fully validated and accepted by regulators and payers.
"Thread is helping customers create and utilise digital endpoints in therapeutic areas like dermatology, respiratory, and CNS applications where the voice data capture is becoming important. It's super innovative and requires our industry to build an endpoint into a process. There is a lot of investment in this area now, but we won't start to see any significant volume of results until 2024-2025," remarks Reites.
Table 2: Selection of digital endpoints under evaluation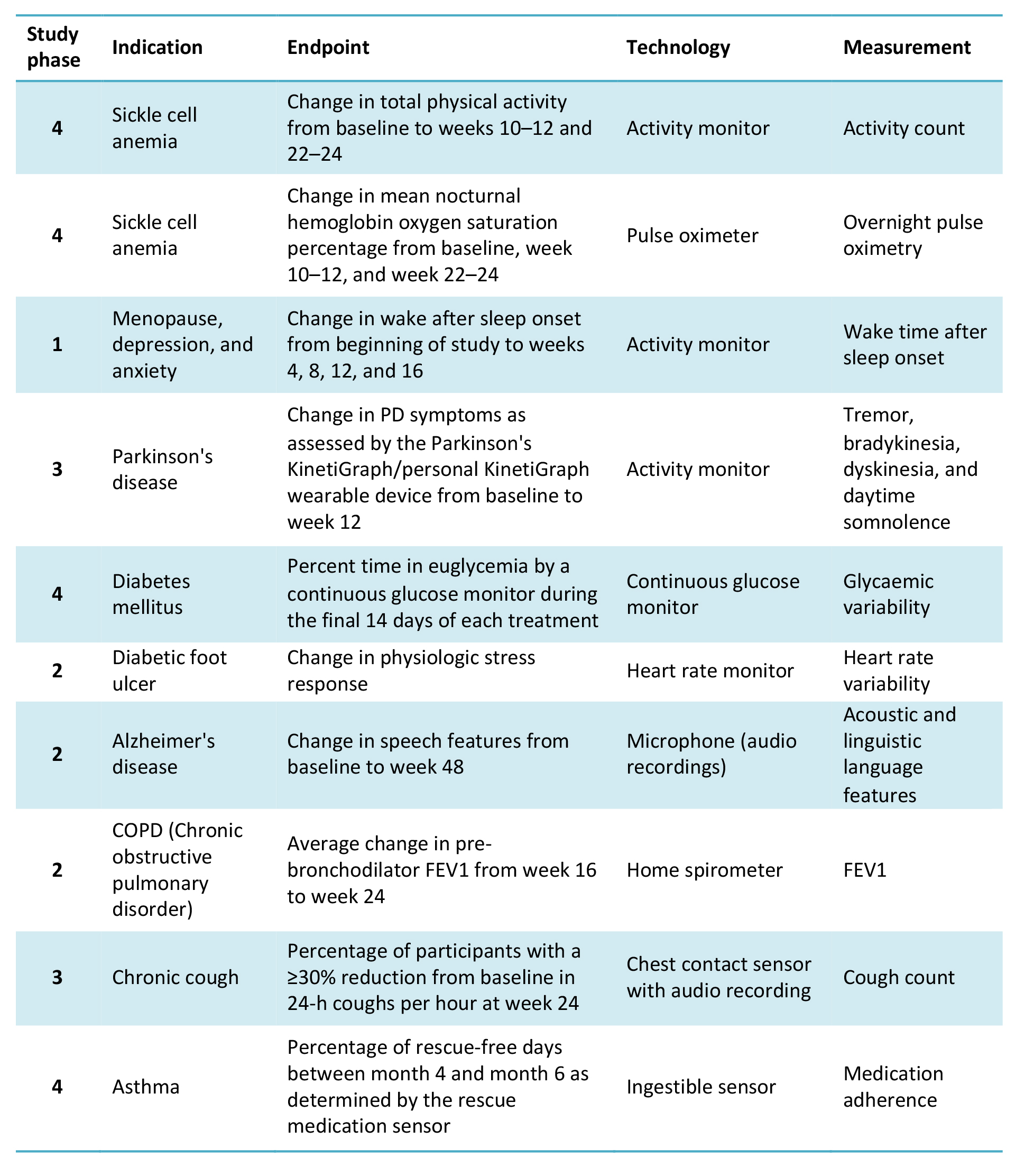 Source: Landers et al., 2021
Collaboration is critical
Several tech companies including Apple, Google, and Microsoft, have entered this space and established collaboration with start-ups and pharma to leverage biotechnologies, artificial intelligence (AI) analytics and remote monitoring devices in clinical trials. For instance, Google Cloud released Real-World Insights a real-world data management platform which it co-developed with the FDA in 2019.
Meanwhile, DCT start-ups are pairing up with healthcare and service providers to expand their clinical offerings. For example, Medable and Thread are utilising real-world data generated from remote monitoring devices in conjunction with predictive analytics to speed up clinical trials. In February 2022, CVS Health teamed up with Medable and Thread partnered with Eversana to use their digital technology platform to help tackle diversity in clinical trials. In March 2022, Thread partnered with AWS (Amazon Web Services) to scale up and embed predictive analytics in its real-world data platform.
Reites comments that "our partnership strategy is to align with companies that have an equal view of the market. They want to bring their expertise and capital and have a common goal to bring a comprehensive offering by working together. We've been doing this for seven years and continue to learn and evolve every day. We have innovative studies underway in Asia, Europe, and Latin America and each time we must think holistically about the solution. We're working with our customers to change how research studies are conducted to make them more patient-centric and globally scalable."
"Our partnership strategy is to align with companies that have an equal view of the market. They want to bring their expertise and capital and have a common goal to bring a comprehensive offering by working together"
Regulatory support and clarity on DCTs guidance is essential
Despite the considerable advances in this field, the adoption of wearable technologies and their integration in clinical trials remains a challenge for the industry. Changes in regulatory guidance and concerns over data handling, data privacy and ownership, plus interconnectivity issues, data analytic capabilities, and device usability, still need to be addressed in order for these technologies to be more widely adopted within the drug development process.
"The regulatory environment is very dynamic and variable and regulatory guidance in this area needs to be clearer and more consistent," LaBoeuf says. "You can use a wearable device that is not regulated in a clinical study providing it's not being used for benchmarking purposes but you cannot submit the data to the regulators. It needs to be performed with a benchmark, an FDA-approved device."
In December 2021, the FDA published draft guidance on how digital technologies can be used to remotely capture data in clinical trials. The guidance also provides advice on the design and selection of technologies that are suitable for use in trials, how they can be verified and validated as fit-for-purpose by the sponsor, and the information required in an application to start a clinical trial or seek marketing approval.
"The regulators have given some guidance on DCTs and organisations like the DTRA (Decentralized Trials Research Alliance) and CTTI (Clinical Trial Transformation Initiative) are coming out with more research and recommendations which is building confidence and helping standardise technologies and DCTs," Reites said. "We are trying to optimise DCTs from our learnings, and Thread has conducted more than 200 studies in more than 50 countries. More people are getting involved and the regulators are supportive, but we need to be careful to make sure that we don't take one case study and apply it across the board."
Greater clarity will help drive further adoption of digital technologies in clinical trials to better improve patient experience and health outcomes.
"Digital technologies will revolutionise medicine and have a substantial impact on clinical trials as more data can be collected to support the use of advanced therapies"
Digital technologies will become the new standard for clinical trials
"Digital technologies will revolutionise medicine and have a substantial impact on clinical trials as more data can be collected to support the use of advanced therapies," forecasts LeBoeuf. The groundwork for digital technologies has already been laid but it will take time to refine these solutions to measure physiological readout with clinical-grade accuracy and to ensure that novel digital biomarkers are validated and utilised in clinical trials.
However, digital technologies will play an increasingly important role in clinical trials as they can "provide real-time tracking and analysis of datasets, so we can inform meaningful actions and deeper insights. That is what's exciting – as we see DCTs continue to play such a key role that they become the standard for the future of clinical research," predicts Reites.
About the interviewees

John Reites, CEO, Thread, US, is an executive intrapreneur turned digital health entrepreneur. His career includes nearly 20 years leading global drug development, clinical research, and decentralised clinical trials (DCTs) for life science organisations.

Dr Steven LeBoeuf, founder, Valencell, US, a market leader in the innovative science of wearable biometric devices that deliver enhanced health results.
About the author

Dr Cheryl Barton is a freelance life sciences and health writer and previously worked as a senior research scientist at Merck, Sharp & Dohme, UK, and a pharmaceutical business analyst at ABN Amro before setting up her own consultancy research company, Pharmavision.co.uk.