Digital Healthcare Round-up – St George's continues to lead digital NHS overhaul, global AMR study begins, Microsoft joins the imaging analysis revolution, and more
A round-up of this week's top digital healthcare news. Marco Ricci reports.
St George's flies flag for UK digital health integration
Though the integration of digital solutions into the National Health Service (NHS) has, in some instances, been slow, some digital systems are showing their worth.
This week, for example, came the news that St George's University Hospitals NHS Foundation Trust will be the first healthcare division in the UK and Ireland to adopt Cerner technology in its neonatal unit. The technology provides workflow and medicine management support through an electronic prescribing and medicines administration (ePMA) platform.
St George's Trust first deployed the Cerner Millennium technology in 2010 and it is now used across around 40% of the hospital, including its Paediatric Intensive Care Unit (PICU).
The system uses barcoded wristbands that are scanned to ensure each patient receives the correct medication at the right time, with results integrated into an electronic health record (EHR). The ePMA platform is designed to lower the chances of missed doses and highlight needs for care improvement. In the hospital's PICU, the system has also been integrated with end-of-bed charting records, enabling the uploading of real-time vital information to each patient's EHR. The platform also allows synchronisation with certain medical devices.
Annette Carne, ITC change manager at St George's Healthcare shares her experience with Cerner. 
Now, the technology will be deployed in the hospital's neonatal unit, which, considering the range of variables that need to be considered, such as how early a baby was born and feeding choices, makes integration of the software a more challenging scenario. However, the system has been through stringent testing and will launch on 2 August.
The St George's Trust has long backed digital health integration in the NHS, often being the first to trial new solutions. In 2011, it was one of two to adopt the iSoft CorVu laboratory management reporting tool to aid pathology testing.
With the further integration of the Cerner technology into its long list of existing digital health solutions, St George's Trust continues to be a beacon of hope for an eventual digital overhaul of the NHS – especially with regard to meeting what many perceive as the optimistic target of having a completely paperless health system by 2018.
Global collaboration to tackle antimicrobial resistance
The problem of antimicrobial resistance (AMR) is a growing global concern. Due to poor hygiene in humans and agriculture, as well as the misuse of antibiotics, AMR already kills around 700,000 people worldwide every year – a figure expected to rise to around 10 million by 2050.
Among the many solutions being put forward is a project, launched this week, that is designed to take a 'genetic snapshot' of the global population. The five-year study, by the Metagenomics and Metadesign of Subways and Urban Biomes (MetaSUB) Consortium, involves 54 cities around the world, including London, Sydney, San Francisco, Barcelona, Paris and Rio de Janeiro.
It will map the genomes and epigenomes of the participating cities and the genetic information gathered will then be used to characterise and track AMR genes and to discover new biosynthetic gene clusters (BGCs) for new drug development.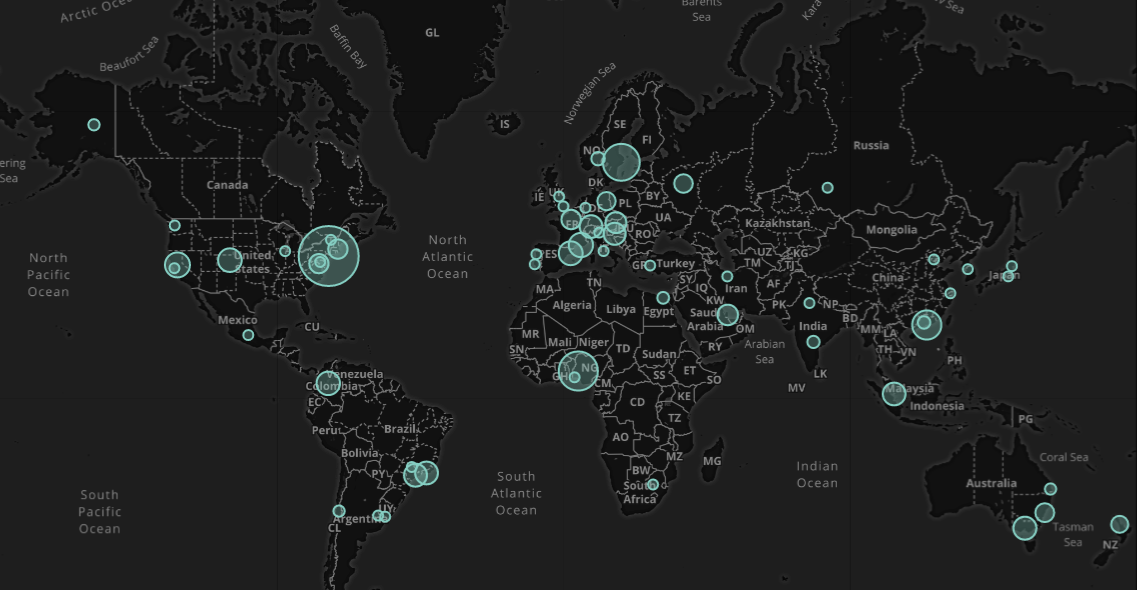 The MetaSUB map (accessed here) indicates where samples have already been taken around the world. At time of writing, 4089 samples had been taken. 
The study is a Grand Challenges Explorations winner – an initiative created by the Bill and Melinda Gates Foundation that aims to foster innovative solutions to the world's biggest health problems.
Many companies are collaborating as part of the consortium, including genomic big data company CosmosID, which will work with Weill Cornell Medicine to support the aims of the study. CosmosID will lend its computational analysis tools and extensive genomic data to the project, which includes over 20,000 biological samples and 65,000 microbial genomes, to aid in the accurate identification of microbial community composition and AMR markers. Also involved is mass provider of molecular diagnostics platforms QIAGEN, bringing its sampling technology to help gather and prepare samples for analysis.
The study will also focus on the 2016 Rio de Janeiro Olympics, analysing the city's 'metagenome' of an estimated 1 million people in attendance. Samples will be taken before, during and after the games to look for the presence of RNA viruses, including Zika and influenza.
Read more: The superbug battle: O'Neill plan meets its own resistance from pharma
Microsoft enters the world of cancer imaging
In an age of personalised medicine, companies are trying their hardest to create better methods to detect, diagnose and monitor conditions. One of those methods involves combining tried-and-tested imaging platforms with machine learning capabilities to better analyse data from scans.
This week, Microsoft unveiled its own venture that does just that, teaming with medical imaging provider MEDIAN Technologies to develop new cancer detection, diagnosis and monitoring solutions.
The partnership will see MEDIAN's imaging biomarker phenotyping system (IBIOPSY) integrated into Microsoft's Azure cloud computing platform.
IBIOPSY allows the processing of digital images and acts as software for medical imaging equipment, namely CT scans. As part of Azure, the software will be used to extract biomarkers of disease in real time from medical imagery for cancer diagnosis and treatment purposes.
Its integration into a cloud platform like Azure is interesting as it means hospitals and medical centres will not need powerful computing capabilities to use the software – Azure being the core driver behind the technology itself. This of course opens the door to global expansion, which would be hugely profitable to both parties.
Although the ambition is there, whether the project will ever get that far is up for debate. IBIOPSY currently exists in an alpha form on the Azure platform which can only be accessed by internal individuals. The launch date given by Fredrik Brag, CEO of MEDIAN Technologies, is 2017. Its availability to parties outside of the US will therefore have to wait until then.
This collaboration is one of the latest projects that seeks to improve diagnostic services through image analysis techniques utilising big data analytical platforms. IBM recently revealed its own partnership with 15 collaborators, including medical centres, ambulatory radiology providers and imaging technology companies. Smaller initiatives such as Zebra Medical's partnership with Intermountain and Imaging Advantage's recent radiology project are also using similar means to analyse scan imagery to aid diagnosis.
Also in the news: