Clinical trial lay summaries: a clearer picture emerges
Views & Analysis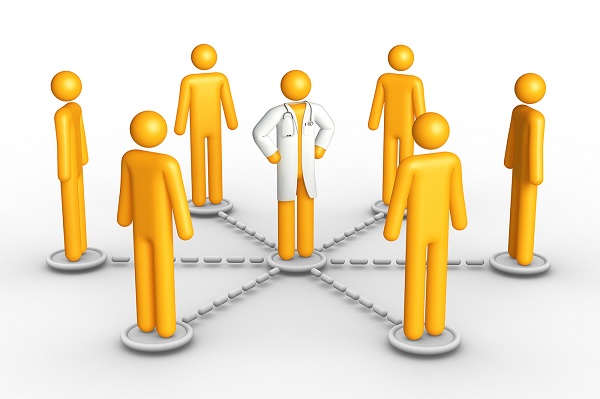 The European Commission wants pharma to make clinical trial results more patient-friendly. Its proposed guidelines are available for public comment until 31 August. Georgina Collett and Joanna Russell outline the benefits for pharma and patients.


Georgina Collett & Joanna Russell
Evidence suggests that the pharma industry is responding to increasingly engaged patients and their thirst for information, particularly in the areas of diagnosis, treatment initiation and adherence.
An area that is surprisingly late to the table, though, is the cornerstone of medical research, the clinical trial. It seems pretty obvious that patients, and the general public, should be able to access and understand clinical trial results, and there have been increasing demands for these to be provided in a patient-friendly format.
A previous article discussed how the European Commission was working towards making it a requirement for pharma companies to provide lay summaries of clinical trial data. These summaries will be made available on the EU portal and database, currently in development. Since the article was published, guidelines for the new EU clinical trial lay summaries have been released for public consultation (1 June-31 August). These have been developed in preparation for the implementation of the Clinical Trials Regulation (EU) No. 536/2014 by an expert group involving representatives from pharma, patient organisations and academia.
The ultimate goal of any lay summary should be to communicate complex data and scientific concepts in a patient-friendly manner, by using simple, everyday language. The draft recommendations aim to encourage consistency in the way the new clinical summaries are presented, improving awareness and understanding among patients, trial participants and the wider public.
Structured content is essential
The guidelines emphasise the need to include information on the 10 elements stated in Annex V of the regulation (Figure 1). However, if appropriate, the order of the headings can be altered, categories combined, and sub-headings added. Detailed recommendations on the information that should be included for each element are provided with some suggested wording; examples of neutral, non-promotional language are also provided in Annex 2 of the guidance document.
Figure 1.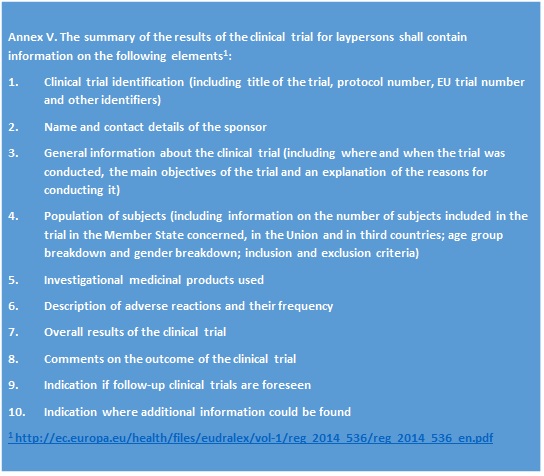 Clarity of language ensures understanding
As language and literacy are key barriers to disseminating information to the public, the expert group has taken care to offer clear recommendations on the literacy levels to aim for, how to check your summary is targeted appropriately, and the language you should use. Some of the key guidance is outlined below:
Summaries should be provided in the local language of each of the EU countries where the trial took place
If feasible, an English version should be provided, even if the trial did not include the UK, as use of a common language will provide greater accessibility across the EU
Text should be suitable for people with a low-to-average level of literacy, proficiency level 2−3
Summaries should be checked before submission to ensure that they meet the appropriate literacy levels using language-specific reading tests
Consider involving medical writers with experience of writing in lay language for the public
Patient input is encouraged
The guidelines encourage the involvement of patients, patients' families, or patient organisations in the development and review of lay summaries, where feasible, to help ensure the information meets their needs. However, the guidelines do not provide advice on how to engage and capture their input. It may be more practical to gain input when developing your initial lay summaries, rather than for every lay summary. Companies need to take responsibility for identifying when they involve external stakeholders and how – ideally the earlier the better.1
What can you do now?
Clinical trial lay summaries represent an opportunity for pharma to demonstrate real, practical 'patient-centric' activity, as well as helping to build public trust and enhance support for future clinical research. Although clinical trial lay summaries are not yet mandatory, they are considered best practice for patient-centricity. So why aren't more pharma companies developing them now, and harnessing the opportunity to lead and provide real value to patients?


An essential part of planning will involve raising awareness of patient-centricity internally, what it means and why it matters, so that processes can be put in place. For clinical lay summaries there needs to be alignment on:
How to involve patients in the process
How to ensure compliance
Style and format
Language and terminology
Decisions can be made at a company-wide level or at the franchise level, as long as the approach is consistent. There are many ways in which companies are already adapting their operations.2 These differentiate them among external stakeholders and provide a benchmark for others to follow.
Summary
The draft recommendations address some of the key questions raised about Annex V of the Clinical Trials Regulation during the European Forum for Good Clinical Practice (EFGCP) workshop in May 2015. However, a number of important questions remain for pharma companies (Figure 2).
Figure 2.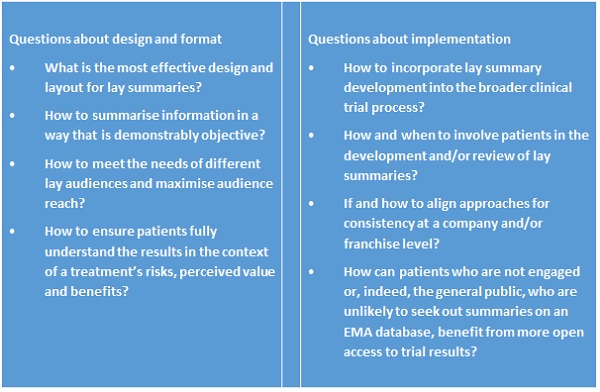 Despite these outstanding questions, the guidelines are a good starting point from which to shape best practice in delivering clear, understandable information to trial participants, patients, patients' families and the wider public. Pharma companies are already planning for success and lay summaries will begin to achieve their full value as they become standard practice.
The cultural change towards a real partnership with patients is challenging, but essential if companies want to demonstrate genuine commitment to improving the lives of patients. This change is exciting and engaging – and any company that takes the lead now will be in a unique position to establish the benchmark for best practice.
More information
If you have any questions on the new clinical trial guidelines, or would like to discuss any of the topics mentioned in further detail, please contact Jo Fearnhead-Wymbs, Patient Engagement Director at Ashfield Healthcare Communications (J.Fearnhead-Wymbs@ashfieldhealthcare.com).
References
1  "No research without us" Putting patients at the centre of the clinical programme [In development]
2  From ideas to execution: the reality of patient-centricity in 2016 and what's next for pharma
About the authors:
Georgina Collett is a Senior Medical Writer at iMed Comms and Joanna Russell is an Account Manager at Watermeadow Medical. Both are part of the multidisciplinary team of patient experts at Ashfield Healthcare Communications, part of UDG Healthcare plc. They can be contacted via Georgina.Collett@imedcomms.com and Joanna.Russell@watermeadow.com.
Read more from Ashfield Healthcare:
10 steps to a successful patient support programme