Can genetic data be a magic bullet for drug R&D?
R&D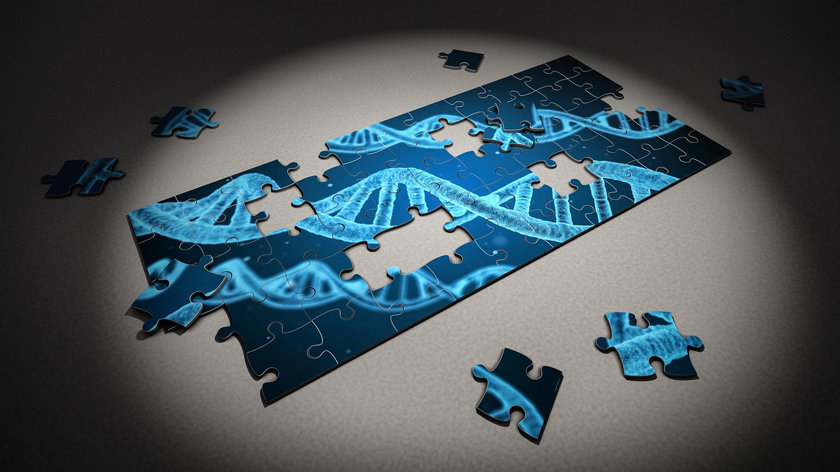 Drug development has long been an issue for the pharma industry, due to the expense and the high failure rate of potential treatments. Ben Hargreaves finds that the vast amount of genetic data that exists today could help provide a faster, more targeted way of developing new drug candidates.
Recent years have brought a revolution to the way in which patients receive treatment. Rather than be provided a therapy that has been tested across a broad range of the population, there are now many therapies on the market that are designed specifically to work for sub-populations within disease areas. This includes treatments, such as immune checkpoint inhibitors, that are extraordinarily effective, but only work for certain patients. This type of medical care is called personalised therapy, and it is quickly becoming a greater focus for the pharma industry.
The logical extension to this kind of approach is treating individual patients, with their individual genetic makeup. Though instances of this kind of therapy are rare, it is a growing area. One of the reasons is because researchers now have far more genetic data to work with than was ever previously possible. The cost of testing per human genome in 2006 was approximately $14 million, and in less than two decades, an average consumer-purchased genetic test costs $100. With such a drop in cost, this means that researchers can test far more often and work with far more genetic data than previously possible. Pharma has used this to begin creating targeted treatments, such as gene therapies, which are able to hone in on gene mutations that cause health issues and eradicate or replace the faulty gene.
The availability of data
It is often repeated, but it is true that the enormous amount of data available to all industries has rapidly changed how they operate. The same is becoming true for the healthcare industry, and one of the first major breakthroughs in the area was the 100,000 Genomes Project. The initiative started in 2012, with the aim of gathering 100,000 genetic sequences from participants to then learn more about disease, and disease progression. The information gathered from the project is still providing insights today, a decade later.
The focus of research projects on gathering data, particularly genetic data, is now common place in nationwide health-focused initiatives. As part of the US government's Cancer Moonshot initiative, a Cancer Moonshot Biobank was launched that asked participants to donate biospecimens and associated health information to aid research. A recent UK project, known as Our Future Health, is also taking a similar approach, by combining genetic information alongside details about participants' health and lifestyle, as well as their health records. The difference between these projects and the 100,000 Genomes Project is the scale – the Our Future Health initiative hopes to involve five million adult volunteers.
The future of R&D
The Our Future Health project was funded from various bodies, but the pharma industry was willing to include £100 million of investment, in return for access and insights from the information gathered. The decision makes sense for all parties – the pharma companies receive analysis that could help them develop their next medicine, while the researchers behind the project have the funding and additional expertise to pursue their aims. In the case of the Cancer Moonshot Biobank, the participants were also able to receive free genetic testing and help to receive treatments specific to their type of cancer.
Outside of public research, there are enormous sources of health data that have compiled them in a completely different way: by appealing to consumers. One of the most prominent is 23andMe, a company that provides users of its service a genetic test that can provide information on ancestry and health.
However, despite providing genetic testing services to consumers, 23andMe describes itself as a human genetics and biopharmaceutical company. As such, the company signed a research agreement with GlaxoSmithKline in 2018, which saw the two companies use the genetic data gathered by 23andMe to discover novel, genetically validated drug targets. In 2020, the two companies advanced their first joint asset, GSK'608, into the clinic, as a potential treatment for cancer. In 2022, the partners extended their partnership for a further two years, and stated that the collaboration had identified over 40 therapeutic programmes in the space of four years.
Speeding up development
The ability to use genetic data to accelerate the R&D process is one of the most promising aspects in the growth of data usage. Adam Auton, VP of human genetic at 23andMe, told pharmaphorum that, so far, this approach had allowed the company to generate more than 50 early-stage drug developments programmes. "Our hypothesis, backed by published research, is that drug targets based on human genetics are at least twice as likely to become successful medicines than those with no underlying human genetic evidence," he said.
In terms of how the company operates, Auton stated that it currently has more than 13 million genotyped customers, 80% of whom consented for their health data to be used in research. Scientists are able to study the aggregated, de-identified genetics of these individuals. The data can be paired against more than four billion self-reported health data points, which allows scientists to conduct analysis to identify underlying genetic causes to disease. In this way, the company is able to generate drug targets.
As well as the drug candidate discovered alongside GSK, 23andMe has also developed its own investigational antibody, 23ME-00610. The potential therapeutic has reached the phase 1 stage of development, where it is being tested in patients with advanced solid malignancies. The monoclonal antibody binds to the CD200R1 receptor, preventing the interaction of CD200 and CD200R1. The interaction is thought to play a role in the maintenance of immune tolerance, and CD200 is highly expressed on certain tumours.
Alongside its genetic testing service, 23andMe is also expanding the range of medical information it can provide. The company has received US Food and Drug Administration approval for pharmacogenetic reports to be provided to users based on their genetics. Certain genetic variants influence the way the body responds to specific medicine. Through its service, 23andMe can notify a consumer whether they have such a genetic variant, in a select number of approved cases, in order to potentially discuss the information with their healthcare provider.
When asked whether this offers a window into the future, where individuals take genetic tests to receive relevant health information and then, potentially, their own personalised treatment, Auton stated that this is still far from reality, for the moment. He did state that genetic information can allow for the creation of a proactive health plan for individuals: "with the increased availability of genetic data, it is likely that genetics will be increasingly utilised in healthcare decision making," he concluded.