Surviving COVID-19 as a bone marrow transplant patient
Views & Analysis
Jayne Snell is one of the 1.5 million people in the UK to receive a letter asking them to stay at home for three months in a bid to avoid COVID-19. But instead of viewing the next three months with dread, she sees the prolonged period of self-isolation as an opportunity to find some inner peace. And as a bone marrow transplant recipient who has already spent more than 13 weeks in isolation, she should know.
Jayne tells pharmaphorum how the current crisis is impacting her family life, and shares her tips for staying strong, both inside and out, while on lockdown.
Accidental diagnosis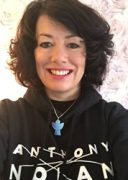 Jayne was 41 with two teenage children when she was diagnosed with myelodysplastic syndrome (MDS) in 2011. The news came out of the blue after an allergic reaction to medication for another condition prompted doctors to perform a blood test.
"At the time, I wasn't very symptomatic. I was constantly tired, but I put that down to having two children, who were 13 and 15 at the time, working full time and looking after the house. I thought it was just normal," says Jayne.
"When I got the diagnosis, it was a massive shock. I had never even heard of MDS. I had to tell my mum and dad and our children, Matt and Jess, which was really hard."
At the start of her journey, in April, she was told that the rare haematological cancer would not require any treatment for between two and six years – and even then, the available treatments might not work for her.
"I was told to go away and live as normal for as long as I could," she says. "I carried on working and going about my everyday life, but I went downhill really quickly.
"I was exhausted, and it got to the point where I couldn't even walk up the stairs. In November, my husband Martin and I went away for the weekend to see if I could recharge my batteries. It became really obvious how poorly I had become."
Within days of returning from her break, Jayne had been admitted to hospital with chronic anaemia, and given three units of blood. The more shocking news was yet to come. She had now developed acute myeloid leukaemia (AML) and needed a bone marrow transplant in order to survive.
Says York-based Jayne: "It was just before Christmas and I was convinced it was the last one I would spend with my family. Christmas is always a magical time in our house, and I worked really hard to make sure everyone would know how I did everything so they could do it without me the next year.
"It sounds silly because my children were so young at the time, but I really wanted to make sure my future grandchildren would experience a little piece of my Christmas in the future. I wanted them to remember something of me."
Immunity wipe out
After Christmas, and another precious holiday with her family, Jayne was admitted to hospital to start chemotherapy and bone marrow transplant conditioning. It left her with very little immunity and in isolation for more than three months.
"My initial period of isolation was spent in hospital. I had my own air-locked room with my own bathroom. I did not leave for a total of 13 weeks. When I returned home after my transplant, I wasn't actually allowed outside because it was harvest time and the spores in the air were a risk to me.  An infection could have killed me at that point."
The hardest part was not being able to see her niece and new-born nephew, but Jayne said she found strength in her family, focusing on the positives and concentrating on getting better.
"Isolation changed me. I became very peaceful, and appreciated everything I had. I have since reflected that before I became poorly, I always wanted more. But when I thought I had no future, I realised everything I had was everything I wanted.
"I think that's kind of sad, that it took a tragedy for me to realise this," she says.
Shielding shock
Fast forward to 2020, and Jayne is back in isolation after receiving a letter from her GP warning her she was vulnerable to COVID-19.
While her transplant took place eight years ago, she is particularly susceptible to respiratory infections, which means she falls into the "highly vulnerable" category.
"I was shocked at first. I had already been working from home for two weeks when I got the letter, so I might be indoors for 14 weeks by the time this is over," she says.
"Just because I have been through this before, it doesn't mean it is easy. I have had a few bad days, but I think we all need to accept that some days will be better than others."
In terms of the practicalities, her husband and children are keeping the house stocked with food and community volunteers are collecting her prescriptions. The whole household is being very careful, and all deliveries get the hospital-grade sanitation wipe treatment before they are allowed in the house.
Overall, though, Jayne said she was seizing the opportunity to rediscover the peace and tranquillity she experienced during her first period of isolation.
"Over the last couple of years, life had got busy again. I have wanted to find that calm and peace I felt when I was poorly but it's hard to do that in everyday life. This is an opportunity for me to do that," she says, adding that she had been furloughed from her administration job.
"I want to learn from this time and, when everything gets back to normal, not let life get so full again."
Prepping for tranquillity
Jayne shared her top tips for surviving isolation with Anthony Nolan, the charity that matched her with her bone marrow donor back in 2012.
"My number one tip is to have routine.  It doesn't have to be complicated, just something to make life feel normal day by day. Next, think about what you can do to keep yourself entertained – maybe now is a good time to learn a new craft, for example," she said.
Keeping active is vital, she said, adding that she regretted not heeding this advice during her transplant-induced isolation period.
"I am still paying the price eight years on. My muscles switched off, switching them back on is the hardest thing. I now have issues with my tendons. I'd say do what you can. Walk, gentle stretches, or if you're able to do bigger body workouts, do them."
Eating healthily and keeping in touch with friends and family, whether over the phone or via online video calls, are equally important, as are meditation and gratitude, she went on.
"I started both meditation and gratitude in 2011 when I was first diagnosed. It brought about a feeling of calm and peace, and as my situation speedily progressed, I felt able to handle it with a clearer head," says Jayne.
Anthony Nolan needs to raise an extra £10,000 every month that the coronavirus pandemic goes on if it is to continue to fund its work. Visit www.anthonynolan.org/coronavirusemergencyappeal for more information