Digital health technology has the potential to transform cancer care
Views & Analysis
Digital and connected health technology has real potential to transform cancer care, writes Piotr Wnuk.
Start-ups are utilising well-established devices from technology firms like Microsoft and Apple to implement their specialised software, targeting particular conditions.
Recent developments and initiatives we looked into are great examples of how dynamic and promising digital health is in transforming cancer care.
Using digital technology to support care is also gaining support of oncologists and government institutions, who have seen its potential in improving care for patients in a number of ways.
Digital technology can be used to improve services in many ways, including building more joined-up functions by improving communication, and helping patients manage their disease.
Start-up gets backing from Scottish government
The Scottish Funding Council (SFC) is helping to find the technologies that could transform how cancer is looked at clinically and trying to encourage new ideas with its annual Cancer Innovation Challenge.
The project, which was launched in March 2017 is designed with a focus on start-up businesses to encourage the development of innovations in diagnosis and care for people with the disease.
This year's edition funded five projects, all of which are utilising digital technology solutions in their approaches to help clinicians tackle the disease. Each of the start-ups has been awarded between £35,000 to £100,000 to further develop and demonstrate the feasibility of their technologies.
Paul Wheelhouse, minister for Business Innovation and Energy, said: "The £1 million Cancer Innovation Challenge Fund plays a key role in supporting entrepreneurship and new approaches in this crucial area of medicine."
"This funding will allow these companies to take the next step towards developing new approaches to the diagnosis and treatment of blood, kidney and tissue cancers, using advances in machine learning and automation to deliver better outcomes for patients."
Amongst the projects awarded with a government this year is an app developed by Px HealthCare aiming to encourage breast cancer patients to notify the Cancer Treatment Helpline when certain symptoms occur. The application provides healthcare professionals with a real-time view of patient reported outcomes and integrates with digital patient management system used by NHS in Scotland.
My Clinical Outcomes (MCO) is an entirely web-based platform motivating patients to take regular assessments to evaluate an impact their condition is having on their life. The tool is being currently piloted at NHS Ayrshire and Arran and is tailored for patients in Scotland with any cancer type. Clinicians can use the information from MCO to see how effective treatments are and to inform ongoing treatment decisions.
UK-based Sharpe Analytics uses machine learning to generate tools for the prediction of outcomes for cancer patients. The project launched with prognosis modelling for patients with renal cell carcinoma using routinely collected data recorded in repositories such as the Scottish Cancer Registry. This helps increase the accuracy of its models by incorporating additional variables, such as genetic markers influencing the likelihood of tumour development.
According to an article published in JAMA, by a team of researchers, digital tools such as those that Px HealthCare and MCO are using have been able to extend cancer patients' lives by up to five months simply by sharing symptoms as they occur to help clinicians in personalising cancer treatment.
Wearables can be used to track patients' wellbeing
According to a new research unveiled at American Society of Clinical Oncology (ASCO) meeting in June this year, there is potential in using commercially-available digital technology to help doctors and patients manage their diseases.
The study conducted across several major US cancer centres found that using fitness data gathered using a Microsoft Band could be a feasible way to reduce levels of unplanned hospitalisation.
Jorge Nieva, driving force behind the research and associate professor of clinical medicine at the University of Southern California, said the "device is useful for patients who may find that the combination of the disease and a gruelling chemotherapy regimen effectively lays them low for weeks on end".
The research published at ASCO gathered data collected using a smartphone app and connected trackers from a trial of 65 patients with solid tumours undergoing a chemotherapy regimen that was highly likely to nauseate.
The scientists found that the fitter and more active cancer patients are, the more likely to survive and benefit from chemotherapy treatment. Only nine of the 41 patients registered over 60 hours of non-sedentary activity, and even in this group there were significantly fewer unplanned health events compared with 32 patients with lower exercise levels as measured by the wristbands.
iPhone imaging device helps to discover cancer
Medical imaging firm Butterfly Network has received FDA clearance for its innovative ultrasound-based imaging system connecting to an iPhone. The device is designed to make ultrasound more portable and more widely accessible around the world. It enables a single scan of the entire body to be carried out for a under $2,000.
The device is said to help in cancer diagnosis. Dr John Martin, chief medical officer at Butterfly Network, said: "A rather personal story, but with the butterfly ultrasound device that we use today, I diagnosed my own tumour. I felt something a bit funny in my neck. I connected the probe to my phone, did an ultrasound and there it was; my tumour."
"Offering a unique blend of affordability, diagnostic versatility, and assistive intelligence, Butterfly has the potential to impact human health more profoundly than any diagnostic device since the stethoscope, invented over 200 years ago", adds Martin.
The start-up has also developed deep learning-based artificial intelligence applications that are coupled to the hardware and assist clinicians with both image acquisition and interpretation.
It plans to release assistance and interpretation functionality before the end of 2018 as a software add-on.
With digital technology beginning to offer improved and less invasive cancer management strategies, it is hoped that more individuals and healthcare providers will embrace the digital age. Digital technology has the potential to create innovative models of care delivery that empower people living with cancer.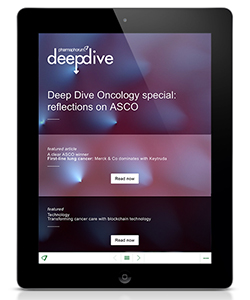 Click here if you would like to find out more about the use of digital health devices in transforming cancer care in the latest issue of Deep Dive magazine.
Click here to read more articles in the 2018 Deep Dive Oncology special.  
If you would like to read previous editions of Deep Dive, or sign up to receive future editions, please visit the Deep Dive homepage.