2020 in review: Pharma's progress outside of COVID-19
Views & Analysis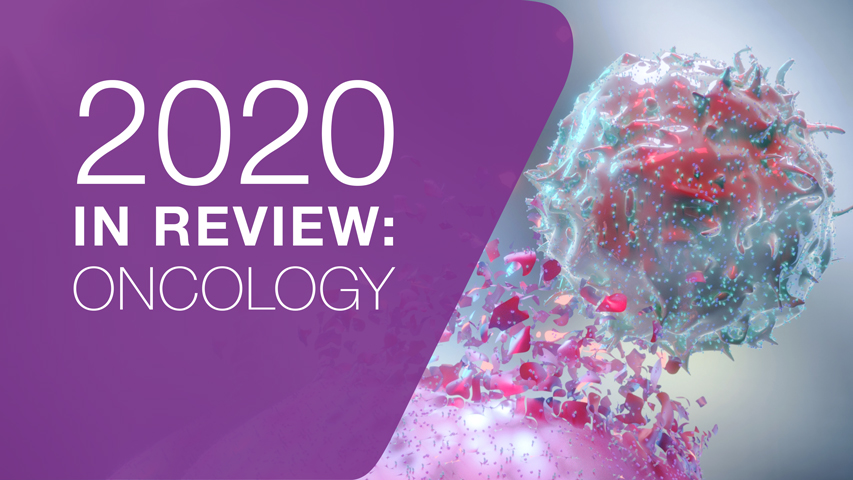 It has been a year dominated by the pandemic and many life sciences research projects were put on hold as big pharma turned its attention to vaccines and therapies. But there was some considerable progress in other fields of medicine even though research efforts were diverted away, reports Richard Staines.
The American Society of Clinical Oncology (ASCO) annual conference was one of the highlights of the year in cancer research and the fact it was held virtually did not distract from some stunning clinical lung cancer trial results presented by AstraZeneca.
The organisers of the conference chose data from AZ's Tagrisso (osimertinib) to close the online event, with some practice-changing results in early lung cancer.
Originally developed to treat late-stage EGFR-mutated disease, the ADAURA study tested Tagrisso as an adjuvant treatment in patients with early disease following surgery.
Findings showed that Tagrisso cut the risk of disease recurrence by 83% compared with placebo in the trial that was stopped early because of the high efficacy shown in the treatment arm.
ADAURA was described by one ASCO expert as a "home run" and the results will also have beneficial side-effect on AZ's finances, adding substantially to the blockbuster revenues already generated by Tagrisso.
The results also suggest further uses for the drug in early disease and more revenues to come from one of the company's biggest success stories from the last decade.
"2020 also saw some of the first "tumour agnostic" cancer drugs get to market, with Bayer's Vitravki (larotrectinib) getting funding in the UK for tumours with confirmed neurotrophic tyrosine receptor kinase (NTRK) gene fusions."
The FDA has gone on to grant a fast review of the results ahead of a regulatory decision on the new lung cancer indication next year.
2020 also saw some of the first "tumour agnostic" cancer drugs get to market, with Bayer's Vitravki (larotrectinib) getting funding in the UK for tumours with confirmed neurotrophic tyrosine receptor kinase (NTRK) gene fusions.
Unlike conventional cancer drugs Vitravki can be used in tumours with this mutation regardless of whether they are in the body.
Later in the year Merck & Co's cancer immunotherapy Keytruda (pembrolizumab) also picked up a second "tumour agnostic" use in patients with the Tumour Mutation Burden – High biomarker.
In immunotherapy, pharma also began to build on previous success and look for new ways to stimulate the body's defences to attack tumours.
Merck & Co is already a major player in immunotherapy with its Keytruda (pembrolizumab) and spent $2.75 billion on buying the US biotech VelosBio in November.
Oncology also drove one of the biggest pharma mergers of 2020 - Gilead paid $21 billion in September for Immunomedics adding breast cancer drug Trodelvy (Sacituzumab govitecan) to its pipeline.
The acquisition came just days before survival data from the phase 3 ASCENT study was announced at the European Society for Medical Oncology (ESMO) conference.
While Trodelvy is already conditionally approved in the US, the data showing the drug improved overall survival compared with chemotherapy could be enough for it to clinch a permanent licence in the US.
In the 500 patient trial, patients treated with Trodelvy lived for a median of 12.1 months, compared with 6.7 months in patients treated with chemotherapy.
Neurology on the march
There was some steady progress in neurology - in February FDA approved Lundbeck's eptinezumab prophylactic treatment for migraine, the last from a gang of four drugs from a new class.
Teva, Eli Lilly, and Amgen/Novartis already have calcitonin gene-related peptide (CGRP) class migraine drugs on the market, but Lundbeck is hoping to differentiate itself from the competition with an intravenous formulation taken in a clinic instead of self-injected with a pen.
One of the biggest deals in neurology came in August when Biogen bought a licence to co-develop and co-market potential Parkinson's disease drugs with US biotech Denali, in a deal worth more than $2.1 billion.
Denali has been working on small-molecule compounds capable of crossing the blood-brain barrier and Biogen has bought a licence to co-develop and co-market compounds known as LRRK2 inhibitors in Parkinson's disease.
Biogen and Denali will co-market the lead LRRK2 product in the US and China, and Biogen will commercialise in all other markets.
A molecule codenamed DNL151, currently in phase 1 development, has been selected to progress into late-stage clinical studies that are expected to begin in 2021.
There was also some M&A activity in neurology – in August Bayer bought UK-based KaNDy Therapeutics in a deal woth more than $800m, adding the biotech's menopause drug to its women's health pipeline.
Bayer will pay $425 million up front and potential milestone payments of up to $450 million until launch, followed by potential undisclosed "triple digit million" milestone payments once the drug is on the market.
The company's menopause drug NT-814 is heading for phase 3 development in 2021 following a mid-stage trial readout.
NT-814 is a non-hormonal drug that works on the neurokinin (NK) 1,3 receptor antagonist, thus treating the vasomotor symptoms associated with the menopause.
However, 2020 did not provide a definitive answer to the biggest question in neurology – which is whether pharma can produce a marketable that can slow the onset of Alzheimers.
That question will be answered before March next year when the FDA makes a decision on whether to approve Biogen and Eisai's aducanumab.
The drama of aducanumab bubbled on throughout 2020, following Biogen's surprise announcement late last year that it worked at a higher dose, despite the failure of two phase 3 trials.
Biogen has also bulked up its pipeline in case aducanumab doesn't work out, adding more neurology drugs to its research rosters in a $3 billion deal with Sage Therapeutics in November.
Rare disease progress
Pharma companies have also made headway in rare diseases as several pipeline projects came to fruition.
In summer, Alnylam's gene silencing drug Oxlumo, the first treatment for primary hyperoxaluria type 1 (PH1), an ultra-rare and life-threatening genetic disorder Oxlumo was approved in the European Union and the US.
It was the third approval from Alnylam's pipeline of RNA interference therapeutics to make it to market.
Alnylam has a clear run at this small but potentially profitable niche market, as the nearest rival from Dicerna is further back in the pipeline.
US biotech Ultragenyx also got a double approval in summer – in June the FDA approved Dojolvi (tripetanoin) for treatment of long-chain fatty acid oxidation disorders, a source of fatty acids for children and adults with confirmed disorders.
This followed shortly after a new indication for Crysvita (burosumab) for children and adults with tumour-induced osteomalacia, a rare type of skeletal tumour associated with chronically low phosphate levels.
Developed with partner Kyowa Kirin, in mid-June Crysvita was first approved in 2018 to treat X-linked hypophosphatemia in patients aged one year or older.
After several positive announcements throughout the year Swedish biotech Calliditas has announced plans to file its rare disease drug Nefecon with the FDA for primary IgA nephropathy.
This is a rare disease that affects the kidney but is caused by overproduction of antibodies produced in the lining of the small intestine, for which there are no approved medications.
Calliditas said part A of the global phase 3 NeflgArd clinical trial has met its target, measuring the effect of Nefecon versus placebo in patients with the disease known as IgAN for short.
Nefecon is a formulation of the established immunology drug budesonide, which targets the Peyer's patches that are over-active in patients with IgAN.
The antibodies produced as a result lodge in the kidneys, causing severe complications.
If approved, Calliditas aims to market Nefecon for IgAN by itself in the US and through collaborations in other regions.
Approval by the FDA would give Calliditas a clear shot at the market for the disease affecting 130,000-150,000 people in the US, although US biotech Aravive has a potential competitor in mid-stage clinical development.