NICE numbers at 20 – a closer look at cancer
There has been continual interest in what the UK's Health Technology Assessment (HTA) agency, the National Institute for Health and Care Excellence (NICE), has said when it comes to cancer drugs. This is not only because of the desire to get access, but also because of high prices. NICE is now 20, and in a move to improve transparency produces a downloadable excel file for both cancer, and non-cancer, Technology Appraisals (TAs). Leela Barham combines the data and looks more closely at the trends in cancer and non-cancer TAs.
NICE has done more TAs on non-cancer drugs than cancer drugs from 1999/0 to 2018/19; 488 to 310 TAs. That hides variation by year though; in some years, cancer TAs have dominated NICE's workload and the resulting publication of final TA guidance (figure 1).
Figure 1: Cancer drugs and non-cancer drugs share of pharmaceutical TAs, 1999/00 to 2018/19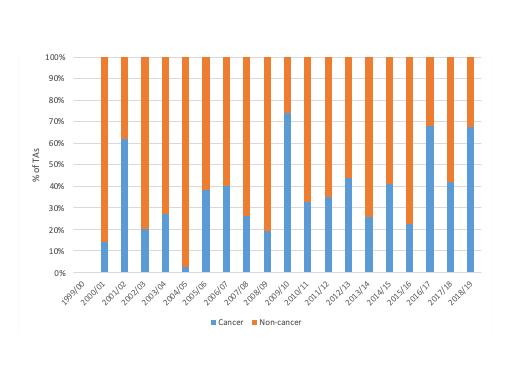 Source: Analysis of NICE data.
When it comes to the type of TA, non-cancer drugs are more likely to have been subject to a Single Technology Appraisal (STA) (74% of non-cancer drug TAs were STAs vs 50% of cancer drug TAs were STAs). When you look more recently though, it is clear that the STA is becoming the TA model of choice, be that for cancer or non-cancer drug TAs (figure 2).
Figure 2: Cancer drugs and non-cancer drugs by type of pharmaceutical TA, 1999/00 to 2018/19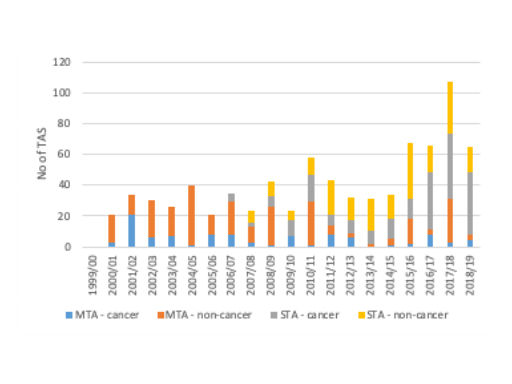 Source: Analysis of NICE data.
Cancer dominates non-submissions
NICE had to set up a new process to deal with companies who chose not to submit. Non-submissions are increasing over time and it's already a worry. It is however more of a worry for cancer drugs than others; in all pharmaceutical cancer TA recommendations published between 1999/00 to 2018/19 61% were non-submissions versus 39% outside of cancer. It's also clear that the trend is worse in cancer in recent years than outside of cancer (figure 3).
Figure 3: Number and trend in non-submissions by cancer and non-cancer pharmaceutical TAs, 2008/9 to 2018/19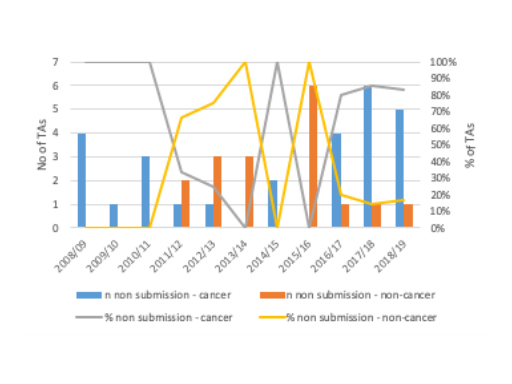 Source: Analysis of NICE data.
More 'no's for cancer
Cancer drugs are – by definition – systematically different to non-cancer drugs. They will differ in a host of ways aside from the science, be that in terms of their price, the evidence underpinning the submissions made, as well as in terms of the applicability of flexibilities available to NICE, particularly the application of End of Life (EoL) criteria which can allow NICE to recommend even if cost-effectiveness is above that normally accepted (around £50,000 cost per Quality Adjusted Life Year (QALY) versus between £20,000 to £30,000 per QALY for non-end of life drugs). It's likely to be number of these factors which are at play and help to account for the higher proportion of cancer drug TA recommendations that are negative than for non-cancer drugs (figure 4).
Figure 4: NICE TA recommendations by cancer and non-cancer drugs, 1999/00 to 2018/19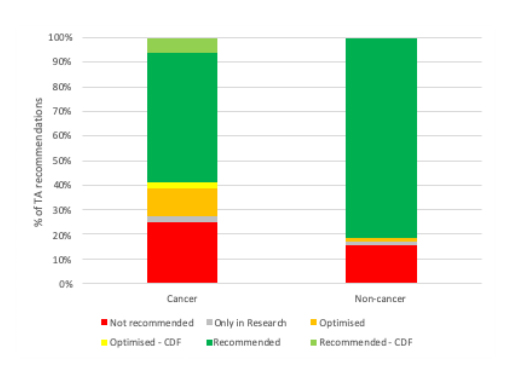 Source: Analysis of NICE data
As ever, the picture overall differs when you look at each year. That suggests that the pattern of recommendations between cancer and non-cancer drugs has almost swapped; cancer drug TAs were more likely to be an outright 'no' than non-cancer drugs for almost all years up to 2016/17 (figure 5), yet from 2017/18 and 2018/19 non-cancer drug TA recommendations were more likely to be a 'no' (figure 6).
Figure 5: NICE TA recommendations for cancer drugs, 1999/00 to 2018/19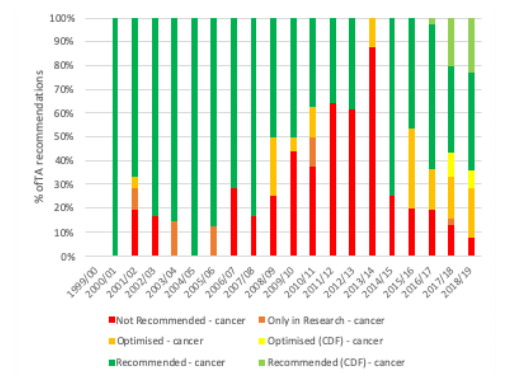 Source: Analysis of NICE data
Figure 6: NICE TA recommendations for cancer drugs, 1999/00 to 2018/19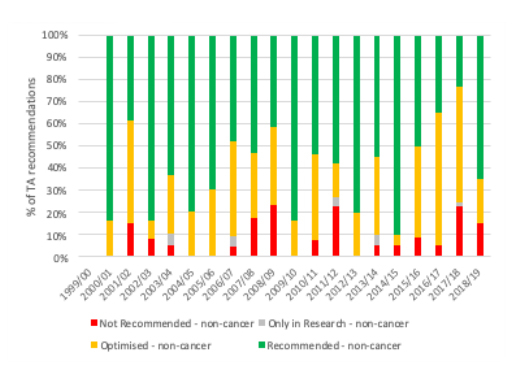 Source: Analysis of NICE data
NICE review of methods
There's an ongoing review of NICE methods, including those used for TAs. Whilst this review is not focused on any particular therapy area – quite rightly – there will be much interest in what it might mean for cancer TA recommendations. That includes not just whether the drop in rejections continues, but also in whether it could mean more submissions. It'll be worth looking again at the NICE numbers in the future.
For more articles in this series click here.
About the author

Leela Barham is an independent health economist and policy expert who has worked with all stakeholders across the health care system, both in the UK and internationally, working on the economics of the pharmaceutical industry. Leela worked as an advisor to the Department of Health and Social Care on the 2019 Voluntary Scheme for Branded Medicines Pricing and Access (VPAS).