Rethinking adherence programmes
How digital technologies and behavioural science create adherence programmes that work at scale.
Developing drugs is only half the battle. With the pharma industry under increasing pressure to show real world outcomes, a new frontier has emerged beyond the prescription in the unchartered waters of human behaviour.
The pharma industry loses $637 billion each year worldwide due to patients failing to take medication and therapies as doctors prescribe, according to a 2016 Capgemini study. Failure to address the adherence problem has eroded drug company margins in the past, but getting patients to form the right habits continues to be a huge problem for the pharma industry.
But, as the health industry moves towards outcome-based payment models, firms using behavioural science and digital technologies to bolster adherence will be best place for future growth.
In the past, patient support programmes have proved too short, costly and complex. However, the combination of digital technologies and behavioural science can create programmes which lead to better medication adherence.
Physical nurse-led support programmes have been shown to help patients stick to drug therapies and related lifestyle changes, but the results are too often short term and limited. They tend to mitigate divergence from prescribed therapies rather than create a dramatic, permanent improvement. As many as 50% of patients are still failing to take their medication as advised over the long-term.
The second problem with patient support programmes is cost. And because they are so resource intensive to run, they are only viable to use in relatively few condition areas and cohorts of patients.
But a new approach, based on behavioural science principles combined with digital tools and cloud-based software, radically lowers the cost of PSPs, while also making them more effective and deliverable at scale. The technique represents a dramatic shift in how pharma companies can influence real world outcomes for patients.
To understand why, look at why patients fail to comply with prescribed therapies. It is easy to assume people are simply forgetful, and require regular reminders, but behavioural science tells us that people are 'boundedly rational'; that is people often act against their own self-interest due to limitations of information, motivation, and cognitive abilities such as memory and attention.
In the health domain, these limitations can lead to biased decision-making and unhealthy patterns of behaviour. To break these cycles, designers of digital support programmes instill new habit-formation, in recognition that around 45% of our decisions in a given day are habitual.
Working with public sector health organisations in Northern Ireland, UK, S3 Connected Health showed a 98% care-plan adherence among patients suffering from diabetes and COPD. The telehealth service improved the motivation and ability of patients to self-manage their condition.
Armed with this understanding, we can exploit the following six strategies to use behavioural science to build patient support programmes that create healthy habits and medication adherence.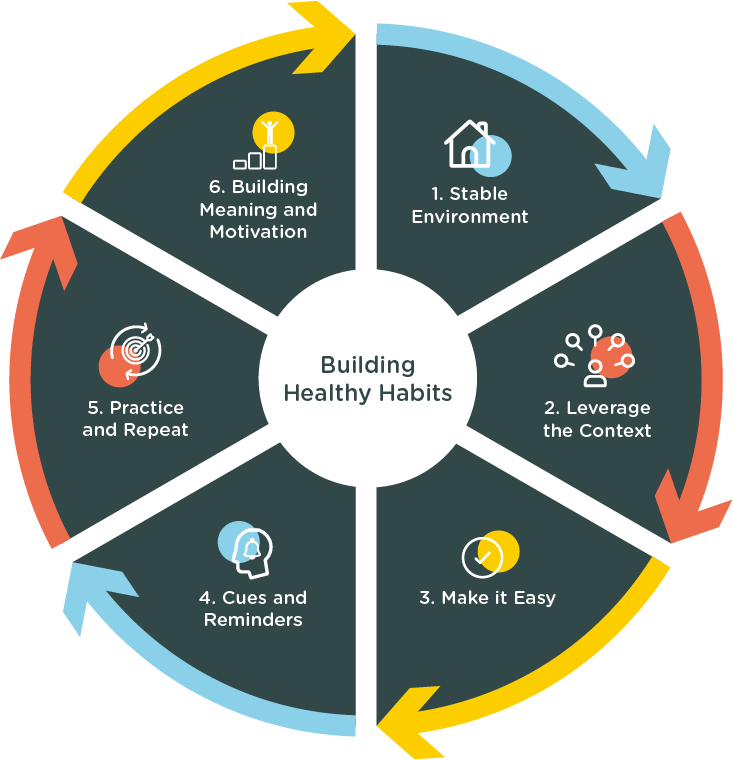 Create a stable and supportive environment
Though many people have the intention to eat a healthy diet, for example, very few succeed in actually doing so. Dedicating some time each day to preparing healthy meals, having fruits and vegetables readily available at home and work, as well as learning how to cook more healthily can help people stick to their intentions better.
Exploit existing routines or disruption
Patients' day-to-day lives hold many opportunities to promote the formation of healthy habits and adherence to therapy regimes. For example, regimes can piggyback off existing routines, or exploit a natural life disruption, such as starting a new job.
Make it easy
Building new habits needs to be easy to start with. Any programme needs to eliminate friction, be broken down into easy chunks and appear not to be too much effort.
Develop cues and rewards
Exploiting cues in the environment is critical to establishing a new routine. Plans start to become embedded if patients specify both when and how they intend to act on them. Rewards are also important. They might be consciously created, such as committing to only watching a particular TV show while exercising, or more subconsciously, such as enjoying social interactions with friends at the gym.
Practise and repeat
For patient support programmes, it is important to create opportunities and occasions for the patient to practise the new behaviour early in the habit formation.
Build meaning and motivation
People often prefer not to embrace the idea that they are creatures of habit. They prefer to see all of their actions as the product of deliberate choices, conscious motives, and their preferences and goals. Building greater personalised meaning around a habit can help the patient to better identify with it. This is a powerful buffer against relapse.
About the author

Sean Gill is principal behavioural scientist at S3 Connected Health