Pharma marketing's evolving relationship with AI
How does artificial intelligence (AI) rank in the minds of pharmaceutical executives? How important is it in their eyes, and how does it compare to other trends?
Although the buzz around AI has never been bigger, that's not to say that every leader in pharma has bought into the hype yet.
The Digital Health Coalition (DHC) surveyed a group of 24 pharmaceutical executives in May 2018 about 13 different technology trends, as part of the research into the creation of the multimedia ebook Modern Marketing: Pharma's Data-Powered AI Revolution, which was cowritten by the DHC and Intouch Solutions.
The survey results revealed that AI was not one of the top trends that the majority of surveyed executives said at the time was currently affecting their business in 2018.
Restraining expectations when dealing with exciting trends is important – as the Gartner Hype Cycle teaches us – but there's also a risk that if companies don't embrace AI soon they may fall behind competitors. And many in life sciences will know that leadership buy-in for new innovations isn't always easy.
Luckily, the survey results also uncovered a significant shift in this regard. While 21% of respondents said that AI was not an important issue to them in 2018, 80% said that they did expect that would become important to them in 2019 (including important, moderately important, or very important – see the chart below).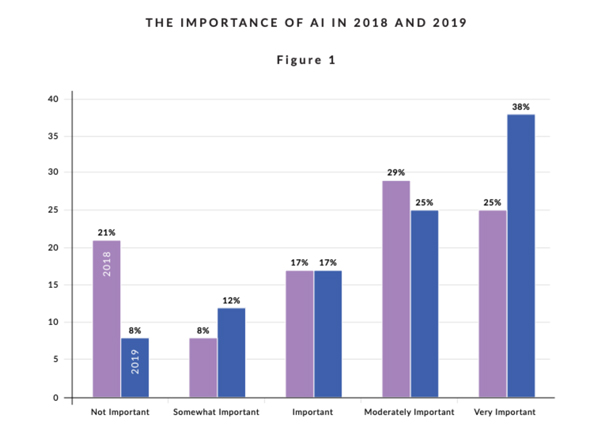 To check in on whether these predictions proved to be accurate, and to continue to remain on the pulse of how technology trends fare in the boardroom, DHC plans to redo this survey in the coming months, and will provide updates as they become available.
For more detail on this survey, including in-depth analysis of the results, and to gain access to read the entire ebook for free, please visit modernpharmamarketing.com.