AI chatbots step up to help fight COVID-19
Views & Analysis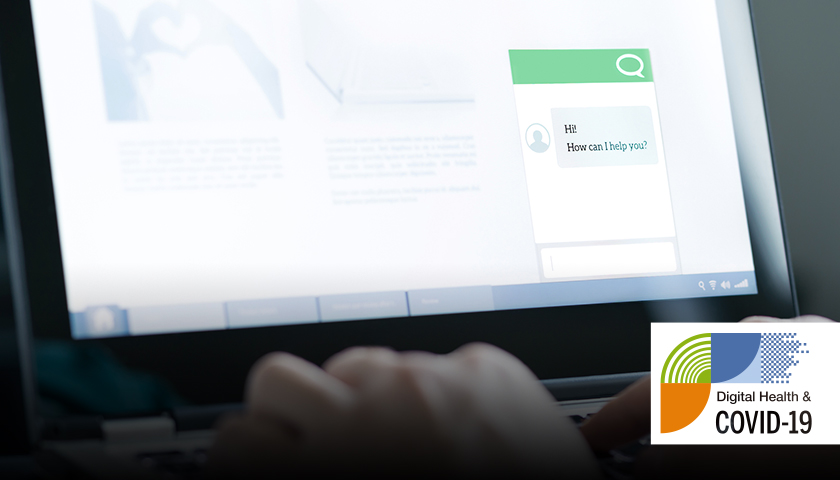 The COVID-19 pandemic has placed enormous stress on both healthcare systems and researchers, and people all across the sector are looking for digital solutions to help ease the pressure. Chatbots are one technology that could speed up how people interact with researchers and find medical information online – and they have already been embraced by several companies in the industry.
When a user inputs a question into a chatbot, the programme uses artificial intelligence (AI) to find and provide the most appropriate answer straight away, presenting the text in a natural, conversational tone. This makes it easier for people to engage with researchers and help centres, and allows for a high level of automation.
As part of our series looking at pharma's digital response to COVID-19, we spoke to Greg Kefer, chief marketing officer of chatbot developer LifeLink, to find out how the technology has come into its own during the pandemic as pharma scrambles to make a coronavirus vaccine and how it may allow for huge changes in the industry in the years to come.
How has chatbot technology evolved over the last few years?
Conversational technology (and chatbots) has matured significantly, especially over the past few months as the COVID-19 pandemic has spread. Healthcare companies have been running pilots with chatbot technology for the past few years and many were moving out of pilot stage and into frontline, advanced healthcare workflow automation.
"Healthcare, in general, has done a poor job getting patients to engage through technology and that needs to change"
Then COVID-19 hit and everything changed. Hospital urgent care centres started getting overwhelmed with enquiries from concerned patients and they needed a way to handle that demand without human intervention. Hundreds of major healthcare systems, the CDC, and even the VA turned to chatbots to add massive scale to screening, education and intake processes. Almost overnight, millions of patients were using chatbots as they sought guidance about coronavirus symptoms.
The bots met extreme conversational demand in a time when human teams were in extremely short supply. Now the question being asked is what else these virtual agents can do in other areas of healthcare. Hospitals, pharmaceutical companies, and research organisations are now looking at new ways to use conversational technology to automate and streamline engagement with patients.
What makes an effective chatbot?
An effective chatbot delivers outcomes by helping patients get something done without requiring human intervention. It must deliver a simple, low friction experience or nobody will use it.
Healthcare, in general, has done a poor job getting patients to engage through technology and that needs to change. Conversational messaging uses natural language to interact with users which eliminates passwords, training manuals and complex navigation trees. But the real secret for success is the conversational design – the interactive dialogue flow that helps a person successfully arrange an appointment, join a clinical trial, or prepare for surgery.
Based on data we are seeing now, it's not that difficult to get 75% of a population to accomplish a healthcare task on their own through a chatbot without any human intervention and in some cases we see 95% success rates. That's an effective chatbot.
Are there any ways in which chatbots need to evolve further to become even more effective?
With chatbots now finding their way into workflow automation projects across healthcare, their capabilities will naturally evolve. Every new implementation and software update improves the performance and user experience.
I know that chatbot technology is entering a mainstream maturity phase and we will see exponential capability improvements, and many will be pointed at deep, complex healthcare domains that have not yet benefited from automation.
Advances in machine learning and AI will continue to make bots smarter and proactive. Evolution of mobile devices and wireless network performance will give chatbots a more robust platform to run on. And some day, NLP/voice will mature to a point where patients have the option to "talk" to the bots and navigate most of their healthcare. It's still very early but this is the beginning of machines that behave like those we have seen in science fiction -- the Star Trek holodeck, not the Terminator!
How can chatbots help with pharma research in general?
In general, chatbots are going to help any process that requires interaction with patients.
Today, so many research projects and trials rely on arming human teams with telephones, websites, PDFs, and email accounts which are communication modes that consumers use less and less.
Mobile apps have also not fared well in healthcare due to complexity, password issues and app overload – there are over 300,000 healthcare apps out there. Conversational messaging on a mobile device is simple and sticky because that's where people spend their digital time. So many studies fail because of recruiting challenges and burdensome participation requirements.
Research coordinators aren't going away, but what happens if all of the redundant tasks such as enrolment, check-ins, reminders, scheduling, and Q&A could be handed over to a smart, digital assistant?
Chatbots can handle all of the time consuming, "low level" tasks and free the human teams to focus on the higher end, corner case aspects of the project. Suddenly the study has unlimited conversational scale and a system that runs with operational precision. It can deliver and collect information in compliant standardised ways and do it quickly.
Are there any pitfalls researchers need to avoid when utilising chatbots?
They just need to be careful not to underestimate what it takes to build an effective conversational solution. What a patient sees on their phone screen when interacting with a chatbot looks incredibly simple but there is a significant amount of technology and conversational design required to make that flow work effectively. Just because you build it does not mean they will come. It really is the ultimate tip-of-the-iceberg scenario.
How commonplace do you think chatbots will become in research over the next few years? 
COVID-19 has lit the chatbot fire in healthcare. While the first wave of deployments was in response to a huge demand and supply mismatch in the urgent care world at hospitals, the engagement with patients has been impressive. For trials and studies that need to interact with large groups of patients, pharmaceutical companies need to find ways to integrate conversational chatbots into their solution portfolio. We will begin to see success stories demonstrating how chatbots made a difference in research get published and once that happens, things will move into high gear.
About the interviewee  
Greg Kefer is chief marketing officer of LifeLink.