BIO-Europe Spring Digital: Nerida Scott, J&J's EMEA Innovation Head
Videos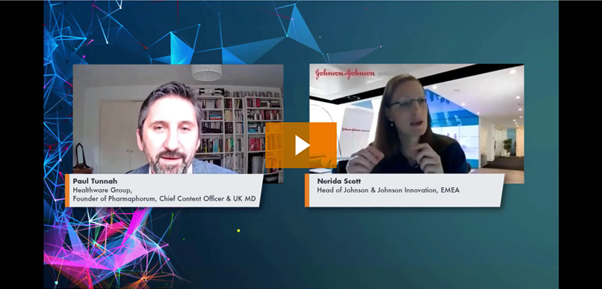 At this year's BIO-Europe Spring Digital, pharmaphorum founder Dr. Paul Tunnah participated in an 'In conversation' chat with Nerida Scott, head of Johnson & Johnson Innovation, EMEA.
Nerida discussed the latest trends in healthcare and how they've influenced Johnson & Johnson Innovation's (JJI's) approach to collaboration. She highlighted the importance of digital solutions and data in healthcare and why it is becoming particularly impactful in the field of mental health.
They also discussed J&J's collaborations in data sciences and how the pandemic has accelerated collaborative research across the industry and changed patient, payer, and physician engagement.
About the interviewee
Nerida Scott is the head of Johnson & Johnson Innovation EMEA, based at the Innovation Centre in London, UK. Nerida has a broad background in operational and commercial activities with over 20 years of diverse business and transaction experience, including acquisitions and divestments in the pharmaceutical and healthcare industries.
She received her BSc from Sydney University, Australia, and her PhD in Biochemistry as the Prince of Wales' scholar, Trinity College, Cambridge University, UK.  Nerida is a member of the UK BioIndustry Association Board (BIA), as well as having a Board position with several Johnson & Johnson entities.
About the author
Dr Paul Tunnah is Chief Content Officer and UK Managing Director for Healthware Group, a next-generation integrated consulting group that operates at the intersection of the transformation of commercial operations and digital health, offering a unique range of services combining design, strategy, communication and innovation with technology and corporate venturing.
Prior to this, he founded pharmaphorum in 2009, which was acquired by Healthware Group in June 2020. He is a recognised author, speaker and industry advisor with a passion for helping organisations tell authentic stories that resonate, co-create solutions and unlock the power of digital and social media in connecting with customers and understanding markets. Dr Tunnah holds a BA in Biochemistry and DPhil in Biological Sciences from Oxford University.