The Falsified Medicines Directive – truly an opportunity for pharma?
Telling the fake from the true is often a challenge, particularly in this era of 'fake news'. But, for medicines at least, that's just become significantly easier thanks to the European Union's Falsified Medicines Directive.
It's underpinned by the largest ever European healthcare IT project and will help combat a major health issue –falsified medicines, which might have​ little or no active ingredients, the wrong active ingredients or have fake or tampered packaging.
The World Health Organisation estimates that around 15% of drugs are fake and, although the situation in Europe – where that figure is closer to 1% – is better, the huge number of products in the European supply chain means counterfeits can still have a significant impact on public health.
Improving supply chain security
Published in February 2016, the latest version of the Falsified Medicines Directive came into force three years later and aims to increase the security of the supply chain in order to prevent falsified medicines from entering it.
To do this the Directive requires all pharmaceutical manufacturers to place two new safety features on all their medicines and make financial contributions, so that an IT verification system can be set up to assess the authenticity of a medicine at the time of supply to the patient. All of the EU's 28 Member States had their national verification system up and running by 9 February, with the exception of Belgium, Italy and Greece, which were given until 9 February 2025 to do so.
In addition to that, from February this year all new packs of prescription medicines put on the market in Europe have to include two safety features – a unique 2D barcode with human readable code having the traditional batch number and expiry date plus now the product code and a unique code and an anti-tamper device. Pharmacists and others that supply medicines to the public will have to check these two features when they do so.
Tony Cordrey, European VP for Strategic Operations at Accord Healthcare, says the Directive's changes will bring about a big improvement for health systems in Europe and the patients that they serve.
"There's always going to be somebody who is going to be trying to bring falsified medicines into the marketplace, that's just the way of the world unfortunately. Previously, to combat that we had to rely on the pharmacist looking at the pack and trying to estimate or guess whether or not there was something wrong with that product.
"Now, pharmacists actually have the tools to verify whether a product is a good quality one or not. It's going to give people the trust in the quality of the medical products supplied to patients. Before we just said it, now you can see it and verify that it isn't a fake"
And it's not just generic pharmaceutical companies like Accord Healthcare that are looking forward to this degree of transparency coming to the pharmaceutical supply chain. Maintaining patient trust in the medicines they receive is also of paramount importance to payers, prescribers and the wider pharmaceutical sector too. "People who produce fake medicines don't care about trust, but those of us that care about our patients do and being trusted is a really important element of quality for us all," Tony says.
"There's always going to be somebody who is going to be trying to bring falsified medicines into the marketplace, that's just the way of the world unfortunately"
The Falsified Medicines Directive's challenges and opportunities
Implementing the Falsified Medicines Directive has not been without its fair share of challenges for the pharmaceutical sector, with pharmaceutical companies all requiring new IT systems, processes and suppliers. Even once those were in place there was still a big training need that had to be filled. "There's a huge piece of education we had to do," Tony says, "in terms of how we run our equipment and processes as well as putting in new functions to manage all this data and coordinate what to do if an issue is found."
A larger issue could come from any results that incorrectly show a medicine is counterfeit or otherwise not what it should be. "The biggest issue will be, I think in the early days, false positives. This will be the first biggest learning," says Tony. "The second biggest learning is master data. A huge amount of work has gone into building new master data systems to be able to produce this as a 2D matrix with the correct serialisation codes. That's a whole new process the industry has had to learn as well."
With these not inconsiderable challenges come opportunities for generic and branded innovator companies in the pharmaceutical industry. The Directive offers the promise of better stock control and visibility within a complex end-to-end supply chain. "The ability to be able to read every pack and know where your product is, is going to be hugely beneficial," Tony says, adding that it could also have a positive effect for end-users. "Through the Directive we can put the power in the hands of the patient, helping them to read the pack, know that it's a good product and really build trust in their medicines." It's the first opportunity where supplier and customer have truly come together in a  digital world. Regulations need to catch up with technology; patients already have access to a huge array of information and this capability could be an additional step in the transparency of our supply chains.
Brexit and the pharmaceutical supply chain
Even though companies, such as Accord Healthcare, have worked hard to hit their implementation targets for the Falsified Medicines Directive's February 2019 deadline, political developments with the UK's relationship with the European Union could still, potentially, impede things.
At the time of writing, the UK is due to leave the European Union on 31 October, with some uncertainty about what this will mean for the country in respect to the Falsified Medicines Direction, though the signs are that things may not greatly change.
But, there may still be problems to overcome, Tony says. "Updating into the system is going to be the challenge we face. But, if we want to supply Europe, we're going to need to maintain this system anyway. The investment has already been made, it's there and in place. By definition, we don't want to have a two-tier system of quality, so I can't see us taking a step backwards from where we are today."
"Taking that further perhaps we can use digital technology, such as artificial intelligence, to help us to understand where counterfeits are coming from"
Future innovation
The three years between the publication of the Falsified Medicines Directive in 2016 and its February 2019 go-live date were not wasted and the project, despite its many complications, has proved to be an incredible triumph.
But that is only the beginning, says Tony. "The bar code technology that is now in place has many potential uses by making medicines information more easily available to patients, perhaps by using the 2D scannable codes more suited for today's digital and mobile savvy people."
He adds: "Taking that further perhaps we can use digital technology, such as artificial intelligence, to help us to understand where counterfeits are coming from, and then really try and ensure that our supply chain integrity is maintained the whole time.
"We should look further than Europe. I think the UK could take this work even further, with product engagement, compliance and even reimbursement areas where the technology could next be focused if we can just think a bit differently about this – let's not look backwards, let's look forwards."
For now, the Falsified Medicines Directive has already brought pharmacists, health systems and a major generics manufacturer like Accord Healthcare transparency, visibility, trust, while taking some welcome early steps into the digital age.
Tony concludes: "The Falsified Medicines Directive is a great opportunity for us as an industry to really to get to grips with our end-to-end supply chain."
Read more about this topic in Accord Healthcare's Spotlight on The Future Of Generics
About the Interviewee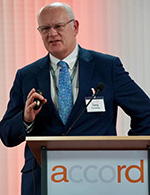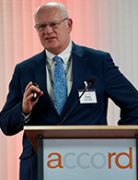 Tony Cordrey is the vice president of operations, supply and EHS compliance for EMENA Accord Healthcare Limited at Intas Pharmaceuticals Ltd. Mr. Cordrey has over 30 years of experience in the pharmaceutical industry and has been associated with Accord Healthcare Limited (UK) since July 2014. Prior to joining Accord Healthcare Limited (UK), he worked with Sandoz (Novartis) UK Limited as the UK/IE commercial business director, Supply chain and business development. Previously with the global strategic operations integration team for Glaxo Welcome and SKB and prior to GSK, head of Roche Laboratories manufacturing operations in the UK LTD. He is presently involved in driving the strategic initiative growth plans for EMENA in supply and operations for EMENA Accord Healthcare Limited in Europe. Mr. Cordrey holds a Bachelor's Degree of Chemistry.
For further information go to www.accord-healthcare.com/uk/