The new global digital health paradigm in life sciences

R&D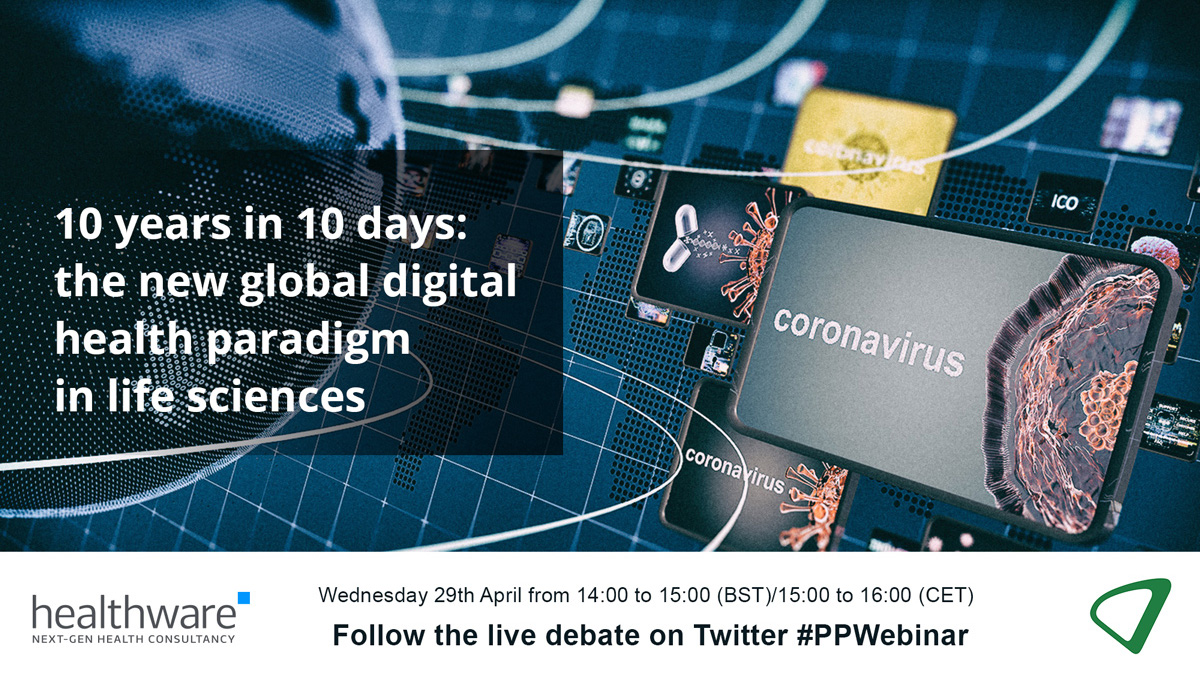 Digital transformation has long been a priority for all life science companies and it has been made even more pressing by the current health emergency caused by COVID-19.
As all healthcare stakeholders adapt to the coronavirus pandemic's digital-first reality, digital health offers many ways to develop public utility projects and enhance healthcare communications.
This pharmaphorum webinar*, held in association with Healthware, took place on Wednesday 29 April from 14:00 to 15:00 (BST)/15:00 to 16:00 (CET) and addressed the deep transformation of marketing, customer engagement and adaptation of business processes in the new global paradigm of digital health.
Our expert panel focused on the key issues life science companies face, including:
Managing product launches in the new scenario
Accelerating multichannel marketing and digitising scientific events
Managing field forces at a time of reduced access to doctors
Developing value-added services for HCPs both in the immediate post-emergency phase and in the medium term
Planning for corporate digital transformation to adapt to the new reality
The webinar* can be viewed on demand in the window above or by clicking here.
Our Panel

Roberto Ascione, CEO and Founder, Healthware Group
A digital health pioneer and recognised thought leader, Roberto originally trained first a medical doctor and then in marketing communications. A passion for medicine, computer science and human-technology interactions led to his lifelong commitment to the advancement of digital health.
Roberto is currently CEO at independent, healthcare consultancy Healthware Group, which helps life sciences companies, healthcare stakeholders and start-ups navigate the digital health transformation.

Ariel Salmang, Managing Director, Intouch International
For over 20 years Ariel has formulated digital strategies and provided implementation counsel to multiple industries, from media and FMCG to telecommunications and healthcare. In the last 12 years he has focused on the digital evolution of pharma companies and the creation of impactful digital brand and sales drivers.
During this time Ariel has worked on local, regional and pan-regional projects for individual brands as well as entire brand portfolios across all stages of the product life cycle. His main passion, however, remains driving commercial excellence through enterprise-level digital transformation.

Kristin Milburn, Global Head of Digital Health Partnerships, Healthware Group
For more than 20 years Kristin has focused on healthcare, technology and the intersection of the two, holding leadership roles in strategy/planning and client engagement at various digital agencies. In 2015 she joined Novartis' newly-formed Digital Medicines unit to help accelerate the adoption of new digital health solutions to improve the lives of patients.
In her current role at Healthware Group she works to advance the growing field of digital health and digital therapeutics by forging meaningful connections between start-ups, biopharma, tech firms and beyond.

Gerry Chillè, General Partner, Healthware Labs
As head of Healthware Labs Gerry helps companies solve old problems in new innovative ways. From working with the Cornell and Columbia University medical centres on early telemedicine concept designs and pilot projects to launching the second-ever online patient community, he is a keen believer in the ever-increasing role of digital health.
In addition to his current role, Gerry is also a lecturer at Johns Hopkins University, Carey Business School in Baltimore, Maryland, teaching digital health innovation and its impact on health economics models.

Moderated by Paul Tunnah, CEO, pharmaphorum
Paul Tunnah is CEO and Founder of pharmaphorum media, which facilitates productive engagement for pharma, bringing healthcare together to drive medical innovation. It combines industry-leading content and social media engagement services with the globally recognised news, information and insight portal pharmaphorum.com, working with pharmaceutical companies, service providers and broader healthcare organisations to help communicate their thought leadership and connect them with relevant stakeholders.
* When you click to register for this webinar your registration data will be gathered by BrightTalk who host the webinar. This data may then be passed to pharmaphorum media limited, and in turn passed to the company(ies) we are partnering with to bring you the webinar. This data may be used by us and them for occasional marketing purposes. It will not be shared with any further third parties. By clicking to register for this webinar you give consent for any data you provide to be used in this way. If at any point you no longer wish to be contacted based on the information you provide during the registration for this webinar, please send an email to info@pharmaphorum.com requesting that your information is deleted in accordance with the General Data Protection Regulation.