Update on Cold Chain Distribution 2018
Partner Content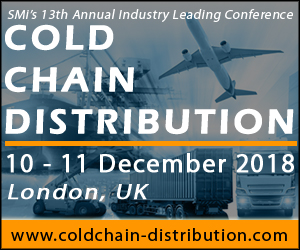 The 13th annual Cold Chain Distribution Conference takes place this December on the 10th and 11th in London, UK.
This year's conference will be exploring new technologies to provide a highly connected temperature-controlled logistics process, whilst remaining GDP compliant. With new regulations and certifications in place such as IATA's CEIV-Pharma Certification and HSA's GDP Certification.
Here's a quick reminder on which key industry experts will be present:
- [CHAIR] - Bob Hayes, Director, SeerPharma (UK)
- [CHAIR] - Tony Wright, CEO, Exelsius
- Stephen Mitchell, Quality Lead Logistics Partnerships, GSK
- Gianne Olaes-Dénis, Supply Chain Quality Manager, Sanofi Genzyme Europe
- Stefan Braun, Managing Director, SmartCAE
- Gianpiero Lorusso, Director, Supply Operations and GS, Merck
- Francicso Rizzuto, Cargo Specialist, Manager for Europe, IATA
- Marco Gaudesi, Pharmacist - GDP and Cold Chain Referent, MSF
- Henk Mulder, Head, Digital Cargo, IATA
+ more!
Event Highlights Include:
- GS1 standard - a critical tool in the fight against counterfeiting
- How the Air Cargo Industry is Improving the Handling of Pharmaceutical Shipments + Panel Discussion
- Global Analysis and Management of Temperature Excursions
- Protecting your products in the global supply chain
- Spotlight Session: Exploring the recent PQG / ECA guide to GDP
- Pharmaceutical logistic challenges in the humanitarian aid, the experience of MSF
- Digitalisation and automation in a supply operations environment
- Exclusive Panel Discussion: What are the main challenges surrounding the regulatory compliance of Cold Chain and where should pharma companies be looking to invest?
+ more!
Download the full agenda online for more info: www.coldchain-distribution.com
For those looking to attend, there is currently a £300 early-bird saving, only valid online. Register today.
SMi presents the 13th annual industry leading conference:
Cold Chain Distribution 2018
Date: 10th – 11th December 2018
Location: Copthorne Tara Hotel, London UK
Website: www.coldchain-distribution.com
---end---