U.S. Upper Limb Prosthetics Market will touch $544 million by 2025
Partner Content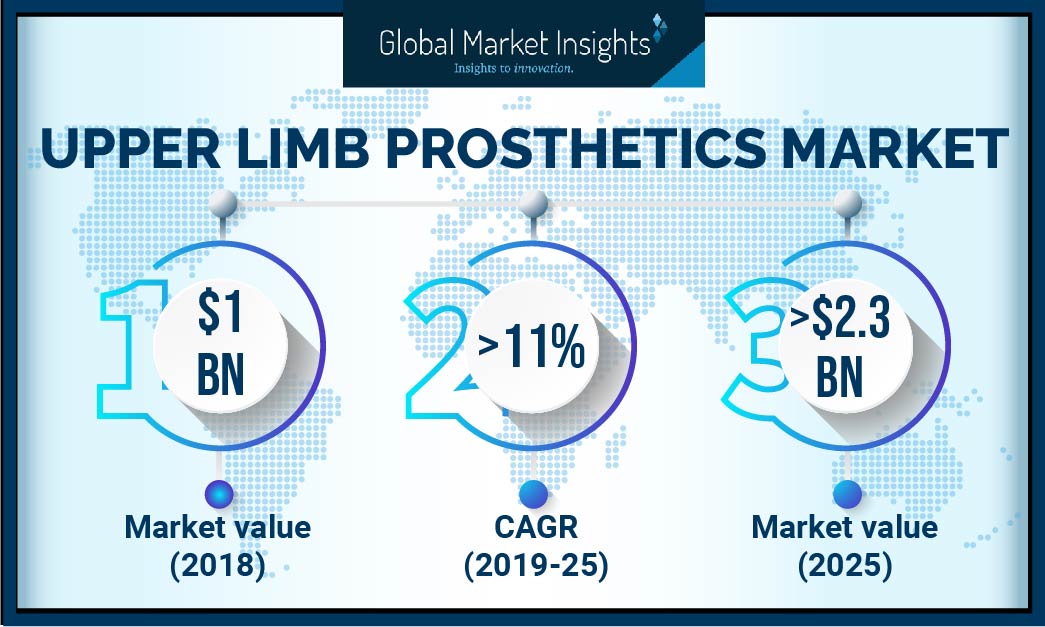 The U.S. contributed the highest share in the global upper limb prosthetics market. The reasons behind such high contribution include awareness among citizens for prosthesis, adoption of advanced technology, availability of skilled medical professionals, presence of dominant market players, huge healthcare expenditure and highly developed healthcare infrastructure.
Prosthetic clinics as an end-use held major share in the global upper limb prosthetics market in 2018. The large share is attributed to highest footfall of amputee patients, presence of skilled medical professionals and facility of specific attention towards each patient. Hospital segment is expected to grow healthily owing to large infrastructure and high budget of this healthcare setting.
The largest share by cause in the global market in 2018, was held by vascular disease and diabetes. Factors such as high vulnerability of vascular disease patients towards amputation and lowered body healing process of diabetic patients is attributed towards the segment growth. Cancer segment is expected to grow at the fastest rate due to rising cancer cases across the globe.
The fastest growing segment by product is myoelectric prosthetic devices over the forecast period. The growth is attributed to functionality along with natural appearance offered by myoelectric prosthetic devices. Passive prosthetic devices account for the largest share by product due to low cost and ease of use.
The highest volume share in the global upper limb prosthetics market is held by prosthetic wrist. High number of amputations related to wrists and cost effectiveness are major factors that will drive the segmental growth. Prosthetic wrists also offer properties such as ease, lightness and pleasing appearance. Aforementioned factors are expected to boost the growth of prosthetic wrist market over the foreseeable future.
To access a sample copy of "Upper Limb Prosthetics Market" report in detail along with the table of contents @ https://www.gminsights.com/request-sample/detail/4235
A rise in medical conditions related to bone such as osteosarcoma, osteoporosis and osteopenia is expected to drive the growth of global market. Other factors positively impacting the growth of upper limb prosthetics include growing life expectancy and increasing average age. However, the growth of upper limb prosthetics market can be hindered over the forecast period owing to high cost and greater maintenance associated with these devices.
Ottobock SE & Co. KGaA, Endolite India Ltd., Ossur, Fillauer LLC, Steeper Inc., College Park Industries, Howard Orthopedics Inc., TRS Inc., WillowWood Global LLC, CPOUSA, Coapt LLC and Touch Bionics Inc are some of the key market players in the global upper limb prosthetics industry.
The Upper Limb Prosthetics Market is poised to surpass USD 2,300 million by 2025. Increasing number of sports injuries, road accidents and other such incidence leading to amputations will drive the demand for upper limb prosthetics. Advancements in prosthesis and healthcare technologies have led to improvement in efficiency and effectiveness of upper limb prosthetic devices such as prosthetic elbow, prosthetic wrist, prosthetic arm, prosthetic shoulders and terminal devices. Currently, upper limb prosthetics are also manufactured through 3D printing in order to reduce the cost of production.
Increasing number of trauma cases coupled with rise in amputations will positively impact the growth of the market over the forthcoming years. Growing number of diabetic patients will also augment the industry over the foreseeable future. For instance, as per the International Diabetes Federation (IDF), by 2030 around 435 million people will suffer from diabetes. Such factors are expected to boost the growth of upper limb prosthetics industry over the estimation period.