SMi's Launch, Injectable Drug Delivery 2018 Hosts 2 Interactive Workshops
Partner Content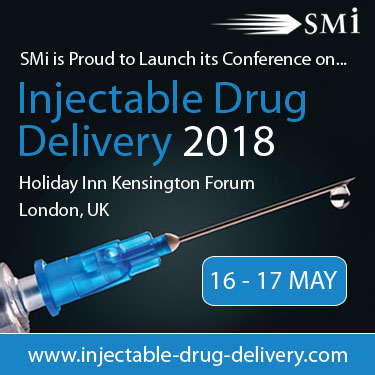 The Injectable Drug Delivery conference will be hosting 2 interactive half day pre-conference workshops on the 15th May, presented by Human Factors Centre and Cambridge Consultants.
Workshop A: Creating a Human Factors and Usability Engineering File in line with FDA
Time: 08.30 - 12.30
Workshop Overview:
The Creating a Human Factors and Usability Engineering File workshop aims to equip delegates with the ability to make decisions on which filing route they should take when putting together a Usability Engineering File for a product. The training gives delegates an in-depth understanding of all the elements of the Usability Engineering File and Usability Engineering process in-line with the expectations from the FDA.
Why Attend:
This workshop is recommended for anyone involved with the research, design and development of a Medical Device or Combination Product. The workshop will cover all aspects of the file including Use Specifications, User Interface Evaluation Plans, Use Risk Analysis (Overview), User Interface Specifications, Formative Evaluations (Overview), Summative Evaluations (Overview) and HFE Summary Report.
Workshop Leader:
- Paula Wood, Director of Human Factors, Human Factors Centre Ltd
Workshop B: Wearable Injectors: Serving Clinical and Healthcare System Needs
Time: 13:30 - 17:30
Workshop Overview:
Wearable Injectors (or On-Body Injectors) are predicted to have a significant impact on the parenteral drug delivery landscape. To date, the case for these platforms has largely focused upon their ability to deal with viscosity and volume challenges associated with administration of biologics. This workshop will explore the current device landscape and evaluate its future potential to fulfil broader drug delivery demands.
Why Attend:
To gain actionable insights into why wearable injectors are a vital tool in the field of parenteral drug delivery devices. We will explore the wider potential of wearable injectors to meet clinical needs, including improvements to drug efficacy, safety and tolerability. Also discuss its impact on healthcare system needs, such as reducing overall cost of care.
Workshop Leader:
- James Blakemore, Senior Consultant, Medtech Consulting Group, Cambridge Consultants
For more information about the conference and workshops, visit: www.injectabledrugdelivery.com/phpr
SMi presents the Launch of:
Injectable Drug Delivery
Date: 16th – 17th May 2018
Workshops: 15th May 21018
Location: Holiday Inn Kensington Forum, London UK
Website: www.injectable-drug-delivery.com/phpr
---end---
Contact Information:
For all media inquiries contact Pav Solanki on Tel: +44 (0)20 7827 6048 / Email: psolanki@smi-online.co.uk
About SMi Group:
Established since 1993, the SMi Group is a global event-production company that specializes in Business-to-Business Conferences, Workshops, Masterclasses and online Communities. We create and deliver events in the Defence, Security, Energy, Utilities, Finance and Pharmaceutical industries. We pride ourselves on having access to the world's most forward-thinking opinion leaders and visionaries, allowing us to bring our communities together to Learn, Engage, Share and Network. More information can be found at http://www.smi-online.co.uk