Registration is open for the 9th Annual Biosimilars & Biobetters 2018 Event
Partner Content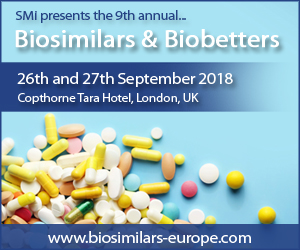 SMi Reports: Registration for SMi's 9th annual Biosimilars and Biobetters conference has opened and the brochure is available to download
SMi Group is proud to announce the return of the 9th annual Biosimilars and Biobetters conference, taking place on the 26th and 27th September 2018 in London, UK. Registration for the event is now open and the newly released brochure is available to download from the event website. This year's conference will have a focus on forecasting the next wave of biosimilars to ensure optimal market commercialisation.
The two-day event promises a diverse expert speaker line-up and will bring together a global audience of biosimilar experts to discuss the latest developments, as well as the future of the rapidly evolving and expanding biosimilars market.
Biosimilars and Biobetters 2018 event highlights:
• Hear topical case studies from industry thought leaders with marketed biosimilars
• Assess whether marketed biosimilars are successful contenders and if they have sparked a competitive environment
• Evaluate if enough has been done to convince the payer, prescriber and patient to switch
• Discuss the next waves of biosimilars entering the market to learn which biosimilars to include in your pipeline
• Consider the possibility of biosimilar orphan drugs
The conference will feature presentations from industry experts at leading pharmaceutical companies, including:
• Erin Federman, Head of Biologics, Europe, Mylan
• Michael Muenzberg, Member, Comparative Outcomes Group and Former EU Medical Director, Biosimilars, Amgen
• Ekkehard Brockstedt, Team Leader Outsourced Trials, Boehringer Ingelheim
• Meenu Wadhwa, Section Leader, Cytokines and Growth Factors, Biotherapeutics Group, NIBSC, MHRA
• Any many more…
After many years of rejection, the biosimilars industry is finally reaching a stage where key stakeholders understand and accept biosimilars, as seen in more tolerant legislation and increased use and approval of biosimilars across the globe. Biosimilars and Biobetters 2018 will explore the thoughts of industry thought leaders and assess the success of marketed biosimilars, as well as discussing the current attitudes of potential customers, prescribers and patients towards biosimilars and biobetters.
Download the newly released brochure and view the full 2018 agenda on the website at:
www.biosimilars-europe.com/pr1
Book by 29th June and receive a £200 discount
For media enquiries, contact Simi Sapal on +44 (0) 20 7827 6000 or ssapal@smi-online.co.uk
Biosimilars and Biobetters
26th – 27th September 2018
Copthorne Tara Hotel, Kensington, London, UK
www.biosimilars-europe.com/pr1
---- END ----
About SMi Group: Established since 1993, the SMi Group is a global event-production company that specializes in Business-to-Business Conferences, Workshops, Masterclasses and online Communities. We create and deliver events in the Defence, Security, Energy, Utilities, Finance and Pharmaceutical industries. We pride ourselves on having access to the world's most forward-thinking opinion leaders and visionaries, allowing us to bring our communities together to Learn, Engage, Share and Network. More information can be found at http://www.smi-online.co.uk