Pain Therapeutics conference is taking place in London next week
Partner Content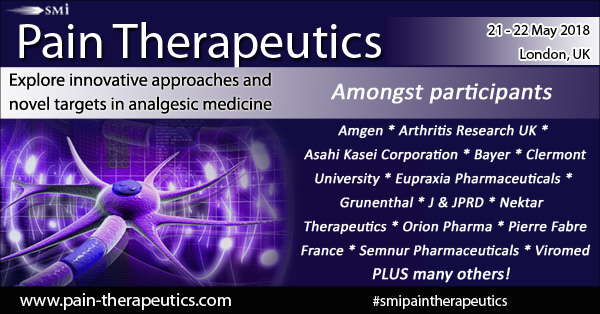 SMi Group reports: To reserve last available seats at the Pain Therapeutics Conference, head on to the event website http://www.pain-therapeutics.co.uk/pharmaphorum or contact Kieran Ronaldson on +44 (0) 207 827 6744 / kronaldson@smi-online.co.uk
By attending this conference, participants will get latest updates on the results from the recent trials and gain insights into the mechanisms by which new drugs and novel targets reduce pain.
The programme of the conference is designed around industry needs and will offer plenty of information, knowledge and networking to take away into the daily business.
Amongst speakers: William Schmidt (ViroMed), Jenny Laird & Lisa Broad (Eli Lilly and Company), Sigal Meilin (MD Biosciences), Mikhail Kalinichev (Ipsen), Becca Senter (Flexion Therapeutics), Yanina Flossbach (Novartis Pharmaceuticals), Randall Stevens & Kerrie Brady (Centrexion Therapeutics Corp.), Iain Chessell (AstraZeneca). Full list on the Download Centre
Amongst participants: Amgen, Arthritis Research UK, Asahi Kasei Corporation, Bayer, Clermont University, Eupraxia Pharmaceuticals, Grunenthal, J & JPRD, Nektar Therapeutics, Orion Pharma, Pierre Fabre France, Semnur Pharmaceuticals, Viromed. Full list on the Download Centre
Amongst exhibitors: Lotus Clinical Research, MD Biosciences, Premier Research.
This event is set to equip participants with the latest knowledge to advance pain research and trials.
Incorporated in the programme - Interactive Workshops on 23 May:
Workshop A (Morning): How Should the Likely Future Pain Therapeutic Landscape Inform Current Drug Development? Hosted by Prescient Healthcare Group
Workshop B (Afternoon): Clinical, Regulatory and Market Access Aspects in the Development of Medicinal Products intended for the Treatment of Pain in Europe and USA. Hosted by Pharma Design
For further information visit http://www.pain-therapeutics.co.uk/pharmaphorum
CONTACT:
+44 (0)20 7827 6000
Twitter - @SMIpharm & #smipaintherapeutics
LinkedIn - SMi Pharma
IMPORTANT NOTICE: SMi value readers interest and would like to stay in touch. Please, follow the Opt-in link https://www.smi-online.co.uk/opt-in to receive SMi updates via e-mail*