Next Generation Sequencing Market worth $15000 million by 2025
Partner Content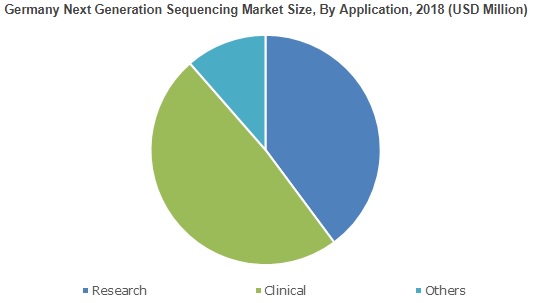 The Next generation sequencing market has lately emerged as one of the most rapidly growing segments of the medical science industry as the technology has essentially revolutionized biological science. Researchers have been able to study biological systems and perform a wide variety of applications with the scalability, ultra-high throughput and speed that next-generation sequencing has provided. At present, complex genomic research has gone much further than answers traditional DNA sequencing technologies could have provided, and this has opened up new pathways into various research and treatment procedures that have proved to groundbreaking for the future of healthcare.
For instance, medical science now has answers to various factors of genetics and immunology that have allowed researchers to develop very specific treatment plans for individual cancer patients and next-generation sequencing has emerged as one of the most important tools in this process.
Since cancer research is one of the fields that has witnessed intense research and development activities in the recent years, next generation sequencing market is expected to witness massive growth through cancer clinical applications and other such medical fields where genomic sequencing has proved to be extremely effective. The next-generation sequencing market participants include such names as Illumina, Roche, Thermo-Fisher, Qiagen, GenapSys Inc, etc., that have made considerable headway in the field of genomic sequencing. These companies are often found forging partnerships and other profitable ventures to take the industry ahead in terms of technological development as well as revenue.
For instance, Illumina, one of the most notable gene sequencing technology leaders that focuses on prenatal testing, rare diseases, oncology, population genomics and consumer genomics has its equipment in nearly 11,000 hospitals, medical facilities and research labs. Recently Illumina signed a commercial agreement with Thermo Fisher Scientific, another next-generation sequencing market leader, to sell Ion AmpliSeq technology, that has been developed by Thermo Fisher, to researchers who are using Illumina's next-generation sequencing platforms.
Illumina has made a massive impact on the next-generation sequencing market as it currently owns the most common next-generation sequencing technique. However, another company that is giving Illumina a run for its money is 10x Genomics that has been able to solve some of the shortcomings of a typical Illumina sequencing workflow. Thus 10x Genomics has been chosen by PerkinElmer, another next-generation sequencing solution provider, to jointly offer automated next-generation sequencing solutions.
10x Genomics, Inc., a company focused on enabling the superior command of biology by speeding up genomic discovery, announced that jointly with PerkinElmer, Inc. they will offer automated next-generation sequencing solutions. PerkinElmer's automation solutions increase both the throughput and efficiency of assays, while also allowing researchers to streamline and enhance existing NGS workflows. PerkinElmer works with industry leaders like 10x Genomics to develop sequence-verified automation protocols that provide researchers with innovative options for automated exome, genome and single-cell assay library preparation, bringing efficiency required to meet the growing needs of today's life science research community.
To access a sample copy of "Next Generation Sequencing Market" report in detail along with the table of contents @ https://www.gminsights.com/request-sample/detail/3247
Other instances include the unveiling of GENIUS 110 by GenapSys Inc., the next generation DNA sequencing system, that is remarkable for its footprint which is no bigger than an Apple iPad and is aimed at making DNA sequencing widely available to individual researchers and diagnostic laboratories for the first time.
However the promise of next-generation sequencing goes much beyond the medical field as has been made evident by Tyson Ventures' recent investment in Clear Labs, a startup that uses next-generation sequencing to help food companies receive more accurate results from pathogen tests. Tyson Foods, whose portfolio includes alternative protein company Beyond Meat and cultured meat company Future Meat, has made its first foray into food safety technology with this investment. The NGS platform developed by Clear Labs is an effective alternative to the traditional Polymerase Chain Reaction (PCR) testing and the new testing procedure is faster, taking 24 hours or less to provide results and has an accuracy of 99.9%.
Endowed with a widespread application scope, next generation sequencing market is expected to depict commendable growth in the years to come. As per estimates, NGS industry is touted to exceed a valuation of $15 billion by 2025.