Mice Model Market will achieve 7.7% CAGR up to 2025
Partner Content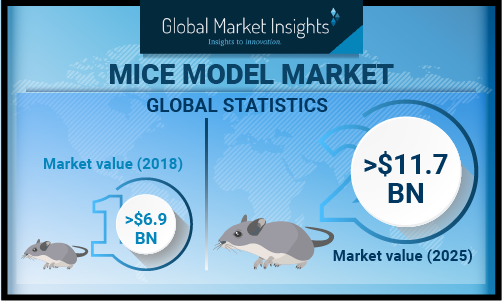 The worldwide Mice Model Market size is projected to cross USD 11.7 billion by 2025. Mice model has become the preferred mammalian model for various research studies targeting diseases like cancer, cardiovascular diseases, and autoimmune disorders. As mice and humans have around 95% DNA similarities, mice models are mostly used to understand the mechanism of such diseases. Researchers across the globe have been using these models to certify drug safety and efficacy. In addition to this, mice are extensively used in biomedical research as they are the key model for mechanistic studies of human reproduction.
Rapid increase in such types of testing procedures in order to understand the genetic variation on which human disorder manifests and to certify drug safety could play a crucial role in advancing the adoption of mice models over the forthcoming years.
Global mice model market is deriving massive growth from towering adoption of mice models for various research investigations. Rising prevalence of cancer, autoimmune disorders, and cardiovascular diseases are prompting various research studies. Mice possess almost 95% genetic similarity with humans due to which they are among the most preferred models for understanding the mechanism and cause of diseases occurring in humans. Mice models are widely used as basic models for the study of human reproduction.
Based on mice type, mice model market is segmented into outbred, inbred, hybrid, knockout, and others. In 2018, inbred mice model industry held the maximum share of over 27%. These models are experiencing heavy demand from cancer research programs as mice models are designed for the testing of compounds, that manipulate the immune system to assist in fighting cancer. Inbred mice models also aid researchers in understanding the mechanism of disease.
To access a sample copy of the "Mice Model Market" report in detail along with the table of contents @ https://www.gminsights.com/request-sample/detail/4473
On the basis of technology, mice model market is bifurcated into CRISPR, embryonic nuclear transfer, stem cell, microinjection, and others. Out of all these technologies, the CRISPR technology held the major share of over 32.7% in 2018. Robust adoption of the technology can be attributed to several advantages aligned with it, including cost-effectiveness, ease of use, time saving, and greater efficiency to change target genes when compared to other gene targeting technologies.
Speaking in terms of usage, mice model market is segmented into veterinary and human. The human segment dominated the global market in 2018 with over 80% share. For understanding the mechanism of deadly diseases, such as diabetes, cancer and cardiovascular diseases, which result in loss of millions of lives every year, the number of testing procedures on mice models is escalating. Moreover, widespread utilization of these models for understanding the biological behavior of neurological disorders and autoimmune diseases is likely to boost segmental growth.
Key industry players operating in the mice model market include genOway, Envigo, Charles River, Janvier Labs, Transviragen Inc., Transpogen Biopharmaceutical, Inc., and Taconic Biosciences Inc.