Humans on a chip – the future for research and drug discovery
Partner Content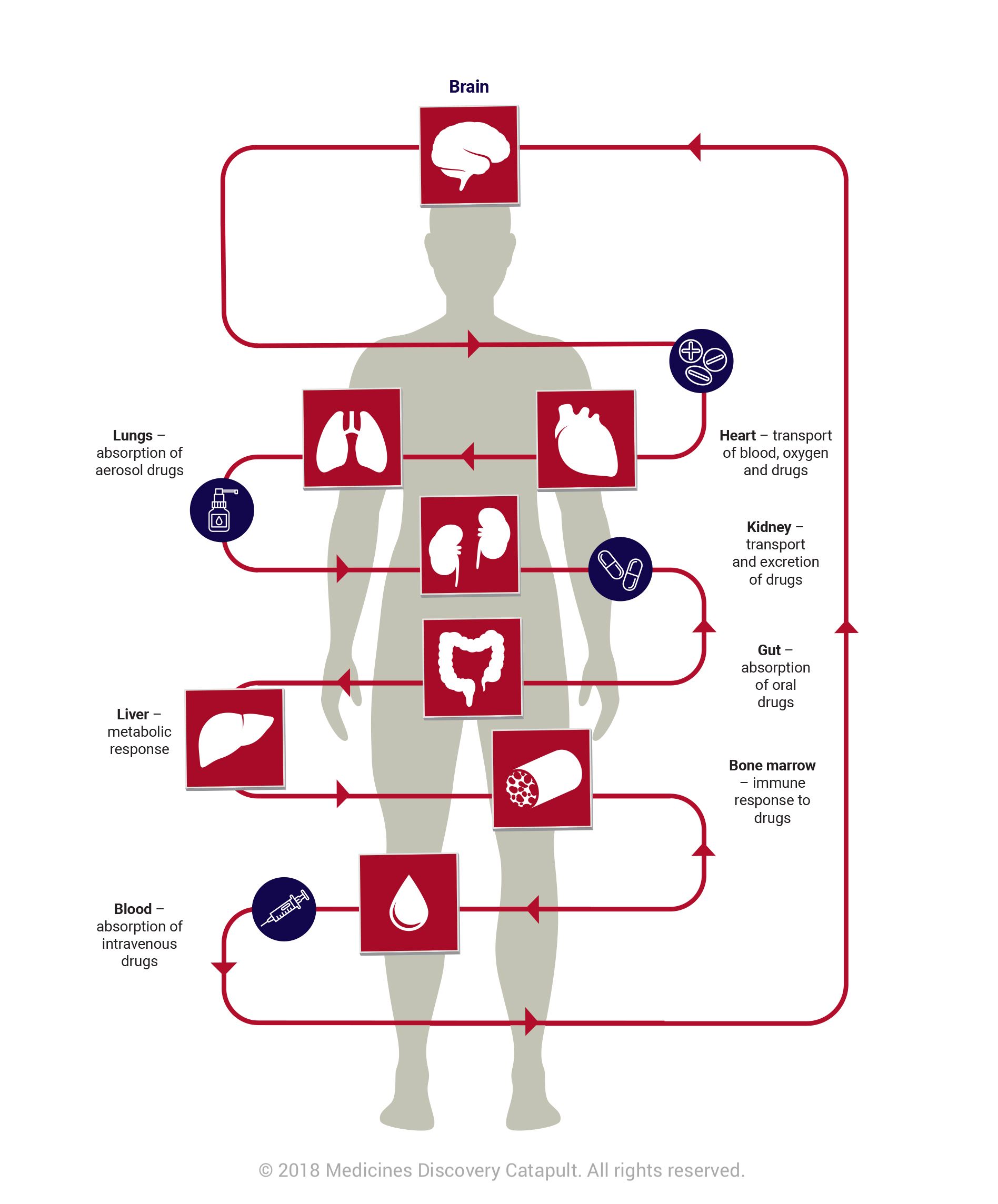 Medicines Discovery Catapult, the Centre for Drug Safety Sciences at the University of Liverpool and the NC3Rs combine forces to propel the UK into the race to advance organ on a chip technology
Medicines Discovery Catapult, the Medical Research Council (MRC) Centre for Drug Safety Science (CDSS), based at the University of Liverpool, and the National Centre for the Replacement Refinement & Reduction of Animals in Research (NC3Rs), are combining forces to bring together experts from the field of organ on a chip technology (OOAC) at the Sensor City in Liverpool today [Tuesday 15 May].
OOAC technology has the potential to revolutionise the way we approach drug discovery. OOAC systems are the creation of representative 3D human organs linked by microfluidic channels on chips the size of USB sticks. It is possible to re-create functionality from many organs including lungs, kidneys, heart, brain and skin. Although still in its infancy, the technology is widely used and researched in the US and across Europe. Today marks a key opportunity for the UK's scientific community.
The event aims to establish an understanding of existing OOAC technology and capabilities, specifically within the UK, and define a plan of action and strategy to advance. This is vital to ensure the UK remains a competitive participant in scientific advancements, capable of converting British science and innovation into products and technologies for the benefit of patients – especially important in the light of Brexit.
Attendees at today's OOAC event include experts from academia, research, pharma, small UK companies and the Medicines and Healthcare products Regulatory Agency (MHRA). A white paper will be published summarising the outputs and future direction.
Advances in OOAC will help to humanise our approach to drug discovery by providing sophisticated models of human organ systems which better mimic what happens when patients receive drug molecules; providing patient relevant data, enabling risk-free biomedical testing and reducing the need for animal disease models.
The impact will save the UK drug discovery community vital time, resource and money, as well as significantly reducing the number of failed trials and disappointments further down the line.
The State of the Discovery Nation[1] report launched earlier this year by the Medicines Discovery Catapult and the BioIndustry Association, and the UKs Non-Animal Technologies Roadmap[2] highlighted the importance of humanising drug discovery, to ensure critical drug testing is performed on cell models which more closely represent patients.
Dr Peter Simpson, Chief Scientific Officer of the Medicines Discovery Catapult, says:
"We recognise that OOAC models are an expensive and specialist technology, inaccessible to much of the UK's SME community whose work is essential to identify potential new drugs and advance medicine for patients. Our role is to support these communities, whilst helping to ensure the UK remains at the heart of scientific innovation, which is why we are committed to establishing access to specialist OOAC technology here at our facility at the Medicines Discovery Catapult in Cheshire."
As organs interact as a system to perform optimally, true tests of efficacy or toxicity of compounds will not be possible until researchers are able to understand these complex interactions between organs. The challenge and opportunity for the UK is to combine multiple organs on a chip and ultimately create a human on a chip that would allow scientists to watch how the entire body responds to a drug.
Professor Sir Munir Pirmohamed of the MRC Centre for Drug Safety Studies at the University of Liverpool says:
"The OOAC technology will provide human data not currently available until Phase I and Phase II clinical trials that is crucial for scientists to understand both harmful and beneficial effects of drugs. It is vital that the UK becomes a leading participant to improve our ability to screen and withdraw drugs that are not viable candidates earlier in the drug development process."
Dr Anthony Holmes, Director of Science and Technology at the National Centre for the Replacement Refinement & Reduction of Animals in Research, says:
"Our aim is to drive scientific and technological developments that replace, reduce or refine the use of animals in research and provide researchers with tools more reflective of human biology for basic and applied science. We are incredibly proud to support the development of OOAC technology as it has the potential to not only support drug discovery but also revolutionise our approach to research."
The possibilities of OOAC technology are endless; one day OOAC could support the advancement of personalised medicine by imitating an individual's unique biology – you on a chip.
– End –
For further information or to arrange interviews contact:
Lisa Bedwell on 01625 708395 or 07741 857132 and email media@md.catapult.org.uk
________________________________________
[1]State of the Discovery Nation 2018 and the role of the Medicines Discovery Catapult. Joint report by the BioIndustry Association and the Medicines Discovery Catapult. January 2018.
[2]Non-Animal Technologies Roadmap: Advancing Predictive Biology. Joint report by Innovate UK, NC3Rs, BBSRC, EPSRC, MRC and Dstl. November 2015.
Notes to Editors:
About the Medicines Discovery Catapult
The Medicines Discovery Catapult is a national centre of applied Research and Development expertise to promote and support innovative, fast-to-patient drug discovery in the UK through collaborative projects.
It is one of a network of elite, not-for-profit technology and innovation centres established by Innovate UK as a long-term investment in the UK's economy. The Medicines Discovery Catapult will work with industry, academic teams, technology experts, charities, regulators and others, to develop new approaches for the discovery and early development of new medicines helping to transform ideas into commercial products and services for the wider health and wealth of the country.
By developing and validating new ways of discovering new medicines, and promoting key talent and expertise across sectors, it can help the UK maintain its heritage position as a global leader in this key industry.
http://mdc.link/ooacws0518pr @MedDiscCat
About the Medical Research Council (MRC) Centre for Drug Safety Science (CDSS)
The CDSS at the University of Liverpool is a world-leading centre for the investigation of fundamental mechanisms of clinically important adverse drug reactions with the overall aim of preventing such reactions by improved drug selection and design and more informed patient selection for the benefit of patients, industry and regulators.
https://www.liverpool.ac.uk/drug-safety/ @CDSS_Liverpool
About the National Centre for the Replacement Refinement & Reduction of Animals in Research (NC3Rs)
The National Centre for the Replacement, Refinement and Reduction of Animals in Research (NC3Rs) is a leading independent scientific organisation dedicated to replacing, refining and reducing the use of animals in research and testing (the 3Rs). It supports the UK science base by driving and funding innovation and technological developments that minimise the need for animals in research and testing, and lead to improvements in welfare where animals continue to be used. It funds research, supports training and development, and stimulates changes in regulations and practice. Primarily funded by Government, the NC3Rs is also supported by the charitable and private sectors. It works with scientists in universities and industry in the UK and internationally.