Highly Potent Active Pharmaceutical Ingredients - Under 2 Weeks Remain!
Partner Content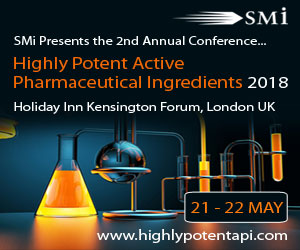 SMi's 2nd annual conference and workshops on Highly Potent Active Pharmaceutical Ingredients will be taking place in London UK, between the 21st - 23rd May 2018. There is still time to register online, with special rates available.
Hear from the speakers themselves, who will be presenting key topics and issues within highly potent apis, especially discussing the future of cross contamination issues.
"Look at ADCs, highly potent APIs that previously were too toxic (including too narrow a therapeutic window) have been reborn when used in a much lower but highly targeted manner." - [CHAIR] - HPAPI Project Services
"I believe that continuous manufacturing and robotic systems will be a real game changer for the HPAPI industry. The industry is just in the early stages of this rapidly developing technology." - Affygility Solutions
"The growing demand for drugs containing HPAPIs and the increased need for targeted therapeutics strengthen the importance of biotechnology, due to the high selectivity of biological drugs in connection with their very specific mechanism of action." - Gedeon Richter
NETWORK WITH:
Dep. Head of Drug Substance Development Division | Developing chemical engineer | Development Scientist | Director of Containment & Micronisation | Director of Operations | EHS Director | EHS Manager | Executive | Head of EHS | Head of Manufacturing | Health, Safety Environment | Managing Director | Occupational Hygiene Manager | Principle Scientist | Principal Occupational Hygienist | Principal Scientist Drug Substance Development | Production Manager | Sales Manager | Scale Up Chemist | Senior Lab Techniciton | Senior Research Technician +more!
For the full attendee list and speaker interviews, visit the download centre online at: www.highlypotentapi.com/phpr
SMi Presents the 2nd Annual:
Highly Potent Active Pharmaceutical Ingredients (HPAPI)
Date: 21st – 22nd May 2018
Workshops: 23rd May 2018
Location: Holiday Inn Kensington Forum, London UK
Website: http://www.highlypotentapi.com/phpr
---end---
Contact Information:
For all media inquiries contact Pav Solanki on Tel: +44 (0)20 7827 6048 / Email: psolanki@smi-online.co.uk
About SMi Group:
Established since 1993, the SMi Group is a global event-production company that specializes in Business-to-Business Conferences, Workshops, Masterclasses and online Communities. We create and deliver events in the Defence, Security, Energy, Utilities, Finance and Pharmaceutical industries. We pride ourselves on having access to the world's most forward-thinking opinion leaders and visionaries, allowing us to bring our communities together to Learn, Engage, Share and Network. More information can be found at http://www.smi-online.co.uk