Hemophilia Treatment Market will witness 5%+ CAGR up to 2025
Partner Content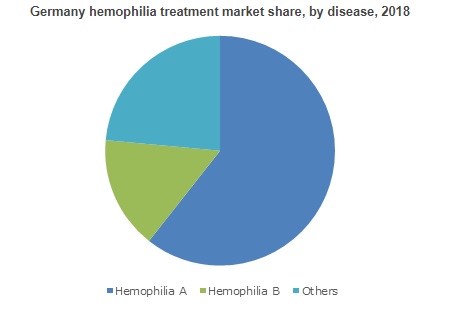 Hospitals as an end-use segment of hemophilia treatment market was valued at USD 3,169.2 million in the year 2018. Individuals with hemophilia will require specialized treatment that is available at hospitals. Patients with all types and severity of hemophilia can be treated in hospitals, as it has access to several kinds of medications required for the treatment along with presence of state-of art facilities. Additionally, the availability of registered medical practitioner along with reimbursement policies will make hospitals preferable over other healthcare settings.
Injectable route of administration is estimated to witness significant growth of 5.0% in the near future. Majority of recombinants products such as antihemophilic factor or Factor VII are present in injectable form. Injectables are used to control and prevent bleeding episodes before surgery, as onset of action is rapid as compared to other forms. Injectables allow the insertion of drug directly into the systemic circulation. The direct interaction of medication with the blood will enhance the hemophilia treatment, thereby augmenting the market growth.
Vasopressin segment of hemophilia treatment market was valued at USD 545.7 million in the year 2018. Increasing use of vasopressin to prevent excessive bleeding will further boost the growth of the market in the coming years. Vasopressin can be used to infuse the release of blood clotting factor as well as control bleeding and promote proper blood coagulation. According to a recent research study, it was found that vasopressin is quite effective in treating hemophilia. Hence, growing efficiency of vasopressin in the treatment of hemophilia will boost the market growth.
Plasma-derived factor concentrates market was valued at USD 1,183.7 million in the year 2018. Plasma-derived coagulation factor concentrates are used to overcome coagulation factor deficiency to prevent excessive bleeding in patients with Hemophilia A and Hemophilia B. These coagulation factors are classified on the basis of purification procedures including precipitation or adsorption for intermediate purity products, ion-exchange chromatography and use of monoclonal antibodies for high purity concentrates. Thus, development in plasma-derived coagulation factor concentrate will spur the segment growth.
To access a sample copy of "Hemophilia Treatment Market" report in detail along with the table of contents @ https://www.gminsights.com/request-sample/detail/2772
U.S. hemophilia treatment market is estimated to grow at 4.1% during the forecast period. Increasing prevalence of hemophilia in the country, enhanced healthcare infrastructure and recent technological advancements in hemophilia treatment will propel the industry growth. Also, presence of renowned pharmaceutical companies such as Sanofi and Roche in the U.S. will foster the growth of hemophilia market.
Indian hemophilia treatment market was valued at USD 157.9 million in the year 2018. According to a recent study, it was observed that around 14,000 people suffering from hemophilia are registered at Hemophilia Federation of India. Hemophilia also remains one of the most under diagnosed diseases in India. Increasing prevalence of hemophilia, high cases of under-diagnosed hemophilia cases and improving healthcare infrastructure in the country will result in immense market growth.
The Hemophilia Treatment Market size will cross USD 14 billion by 2025; according to a new research study published by Global Market Insights, Inc. Increasing global prevalence of hemophilia will drive the hemophilia treatment market in the upcoming years. According to the National Hemophilia Foundation, the worldwide incidence of hemophilia is around more than 400,000 and occurs in approximately 1 in 5,000 live male births. Rise in number of people suffering from hemophilia and increasing cases of genetic abnormalities will result in propelling the business growth.
Some of the key industry players operating in the global hemophilia treatment market include Swedish Orphan Biovitrum AB, Sanofi SA, Pfizer, Novo Nordisk, Genentech, CSL Behring, Biogen, among other players. Key pharmaceutical companies concentrate on new product launches and development, increased R&D investments and product innovation in order to garner significant revenue.