Global Telemedicine Market will register 19% CAGR up to 2025
Partner Content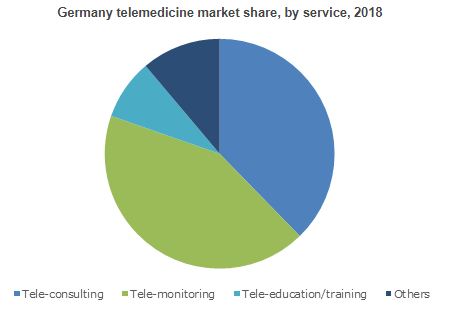 Japan telemedicine market is projected to exceed USD 2.7 billion by 2025. Japan has one of the most advanced telecommunication technologies that enables quick implementation of telemedicine platforms. Medical insurance coverage, improved healthcare, rise in incomes and urbanization is anticipated to bolster the telemedicine market in this region.
Worldwide Telemedicine Market is expected to surpass USD 130.5 billion by 2025; according to a new research report by Global Market Insights, Inc. Increasing need for cost reduction of healthcare services is the major factor for growth of telemedicine market. Tele-consultation reduces time and cost of patient visit to a hospital. Telemedicine platform enables quick response to patient?s needs and healthcare personnel can effectively treat an emergency case, thereby fostering telemedicine market growth.
Tele-education/training market is forecasted to expand at 20.8% CAGR across the forecast timeframe. High growth rate is credited to increasing adoption of telemedicine platforms in developing economies. Furthermore, major market players are exploring untapped markets in growing economies, that will boost tele-education/training market in the future.
Teleconsultation service market is expected to grow at 18.9% CAGR across the forecast timeframe. High growth rate is attributable to increasing patient outcomes, reduced cost of healthcare consultation and improvement in quality of diagnosis. With increasing number of people adopting telemedicine services, the industry should witness considerable growth over the coming years.
Telehome market will reach USD 45.2 billion by 2025. Affordable high-speed internet and increasing smart phone and wearables adoption will rapidly boost telehome market. Moreover, increasing importance of real-time monitoring of elder patients will further propel market growth in the future.
To access a sample copy of "Telemedicine Market" report in detail along with the table of contents @ https://www.gminsights.com/request-sample/detail/3129
Telehospital market is forecast to reach USD 85.3 billion by 2025. Telehospital business is poised to witness high growth across the globe owing to growing telecommunication infrastructure. Telehospitals provide virtual hospitalist presence in rural hospitals that are unable to support full-time on-site physician. Moreover, rising exchange of knowledge among healthcare providers will further boost telehospitals business.
Application of telemedicine in neurology is forecasted to expand at 20.0% CAGR across the forecast timeframe. Increasing prevalence of neurological disorders such as Alzheimer?s disease and Parkinson?s diseases will foster market growth in the future. Also, with real-time consultations and remote patient monitoring, the quality of healthcare service provided will improve, thus leading to market growth.
Web/mobile industry is expected to reach USD 80.2 billion by 2025. Increasing penetration of smart phone and internet users in both developing as well as developed countries will be a major factor boosting market growth. Increasing technological advancements and growing telecommunications network will positively drive market growth.
U.S. market is expected to reach USD 64.1 billion by 2025. Presence of large number of mobile phone and smart phone users couples with well-developed telecommunications network is expected to boost market growth. Furthermore, increasing government initiatives for reimbursement of telemedicine services is expected to augment market growth in the future.
Some of the leading industry players include Allscripts Healthcare Solutions Inc, AMD Global Telemedicine, BioTelemetry, Cerner Corporation, Cisco Systems, Honeywell International Inc, InTouch Technologies, Koninklijke Philips N.V., McKesson Corporation and OBS Medical,. The most commonly adopted business strategies by industry participants includes new product launches, regional expansion and mergers and acquisition.