Factors behind $41 billion Diabetes Care Devices Market growth, by 2025
Partner Content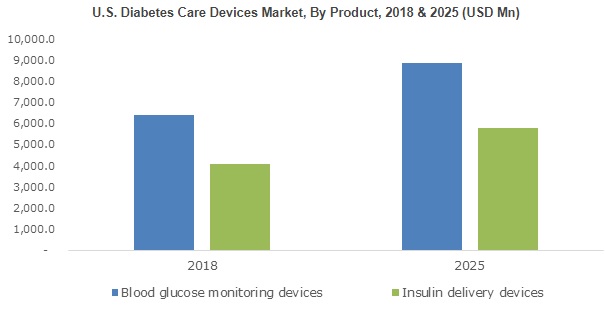 Germany accounted for more than 25% of Europe diabetes care devices market in the year 2018. High technological adoption, increasing number of people suffering from diabetes and rising healthcare spending will drive Germany diabetes care devices market over the forecast timeframe.
China held more than 30% market share of Asia Pacific diabetes care devices market in 2018. Nearly 10.9% total adult population of China suffer from diabetes, as per the IDF. High prevalence of diabetes, increasing rates of obesity and overweight along with physical inactivity will drive China market over the coming years.
U.S. market is estimated to exceed USD 14.5 billion by 2025 owing to increasing incidence of target diseases and rising adoption of sedentary lifestyle. Increasing healthcare spending coupled with technological advancements in diabetes care devices should stimulate U.S. diabetes care devices market growth.
India diabetes care devices market will witness over 8.7% CAGR during the forecast period. According to study published in the Lancet journal, nearly 98 million people in India will suffer from diabetes by 2030. Growing adoption of unhealthy diet, urbanization and rising elderly population base prone to suffer from chronic conditions will drive India diabetes care devices market.
Blood glucose monitoring devices product segment accounted for more than 60% market share in 2018 and is projected to witness considerable growth over the forecast period. Rising awareness regarding diabetes management, and growing number of health-conscious people leading to high adoption of diabetes monitoring devices should drive blood glucose monitoring devices market.
Homecare end-use segment will witness 6.4% CAGR during the forecast period. Skyrocketing growth of home healthcare sector, development of user-friendly and affordable devices along with rising prevalence of diabetes will favor homecare diabetes care devices market growth during the forecast timeframe.
To access a sample copy of "Diabetes Care Devices Market" report in detail along with the table of contents @ https://www.gminsights.com/request-sample/detail/3250
Insulin delivery devices market is estimated to reach over USD 16.5 billion by 2025. Growing demand for minimally invasive insulin delivery devices to prevent complication and injury resulting from invasive devices coupled with technological advancements in such devices should stimulate insulin delivery devices market growth in the foreseeable future.
Abnormal glucose measurements including conditions such as hyperglycemia and hypoglycemia are most commonly witnessed among ICU patients, requiring continuous glucose monitoring thereby stimulating growth of hospital end-use segment. Furthermore, availability of self-monitoring blood glucose devices and portable insulin pumps in market for use at hospital bedside will further drive segment growth.
Global Diabetes Care Devices Market is set to cross USD 41.5 billion by 2025; according to a new research report by Global Market Insights, Inc. Obesity is a primary driver for growing prevalence of diabetes. Increasing adoption of unhealthy diet, growing alcohol consumption and tobacco smoking coupled with physical inactivity has escalated obese population base to a great extent. As per the Pan American Health Organization (PAHO), nearly 305,000 people died due to type 2 diabetes in America in the year 2014, hence propelling the market growth.
Few prominent players operating in global diabetes care devices market are Roche, B. Braun Melsungen AG, Abbott Laboratories, Bayer Corporation among others. Market players are focusing on new product development and expanding geographical reach to consolidate and sustain their position in the market.