Contract Research Organization Market will hit USD 56 Billion by 2024
Partner Content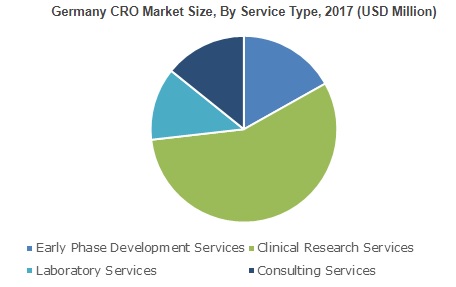 The U.S. contract research organization market exceeded USD 13.1 billion revenue in 2017 and is projected to register 7%+ CAGR during the forecast timeframe due to technological advances and wide-ranging drug development activities conducted in the country. Additionally, presence of several pharma companies in the U.S. should render positive impact on CRO industry.
Global Contract Research Organization Market will surpass USD 56.5 billion by 2024; according to a new research report by Global Market Insights, Inc. Increasing number of clinical trials being conducted worldwide is the major factor that will drive CRO market growth during the forecast period. Growing emphasis of pharma companies on R&D activities for development of potential novel products will render positive impact on the CRO business growth. According to The Association of the British Pharmaceutical Industry (ABPI), R&D expenses as a portion of worldwide sales reached up to 20.4% in 2016. R&D commercialization and augmented specialty in the drug industry will spur the global market growth.
Growing trends of technological advances coupled with pharmacovigilance outsourcing will drive the contract research organization market growth over the forecast timeline. Implementation of technologies such as patient recorded outcomes (PRO), clinical trial management systems (CTMS) and electronic data capture (EDC) further favors contract research organization industry growth.
Early phase development services segment was valued at over USD 5.8 billion in 2017 and is projected to grow significantly over the forecast timeframe. The growth is attributable to increasing early research activities in drug discovery process coupled with rising outsourcing for early phase development.
Oncology segment dominated the healthcare CRO market with USD 18.6 billion in 2017 and is projected to show lucrative CAGR over the forecast timeframe. Cancer is one of the leading causes of mortality in developed as well as developing economies. Increasing prevalence of cancer has accelerated the pace of cancer research for developing safe and efficient treatment. Rising government and private funding for oncology drugs will further drive business growth.
To access a sample copy of "Healthcare Contract Research Organization Market" report in detail along with the table of contents @ https://www.gminsights.com/request-sample/detail/3012
The Cardiology segment of the industry will register 8.1% CAGR up to 2024 due to growing prevalence of cardiovascular diseases and surging number of clinical trials in cardiology. According to American Heart Association 2018 data nearly 92.1 million American adults are having after effects of stroke or some type of cardiovascular disease (CVD). Indirect and direct costs of overall CVDs and stroke are projected to exceed USD 329.7 billion. Rising adoption of unhealthy eating habits and lack of physical exercises accelerate the prevalence of CVD that should further boost segment growth in forthcoming years.
Pharmaceutical and biopharmaceutical companies segment accounted for 54.7% revenue share in 2017 and the segment will witness robust growth in the coming years. Segment growth is attributed to growing investment in new drug development coupled with increasing government support. Growing adoption of CRO services that offers various pharmaceutical research, essential for conducting clinical trials during complicated drug discovery process will spur segment growth over the forecast period.
China contract research organization market is set to achieve lucrative CAGR of 8.9% over the forecast timeframe owing to the growing burden of chronic diseases and presence of large patient pool. Moreover, healthcare reforms in China as well as presence of highly qualified healthcare professionals that provide CRO services at lower costs offer several opportunities for contract research organization industry growth.
Some of the prominent competitors operating in contract research organization market include Charles River Laboratories International (CRL), Clinipace, Clinitec, CMIC, EPS International, ICON, Laboratory Corporation of America Holdings (Covance), Medpace, Parexel International, Pharmaceutical Product Development (PDD), LLC, PRA Health Sciences, IQVIA (Quintiles IMS), Syneos Health, Synteract, Worldwide Clinical Trials and Wuxi AppTec.