Improving Access to Innovative Paediatric Medicines
Partner Content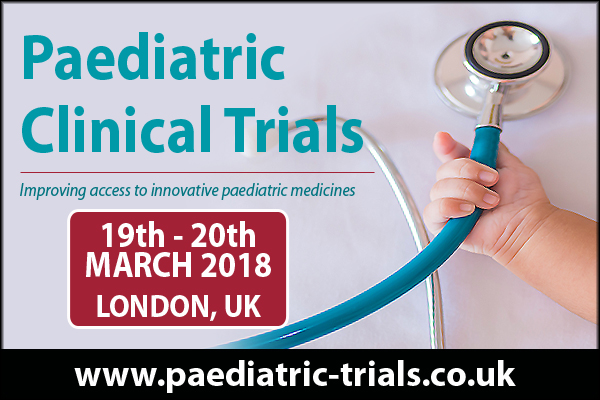 Paediatric Clinical Trials 2018 recognises the continuing need for education amongst Clinical Research Professionals responsible for the activities at the research site or institution. Next year's event will focus on assisting Research Professionals in improving their skills and their understanding of the responsibilities of conducting clinical research in the paediatric population.
Through a series of presentations, practical applications and a supporting workshop facilitated by clinical research professionals, information will be presented and discussed regarding the new methodological tools for paediatric extrapolation guidance.
At the end of the two-day conference, attendees should be able to:
Identify the unique challenges of conducting clinical trials in a paediatric setting
Evaluate the challenges of off label use in the paediatric population
Understand the unique regulatory requirements for paediatric trials
Analyse the critical pathways in paediatric research program planning
Explore the challenges of paediatric research in different therapeutic areas
Examine approaches to patient recruitment in paediatric research
Discover strategies to retain paediatric participants
Describe the process of minimising risk through good clinical practices
Review the process for identifying outcome measures in paediatric research studies
Explore advancements in technology being used for clinical trials and data collection for paediatric drug development
Paediatric Clinical Trials 2018 will also be accompanied by an interactive post-conference workshop, running on Wednesday 21st March:
Paediatric Regulations Explained – From PIP to Reward | 08.30 – 12.30
Leader: Geneviève Michaux, Member of the Brussels and Paris Bar, Partner, Mayer Brown Europe-Brussels LLP
For more information about the must-attend meeting please visit: www.paediatric-trials.co.uk
For those interested in registering, there is currently a £400 early bird discount available for all registrations made before 30th November 2017.
For media enquiries please contact Kyra Williams on +44 20 7827 6012 or email kwilliams@smi-online.co.uk. For sponsorship opportunities or delegate bookings, contact Alia Malick on +44 (0) 20 7827 6168 or email: amalick@smi-online.co.uk
Paediatric Clinical Trials
19th – 20th March 2018
Copthorne Tara Hotel, London, UK
#SMiPCT18