Exclusive Pfizer Speaker Interview Released
Partner Content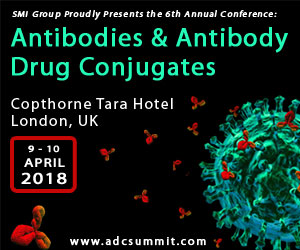 SMi are delighted to welcome Alison Betts, Associate Research Fellow, Pfizer, onto the speaker panel for day 1 at ADC 2018! www.adcsummit.com/phpr
Alison is a member of the Translational Modeling & Simulation Group in the Biomedicines Design department at Pfizer, Cambridge MA, where she is modeling and simulation (M&S) lead supporting the Oncology Research Unit. In this role she leads a team responsible for using M&S strategies to answer mechanistic questions, validate targets, select optimal compounds, translate preclinical data to the clinic and predict efficacious dose/regimen.
SMi are excited to have interviewed Alison about her talk and career experience.
Below is a snapshot of her interview:
Q. How is your organisation involved in Antibodies and Antibody Drug Conjugates?
A. Pfizer has been heavily involved in the discovery and development of antibodies for many therapeutic indications and ADCs in oncology. For ADCs this has included design of novel linker payloads, design of ADCs to many novel targets and several clinical studies with ADCs. As noted above, recently 2 of Pfizer's ADCs (Mylotarg and Besponza) were approved.
Q. What technology or platform updates have really caught your eye in the past couple of years?
A. I am interested in the masking technologies for design of ADCs against targets which may be present in normal tissues, but use of a specific mask enables targeting of the ADC to the tumour environment.
Q. What are the key areas for development in the field of ADCs?
A. Key areas for development in the field of ADCs are combination with immune-oncology check-point inhibitors and other cancer drugs for potentially curative therapies.
Q. What are the future challenges for the advancement of ADCs and what do you think are the biggest hindrances to achieving the utmost therapeutic potential of ADCs?
Check out the full interview, available in the download centre.
Hear more from Alison at the Antibodies & Antibody Drug Conjugates conference this April 2018, as she presents the Opening Address; 'Use of modelling and simulation to compare new generation HER-2 ADCs with Kadcyla™: a focus on PK and efficacy.'
- Day 1 | @09:10
Topics will explore:
- Kadcyla is a HER-2 ADC approved in 2013 for patients with HER2+ metastatic breast cancer
- Kadcyla is only efficacious in high HER2 tumors and patients are acquiring resistance
- New generation HER-2 ADCs are being designed to overcome these limitations
- PK/PD methodologies for efficacy and safety differentiation will be presented
- For PK predictions a mechanistic target mediated drug disposition model is proposed accounting for binding to shed HER-2 extracellular domain and variability across patients
More About Alison Betts:
Alison's main area of work is on novel biotherapeutic modalities including bi-specific T-cell retargeting molecules, CAR-T cells, targeted nanoparticles and drug conjugates for treatment of cancer.
For those looking to attend there is currently a £400 early-bird saving, ending December 15th
Further information is available at: www.adcsummit.com/phpr
SMi presents the 6th Annual Conference:
ADC Summit
Date: 9th – 10th April 2018
Location: Copthorne Tara Hotel, London UK
Website: www.adcsummit.com/phpr
---end---
Contact Information:
For all media inquiries contact Pavan Solanki on Tel: +44 (0)20 7827 6048 / Email: psolanki@smi-online.co.uk
About SMi Group:
Established since 1993, the SMi Group is a global event-production company that specializes in Business-to-Business Conferences, Workshops, Masterclasses and online Communities. We create and deliver events in the Defence, Security, Energy, Utilities, Finance and Pharmaceutical industries. We pride ourselves on having access to the world's most forward-thinking opinion leaders and visionaries, allowing us to bring our communities together to Learn, Engage, Share and Network. More information can be found at http://www.smi-online.co.uk