SMi' 10th Annual Social Media in Pharma – Pfizer Exclusive Speaker Interview
Partner Content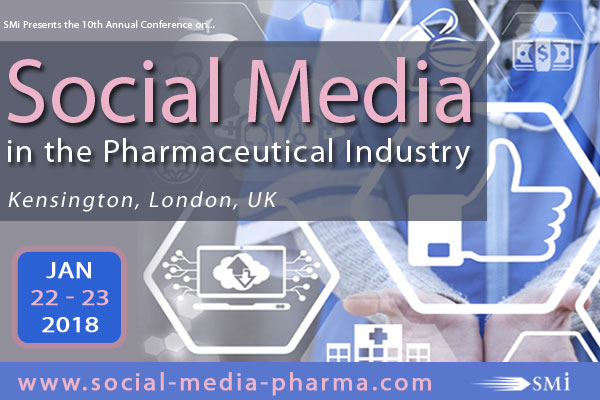 SMi are delighted to welcome Sarah Holiday, Social Media Strategy Lead, Pfizer onto the speaker panel!
Sarah has worked in the pharmaceutical industry for 20 years in a variety of sales, customer access, training and marketing roles and ran the first ever disease awareness YouTube campaign with YouTube vloggers in Pfizer.
Having made the transition from UK country brand leader to Pfizer's regional digital marketing team in 2016 to support a brand, Sarah then moved into her current role of Social Media Strategy Lead for Europe and Developed Asia in April 2017. In this role Sarah works with a variety of stakeholders to ensure Pfizer has the appropriate framework and processes to effectively and compliantly utilise social media as a marketing and communications channel and supports brand teams with content and channel development to optimise audience engagement.
Sarahs presentation: 'Building integrated, impactful social media strategies which engage HCPs and patients as part of the multi-channel mix.' Day 2 | @15:10
Summary of presentation:
- How can pharma brands integrate and adapt social media for greater levels of impact and relevancy as part of the wider digital and multi-channel mix?
- What's the right platform for your brand?
- From global to local markets, advice on building an integrated social media strategy which maximises brand impact
SMi had the chance to interview Sarah about her experience in the industry, here's one of her answers:
"Patient engagement is really important – we want to be able to talk and listen to people so we can meet their needs. We're not always brilliant at doing this we are trying to improve and lose the anxiety we have about two-way communication. Pfizer use a tool called Sprinklr that helps manage social channels in one place – to publish, listen and monitor and moderate comments all in one place."
View the full interview in the download centre online. www.social-media-pharma.com/phpr
- Here Are Some Featured Highlights This Jan:
- Hear how Janssen create powerful pharmaceutical social media strategies enabling patient engagement.
- Learn how to build integrated, impactful social media strategies with Pfizer.
- Discuss the potential of wearable technologies creating behavioural changes for patients with UCB.
- Discover with GSK how to make your social media content less "promotional" and more about storytelling.
- Examine how Bristol Myers-Squibb create an excellent digital strategy whilst engaging patients.
For more information on all sessions, view the full agenda: www.social-media-pharma.com/phpr
For those looking to attend there is currently a £100 early-bird saving by November 30th.
SMi Presents the 10th Annual Conference:
Social Media in the Pharmaceutical Industry
Date: 22nd – 23rd January 2017
Location: Kensington, London
Website: www.social-media-pharma.com/phpr
---end---
Contact Information:
For all media inquiries contact Pavan Solanki on Tel: +44 (0)20 7827 6048 / Email: psolanki@smi-online.co.uk
About SMi Group:
Established since 1993, the SMi Group is a global event-production company that specializes in Business-to-Business Conferences, Workshops, Masterclasses and online Communities. We create and deliver events in the Defence, Security, Energy, Utilities, Finance and Pharmaceutical industries. We pride ourselves on having access to the world's most forward-thinking opinion leaders and visionaries, allowing us to bring our communities together to Learn, Engage, Share and Network. More information can be found at http://www.smi-online.co.uk