Meeting MSL training needs in an evolving landscape

Oncology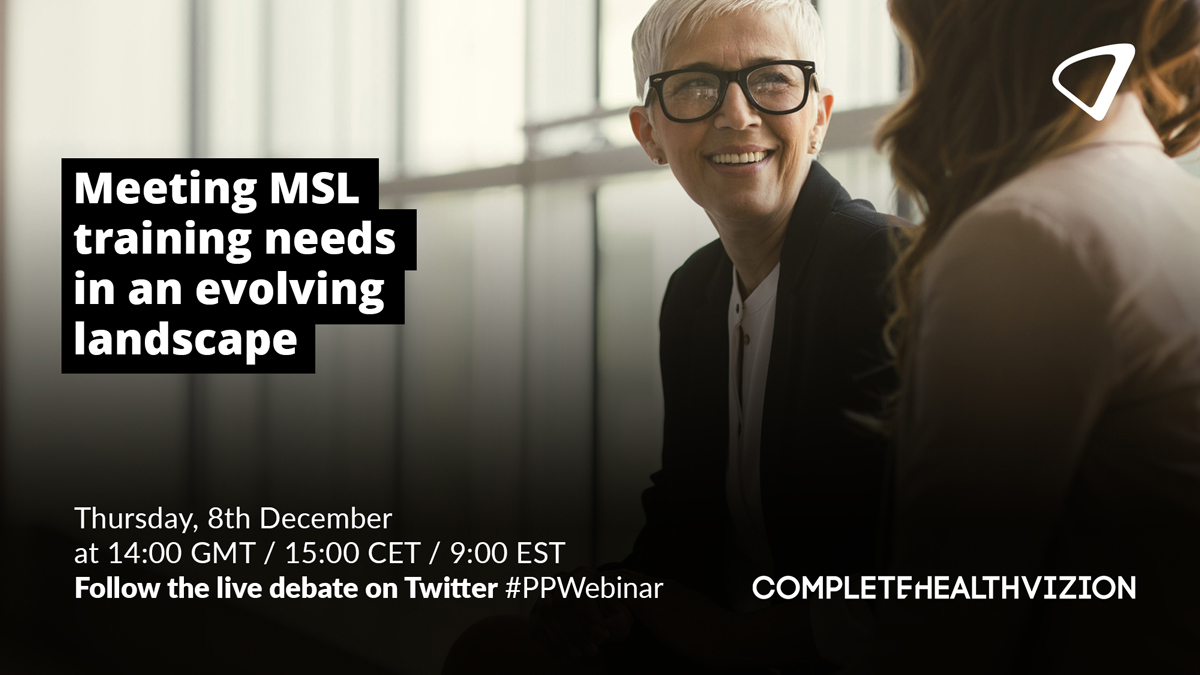 As medical treatments become more complex, the role of the Medical Science Liaison (MSL) has never been more important. Healthcare professionals trust MSLs to keep them informed and up-to-date about the latest treatments, especially in fast-moving areas like oncology. But who keeps the MSLs up-to-date, and who makes sure they have the hard and soft skills necessary to be an effective partner for healthcare professionals?
That's the role of the pharmaceutical companies that employ MSLs and their partners who help to design engaging education platforms and curricula in order to best prepare these important communicators. In this webinar, brought to you by Complete HealthVizion, three experts on MSL training will discuss the current challenges and opportunities for MSLs, the skills they need to meet those challenges, and new strategies and technologies that can be used to impart those skills.
Join us on Thursday, 8th December at 14:00 GMT / 15:00 CET / 9:00 EST as panelists share their own experiences with MSL training programmes and the innovations they're employing today. This webinar will also explore:
How the changing nature of communications technology and modalities are changing the MSL's role
How to create a curriculum that's engaging, but also maximises retention
New programmes that emphasise independent learning and encourage active participation
Attendees will leave with a better understanding of the current MSL training landscape and some actionable ideas for their own training programmes.
About the panel

Louise Picken, EVP Head of Medical Services, Complete HealthVizion
Louise serves as Complete HealthVizion's Head of Medical services, providing medical leadership for team members, for clients, and ultimately for the patients we serve. She brings over 20 years of experience in medical communications and medical training. Her focus on gaining deep behavioural insights ensures that we deliver communications that inform better clinical decision making and achieve our commitment to change lives for the better. Louise leverages her scientific understanding of the data and her knowledge of adult learning principles, to ensure medical training addresses different learners' priorities and preferred learning styles, while maximising engagement and retention.

Tamalette Loh is VP, medical director at Complete HealthVizion, where she is responsible for providing strategic direction, as well as ensuring scientific accuracy and appropriateness in all communications. With more than 16 years' experience in medical communications, and 10 years' experience in academic research, Tamalette has a strong understanding of the diverse communication strategy and content necessary throughout a drug's lifecycle, from preclinical to the mature product. She is proficient in written, verbal, and digital media for both internal pharma, including MSL training modules, and external communications, and has worked with US and International thought leads in breast and lung cancer developing publications, symposia, and large summit meetings.

Colette How is the senior director, head of oncology medical training at AstraZeneca – her team is responsible for delivering the scientific, data and skills training required by Global Medical colleagues around the world, ensuring they are equipped to conduct meaningful discussions with healthcare professionals that inform clinical practice. Prior to joining AstraZeneca, Colette worked for 8+ years in medical education agencies, responsible for driving and delivering innovative and impactful medical training initiatives across a number of oncology therapy areas.

Jonah Comstock, editor in chief pharmaphorum (moderator), is a veteran digital health journalist, Jonah was an early hire at MobiHealthNews and most recently led editorial efforts at HIMSS Media.
* When you click to register for this webinar you will be taken to a website run by BrightTalk who host the webinar and gather your registration data.
This data may then be passed to pharmaphorum media limited, and in turn passed to the company(ies) we are partnering with to bring you the webinar. This data may be used by us and them for occasional marketing purposes. It will not be shared with any further third parties.
By clicking to register for this webinar you give consent for any data you provide to be used in this way.
If at any point you no longer wish to be contacted based on the information you provide during the registration for this webinar, please send an email to info@pharmaphorum.com requesting that your information is deleted in accordance with the General Data Protection Regulation.