ViiV's HIV drug could be used for TB co-infection patients
ViiV Healthcare's HIV drug Tivicay can be used in patients co-infected with tuberculosis – the leading cause of death in people living with the virus, according to preliminary findings from a study.
Treating patients infected with both TB and HIV is challenging because of drug interactions and overlapping toxicities, making treating extremely sick patients with both conditions very tricky.
ViiV – a joint venture between GlaxoSmithKline, Pfizer and Shionogi, announced interim results of the INSPIRING phase 3b study, testing Tivicay (dolutegravir) in antiretroviral treatment-naïve (ART-naïve) patients with HIV coinfected with TB.
Results show Tivicay when administered 50mg twice daily with dual nucleoside reverse transcriptase inhibitors (NRTI), was effective and well-tolerated in HIV/TB co-infected adults receiving rifampin-based TB therapy.
Of the 113 enrolled participants on a rifampin-based TB treatment for up to eight weeks, 69 were randomised to receive Tivicay (50mg twice-daily during and for two weeks after TB therapy followed by 50mg once-daily) with two NRTIs and 44 to receive Bristol-Myers Squibb's Sustiva (efavirenz)(600mg once-daily) with two NRTIs.
The primary endpoint of the study is the proportion of Tivicay patients with HIV-1 RNA of less than 50 copies per mL at week 48.
The study, being conducted in Argentina, Brazil, Mexico, Peru, Russia, South Africa and Thailand, was not powered to show a difference between study arms and no formal statistical hypothesis was tested.
An interim analysis conducted at 24 weeks showed that the proportion of patients treated with the Tivicay regimen who maintained viral suppression was 56/69 (81%).
This was not far off the Sustiva arm, where 39/44 patients (89%) maintained viral suppression.
But no patients in the Tivicay arm discontinued treatment due to adverse events, compared with two in the Sustiva arm – although five patients on Tivicay stopped due to non-treatment related reasons (loss to follow-up/protocol deviations).
In both arms there were only four cases of TB-associated immune reconstitution inflammatory syndrome (IRIS) with no patients discontinuing due to IRIS or liver events, according to findings announced at the Conference on Retroviruses and Opportunistic Infections (CROI) in Boston.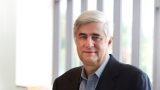 ViiV's John Pottage
John Pottage, Jr,ViiV's chief scientific and medical officer, said: "Tuberculosis remains the leading cause of death among people living with HIV, accounting for around one in three AIDS-related deaths."
"The INSPIRING results add to the breadth and depth of data available for dolutegravir and support its use in the treatment of people living with HIV co-infected with TB."
The study is ongoing and full results will be announced at a forthcoming medical conference.
GSK is locked into a heated battle with its closest rival in HIV treatment, Gilead, and proof of its safety and efficacy in these patients would represent a major boost.
Don't miss your daily pharmaphorum news.
SUBSCRIBE free here.