Tanaka develops world's first blood test for Zika virus
Tanaka Kikinzoku Kogyo – operator of Tanaka Holdings' Precious Metal manufacturing business – has revealed the world's first blood test for Zika virus.
The test is capable of detecting Zika virus infection directly from blood samples in just 10 to 15 minutes.
Existing Zika virus testing relies on immunochromatographic methods that detect the level of human antibodies produced in response to viral infection.
These methods not only rely on the use of expensive laboratory equipment, but can also take up to a day to produce a diagnosis.
Tanaka's technology instead detects levels of the virus itself, utilising antibody screening technology and nano-colloidal gold to highlight the presence of a Zika virus-specific protein called non-structural protein (NS1). The result is a much cheaper test than existing methods with the same sensitivity as other assay-based tests, including those for influenza.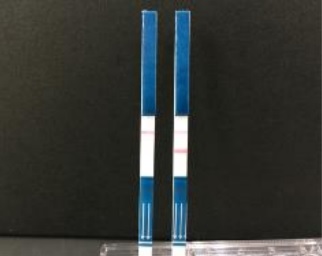 Tanaka's Zika test is a strip that can be dipped directly into a blood sample, producing a diagnosis in 10-15 minutes. The strip on the right has tested positive for Zika virus.
Since the first reports of Zika virus infection in 2015, what began as a Brazilian epidemic quickly was declared 'a public health emergency of international concern' by the World Health Organisation as cases have been reported as far as the US and the possibility that the virus may soon reach Europe.
The effects and transmission methods of the virus have also evolved over time, with it being heavily linked with microcephaly in newborns and sexual and blood transfusion being added to the possible ways the virus can spread.
Companies such as Sanofi Pasteur, Inovio and Sementis have committed to the development of a vaccine for the virus and IBM have made moves to improve treatment for the infection. However, little attention has been paid to the production of a faster and cheaper diagnostic test.
Now with Tanaka's platform, diagnoses can be made much earlier in the process of infection by directly detecting Zika virus. Antibody detection – as seen in current lab-testing – relies on the body's production of antibodies in response to Zika infection, which can take a few days for the body to produce, at which point the initial feverish symptoms associated with Zika infection are passing or have passed. In contrast, Tanaka's test can produce diagnoses during these early stages.
Don't miss your daily pharmaphorum news.
SUBSCRIBE free here.