Sanofi and BI finalise swap to create market leading consumer and animal health divisions
A multi-billion dollar swap between Sanofi and Boehringer Ingelheim has been finalised, giving companies critical mass in the consumer healthcare and animal health markets respectively.
Sanofi will now have a consumer healthcare (CHC) business worth around €4.9 billion based upon 2015 global sales, although BI has kept hold of its consumer health operations in China.
Boehringer Ingelheim's integration of Sanofi's Merial into its animal health business will more than double its sales to approximately €3.8 bn based upon 2015 global sales.
The transaction still requires approval from regulatory authorities in different territories, but the deal is expected to be cleared by the end of 2016.
The companies say the strategic swap lays the foundation for both of them to reach size and scale in two highly attractive pharmaceutical activities. Boehringer Ingelheim's CHC business is valued at €6.7 bn, while Merial has an enterprise value of €11.4 bn. This means BI will make a cash payment to Sanofi of €4.7 bn to make up the difference in value.
As with other multi-billion asset swaps in the sector, such as (GSK and Novartis) the transfer of employees and sites has added extra complexity to the deal. The companies agreed that Lyon and Toulouse in France would be key operational centres for BI's animal health business.  As the US market is an important part of Merial's business, Boehringer Ingelheim says it will pay particular attention to sustain the momentum of the US operations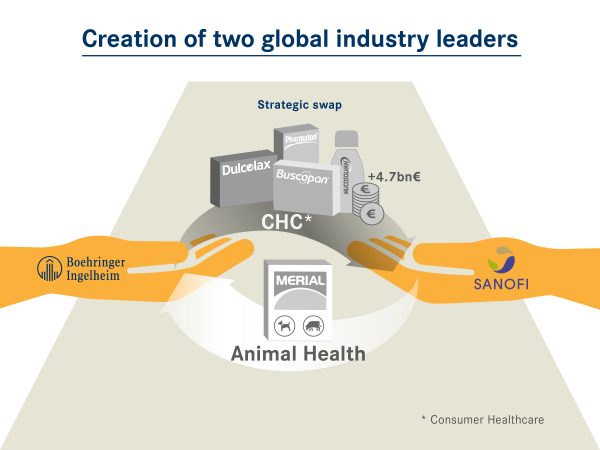 Photo: Business Wire
Germany will be a key centre of Sanofi's CHC business, including in particular gastro-intestinal and cough and cold categories. Antispasmodic Buscopan is the biggest selling brand being adopted from BI, with 2015 sales of €223 million.
The leading brands of Sanofi's CHC business are the allergy products Allegra (2015 sales of €424m) and Nasacort (2015 sales of €122m)
The deal is important for both companies, although Sanofi is under considerable pressure from investors to find new growth drivers in its business, while privately-held Boehringer Ingelheim is more confident about its future growth.
Despite the scale of the deal, investors are looking for deals or strategic decisions which will provide a bigger uplift for Sanofi.
That's why the company and its chief executive Olivier Brandicourt are pursuing Medivation, the US cancer specialist company. Sanofi first offered a $9.3 billion takeover bid for the firm in April, but has been met with staunch resistance from Medivation's board. Sanofi says it hopes to secure the acquisition by August, but risks being outbid or outmanoeuvred if Medivation finds another big pharma buyer.
Don't miss your daily pharmaphorum news.
SUBSCRIBE free here.