Roche's Tecentriq halts disease in squamous lung cancer
Roche's cancer immunotherapy Tecentriq has produced strong results which could give it the lead in a key lung cancer indication.
The drug reduced the risk of disease worsening or death when combined with chemotherapy in people with an untreated form of advanced squamous lung cancer.
The Swiss pharma company said the Impower 131 study met its co-primary endpoint of progression free survival, and is waiting to see whether the other goal of overall survival (OS) has been met.
The 1,021 patient trial is comparing a combination of Tecentriq (atezolizumab) plus chemotherapy of carboplatin and Celgene's Abraxane (nab-paclitaxel), with chemotherapy alone in first-line treatment of people with advanced squamous non-small cell lung cancer (NSCLC).
Findings are based on an interim analysis showing a statistically significant improvement in progression-free survival, although a statistically significant overall survival benefit was not observed and the study will continue as planned.
Nevertheless, the trial results are a boost for Tecentriq, which is chasing Merck & Co's Keytruda, which is establishing a lead in lung cancer indications.  Meanwhile Bristol-Myers Squibb's Opdivo (nivolumab) is also still in contention, while AZ is also carving out its own niche in NSCLC, the biggest prize in immunotherapy.
Arm B, of the trial, involving Tecentriq plus carboplatin and nab-paclitaxel) must demonstrate a statistically significant overall survival result versus arm C (carboplatin and nab-paclitaxel), before an analysis between Arm A (Tecentriq plus carboplatin and paclitaxel) and Arm C can be made for PFS and OS.
Roche has eight phase 3 lung cancer studies underway testing Tecentriq alone or in combination with other medicines and five are expected to report this year.
First approved by the FDA in 2016 in bladder, sales of Tecentriq are mounting, generating around $511m in 2017, and since then it has been approved lung cancer and another bladder cancer use.
But like other immunotherapies there has been a shock failure, when a late-stage trial confirming its use in advanced metastatic urothelial cancer following failure of platinum-based chemotherapy missed its overall survival endpoint.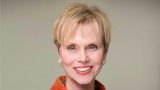 Sandra Horning, Roche's chief medical officer and head of global product development, said: "Squamous non-small cell lung cancer is difficult to treat and there have been limited new treatment options over the last few decades."
"We will share the IMpower131 results with global health authorities and we look forward to seeing more mature overall survival data."
Don't miss your daily pharmaphorum news.
SUBSCRIBE free here.