Four Health and ARK top the charts at PM Society Digital Awards
News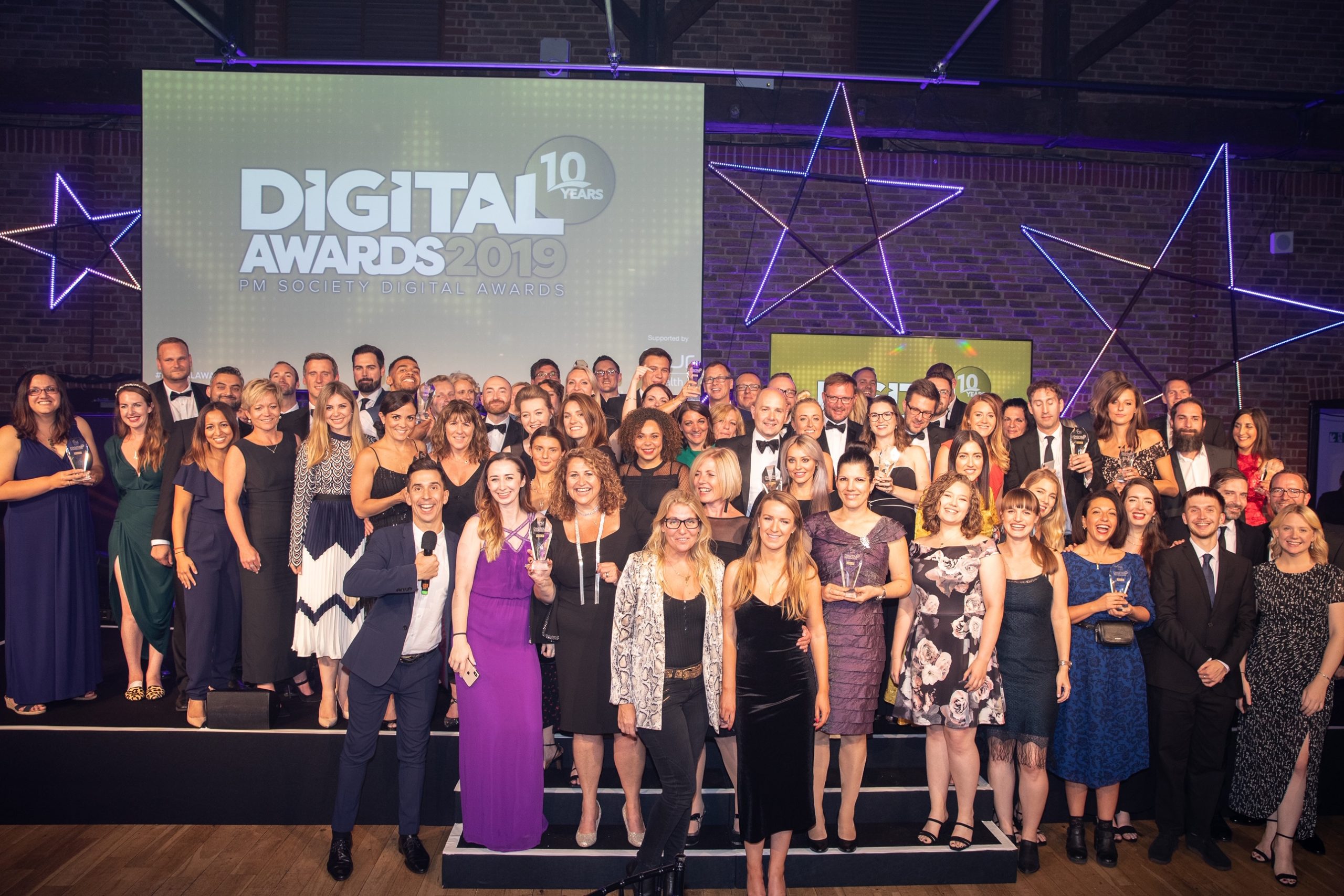 The PM Society Digital Awards celebrated its tenth anniversary last night with its annual award ceremony at The Brewery in London.
There was an even spread of winners across the categories, echoing the trend of the last two years, with no one agency or company taking home more than three Gold awards.
The evening ended with the announcement of the Pharma Digital Partner award, which was won by Emma Prosser from MSD with a Highly Commended for Lindsey Rodger from Ferring. Best Digital Project or Account Manager this year was won by M3's Eta Rodger and the Best Agency Digital Team was from ARK.
This year two agencies stood out at the top of the field. Four Health won three Golds: Patient Communications; Innovation – Best use of new technology; and in partnership with earthware for the best Promotional Brand Campaign.
ARK had two wins, taking home Gold for Best Film in addition to the best Agency Digital Team award. earthware won a Gold, two Silver and two Bronze awards and Havas Life Medicom took home a Gold and two Silvers, as did M3. Other Gold winners were Wound Care People & Mole, emotive, Envision Pharma Group, Ogilvy Health, Ruder Finn, precisioneffect and Syneos Health Communications.
Among pharma companies and healthcare organisations, no single company took more than one Gold but there were several companies that took home a number of awards. Boehringer Ingelheim took a Gold and two Silvers, AstraZeneca a Gold, Silver and Bronze and both Mundipharma and Kings College London each won a Gold and a Silver. Other Gold winners were Essity, Rare Disease UK, Galderma, Biotest, GSK, Johnson & Johnson and Edwards Lifesciences.
The awards event at the Brewery was the biggest yet with lots of new features to celebrate ten years of the Digital Awards; special Facebook filters for celebration photos kindly provided by 28b, an exhibition of new technologies put on by tech company INITION and an after party. Four Health were headline sponsors for the second year running.
Chair of the Digital Awards Rachel Farrow said: "I'm so pleased to see such a spread of winners this year from finalists representing 34 different agencies and 39 client organisations. This tenth anniversary event has been the best yet and we are so grateful to everyone that supports this event through entering, judging, sponsoring and helping us put on a fantastic awards ceremony. Here's to the next ten years!"
Full list of category Gold winners
Promotional campaigns – earthware & Four Health – Braltusbot
HCP education & support – Wound Care People & Mole – Journal of Community Nursing Facebook Live
Healthcare charities – emotive – Spot the Rare Campaign
Patient programmes – Four Health – GLAD I took part
Congress/Meetings – Envision Pharma Group – Different by Design
Integrated channel campaign – Havas Life Medicom – The burden of rosacea
Corporate communications – Ogilvy Health – Taking cancer on through flavour
Internal communications – Ruder Finn & AstraZeneca – AZ2025.Think. Transform. Together
Film – ARK – Second Life
Animation – precisioneffect – Rabipur Interactive Video
Innovation: New Technology – Four Health – Pioneering blockchain within programmatic advertising
Innovation: Creativity – Syneos Health – INSPIRIS RESILIA Aortic Valve Mind Racing
Digital Account Manager – Eta Rodger (M3)
Digital Team – ARK
Pharma Digital Partner – Emma Prosser (MSD)
There were 15 categories at this year's awards, the only new award being the addition of a category to judge digital campaigns developed with and for charities and patient organisations, which was won by emotive with Rare Disease UK. 41 judges in total examined the entries, first online and then at an exciting second round involving face-to-face presentations. The judges were predominantly from industry, with expertise in marketing and digital as well as some medics and additional judges from the NHS and agencies.