Phase 3 trial confirms Lumakras role in lung cancer
News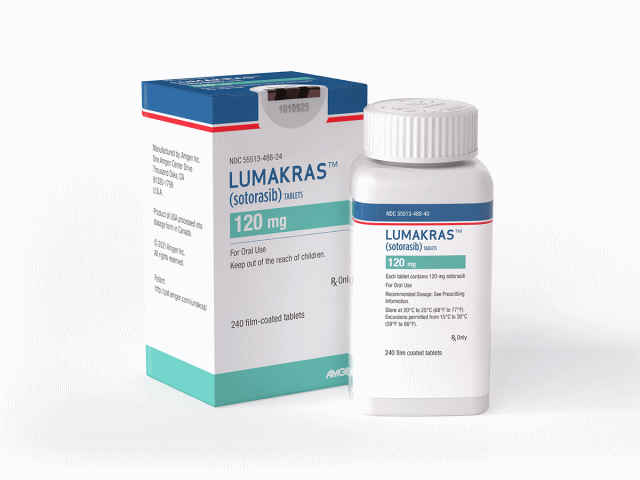 Amgen's pathfinder KRAS inhibitor Lumakras has been shown to be effective in KRAS-mutated non-small cell lung cancer (NSCLC) in a phase 3 trial that should serve as a confirmation study for its earlier accelerated approval in this setting.
The 345-subject CodeBreaK 200 trial of once-daily Lumakras (sotorasib) met its primary objective of improving progression-free survival (PFS) compared to chemotherapy with intravenous docetaxel in KRAS G12C-mutated NSCLC patients previously treated with platinum-based doublet chemotherapy and checkpoint inhibitor therapy.
Only the top-line result is available for now, but the positive finding should be sufficient to convert Lumakras conditional approval to a full one, with the full data set due to be reported at a future medical meeting.
That's important as the FDA and other regulators are increasingly enforcing the requirement for confirmatory studies after accelerated approvals and have stripped some indications from cancer drugs in the last couple of years.
Lumakras was cleared by the FDA in May 2021 for KRAS G12C-mutated NSCLC patients who have received at least one prior systemic therapy, marking the culmination of a decades-long effort to bring a KRAS-targeting drug to market.
KRAS mutations are seen in around a quarter of NSCLC tumours, with KRAS G12C mutations in particular found in approximately 13% of cases, but for a long time was considered to be an "undruggable" target.
Analysts have suggested that Lumakras could become a $1 billion-plus product if Amgen can extend the label for the drug into the first-line NSCLC setting and get approval for other KRAS-mutated tumour types such as colorectal and pancreatic cancers and as combination therapy.
It still has a long way to go, bringing in $139 million in the first half of this year, but the new data keeps clear space between the drug and Mirati's adagresib, which was filed for accelerated approval in KRAS-mutated NSCLC and is expecting an FDA decision in mid-December.
It's possible – at least hypothetically – that if Lumakras' gets a full registration before that date Mirati could be required to complete its confirmatory trial of adagrasib prior to approval, as accelerated clearance is usually only possible if there is an unmet need, i.e. no approved drug on the market.
Mirati's phase 3 trial of adagrasib versus docetaxel in previously-treated KRAS G12c+ NSCLC isn't due to report results until August 2023. Merck & Co and Boehringer Ingelheim are meanwhile among other drugmakers with KRAS inhibitors in their cancer pipelines.