Pharma M&A rumour mill grinds out Mirati's name again
News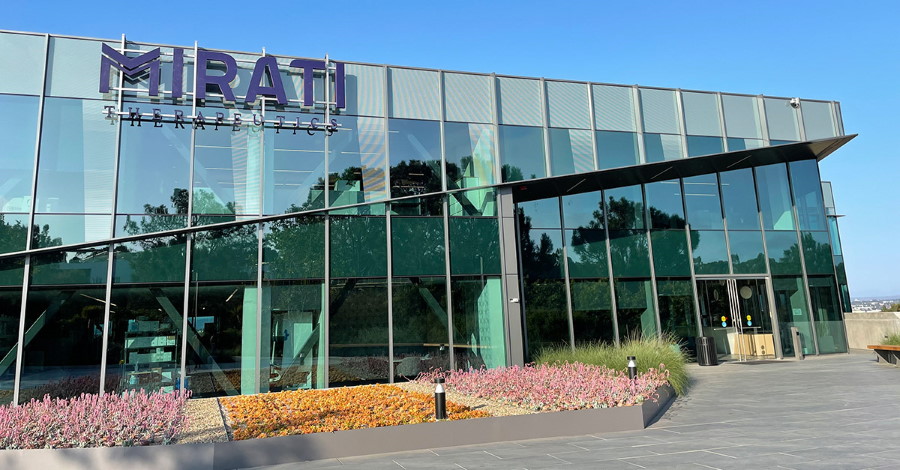 Mirati Therapeutics is the subject of takeover speculation in the biopharma sector once again, as it waits for the FDA's decision on its KRAS inhibitor adagrasib in non-small cell lung cancer (NSCLC).
A Bloomberg report published ahead of the Thanksgiving holiday in the US suggested that potential buyers are waiting for the results from a phase 2 trial of the drug in combination with Merck & Co's PD-1 inhibitor Keytruda (pembrolizumab) in patients with previously-untreated KRASG12C-positive NSCLC, due to be presented at the ESMO congress next month.
The speculation comes as Mirati is preparing for the FDA to decide on adagrasib as a therapy for previously-treated KRASG12C+ NSCLC on or before 14 December, with the EU regulator also reviewing an application for the same use.
If approved, the drug will be the first direct competitor to Amgen's first-to-market KRAS drug Lumakras (sotorasib), which has been available for this indication since last year.
Citing people close to the matter, Bloomberg suggests that Mirati is the subject of takeover interest from "large pharmaceutical companies" and has been weighing up its "strategic options", including a possible sale, although it does say that no formal bids are on the table and a deal is not imminent. Mirati has declined to comment on the speculation.
BMO analyst Evan Seigerman said in a research note that any suitor would likely have to pay as much as $200 per share for Mirati, adding that a deal "is likely to reflect full valuation for usage in the [front-line] NSCLC setting."
He went on: "We expect […] updated data presented at ESMO I/O to reflect data seen around ASCO in June. Response rates above 50% in PD-1 high/intermediate patients with no liver tox surprises could set up for a potential acquisition."
Lumakras given alongside Keytruda or Roche's PD-L1 inhibitor Tecentriq (atezolizumab) was associated with increased liver toxicity in the Phase Ib CodeBreaK 100/101 than Lumakras alone.
Seigerman added that Mirati has expressed interest to commercialise on its own, but "we think an acquisition by a larger biopharma name with experience in commercialising oncology assets could be a smart move for Mirati, given the competitive nature of the space."
Shares in Mirati rose around $20 on the speculation to almost $96, partially reversing a steady decline from more than $150 at the beginning of the year. An offer of $200 would value the company at well over $10 billion.
If a deal was forthcoming, the buyer would also claim a pipeline of follow-up cancer drugs including TAM receptor inhibitor sitravatinib in phase 3 for non-squamous NSCLC, PRMT5 inhibitor MRTX1719 for MTAP-deleted cancers, and selective SOS1 inhibitor MRTX0902.
Last year, the Financial Times also reported that there was interest in a Mirati buyout, citing Merck as the most likely suitor.