Novartis taps smartpatient for app to support wet AMD patients
News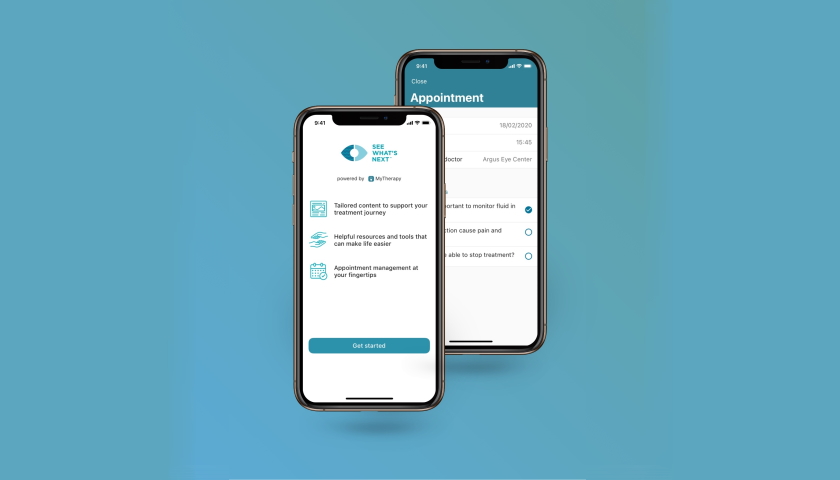 German digital health company smartpatient is adding a new section of its MyTherapy app providing information on wet age-related macular degeneration (AMD), a leading cause of blindness.
The Munich-based company is launching the educational See What's Next app in collaboration with Novartis, which sells the wet AMD medicines Beovu (brolucizumab) and Lucentis (ranibizumab), and has also been a big proponent of digital health technologies.
Wet AMD affects more than 20 million people worldwide, and is the top cause of blindness in people aged over 65. It develops when abnormal blood vessels grow into the macula of the eye. These vessels leak blood or fluid which leads to scarring of the macula and rapid loss of central vision.
While injecting drugs like Beovu, Lucentis and Bayer/Regeneron's rival Eylea (aflibercept) into the eye can slow down the progressive loss of vision associated with the disease – particularly if wet AMD is diagnosed early – careful adherence to therapy is critical for treatment to work effectively.
The new, free of charge section makes tailored information about wet AMD available to the approximately 20 million people worldwide with wet AMD along with tools to help them stay on track with treatment and in communication with their doctors.
"Non-adherence is a challenge in most health conditions, but in few are consequences as direct and severe as in wet AMD," says Sebastian Gaede, smartpatient's chief executive.
See What's Next is available to patients through their ophthalmologists, according to smartpatient, which has co-created the wet AMD app with Novartis, and will roll out initially in Italy and Spain with additional markets planned in the coming months.
MyTherapy has already been downloaded by millions of people around with world, and has more than 80,000 ratings on Apple's App Store and Google's Play Store – which smartpatient claims makes it the world's fastest-growing disease management app.
Novartis and Lucentis marketing partner Roche have been battling Bayer in the wet AMD market for years, but the company hopes to make headway with recent launch Beovu as patent protection for Lucentis is expiring this year in the US and in 2022 in Europe.
Novartis earned $2 billion from Lucentis last year, while Roche – which sells it in the US – made $1.8 billion from the drug. Eylea was the market leader with Regeneron recording US sales of $4.6 billion in 2019, while Bayer posted $2.5 billion.
Beovu hasn't really taken off yet, with sales of just over $150 million in the first nine months of the year, impacted by the pandemic but also because there have been reported of patients experiencing retinal vasculitis after being treated with the drug following its launch in the US in 2019.
Market research company GlobalData still thinks Beovu will become a blockbuster with peak revenues of $3.6 billion in 2028, when it expects the total wet AMD market in eight top pharma markets – the US, France, Germany, Italy, Spain, UK, Japan, China, and Australia – to reach $18.7 billion.