Novartis files CAR-T in lymphoma, sets up rivalry with Gilead
News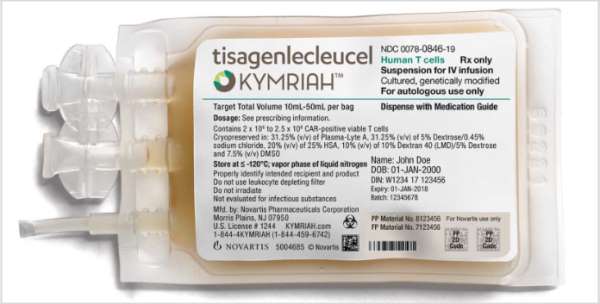 Novartis has filed for a second US use of its Kymriah CAR-T therapy, in a move that will put it in competition with Gilead's more recently approved rival.
The new US filing announced today means Novartis is pursuing approval in relapsed/refractory diffuse large B-cell (r/r DLBCL) lymphoma patients ineligible for autologous stem cell transplant.
Kymriah was the first CAR-T drug to gain US approval in August, for paediatric patients with B-cell precursor acute lymphoblastic leukaemia that is refractory or has relapsed at least twice.
But DLBCL is the big prize in the market, as there are far more patients in need of new treatments:  around 56,000 patients diagnosed every year, and around 19,000 on third-line treatment.
The disease kills most of patients whose disease relapses or proves refractory to third line treatment, about 40% of all DLBCL patients.
Novartis' outgoing chief executive Joe Jimenez has indicated that this is the indication which could propel its drug to blockbuster status, but will have to share the market with Yescarta.
Data from both cell therapies are compelling, with CR rates in the 40-50 % range (similar to Kite's data), and Novartis secured a Breakthrough Therapy Designation
Gilead has already got its rival chimeric antigen receptor T-cell (CAR-T) therapy, Yescarta approved in r/r DLBCL, an aggressive form of non-Hodgkin lymphoma.
Novartis added it is also planning a European filing in both uses with the European Medicines Agency later this year, where Gilead has already filed Yescarta in DLBCL.
Both therapies are expected to generate multi-billion dollar sales, but will not come cheap – Novartis charges $475,000 for the therapy but offers a rebate if patients have not responded after a month.
[caption id="attachment_16736" align="alignnone" width="270"]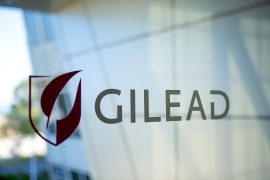 Gilead has a slight headstart on Novartis, but the Swiss firm's pay-for-performance offer could be significant[/caption]
Gilead has undercut this with a headline price of $373,000 but does not offer such rebates.
The US submission for Kymriah (tisagenlecleucel) in DLBCL is based on the phase 2 JULIET study, with six-month data due to be presented at the American Society of Hematology (ASH) conference in December.
JULIET was conducted in collaboration with the University of Pennsylvania School of Medicine, where Kymriah was first developed.
It is the largest study examining a CAR-T therapy exclusively in DLBCL, enrolling patients from 27 sites in 10 countries across the US, Canada, Europe, Australia and Japan.
Data from the six-month primary analysis of JULIET will be presented at the annual meeting of the American Society of Hematology (ASH) in December 2017.
With CAR-T therapies, a patient's own T-cells are harvested and genetically reprogrammed to targeted cancer cells.
Novartis said it can manufacture the treatment within 22 days at its facility in New Jersey, including cryopreservation of the harvested cells for future use.