Novartis bags FDA okay for BRAF-positive tumour combination
News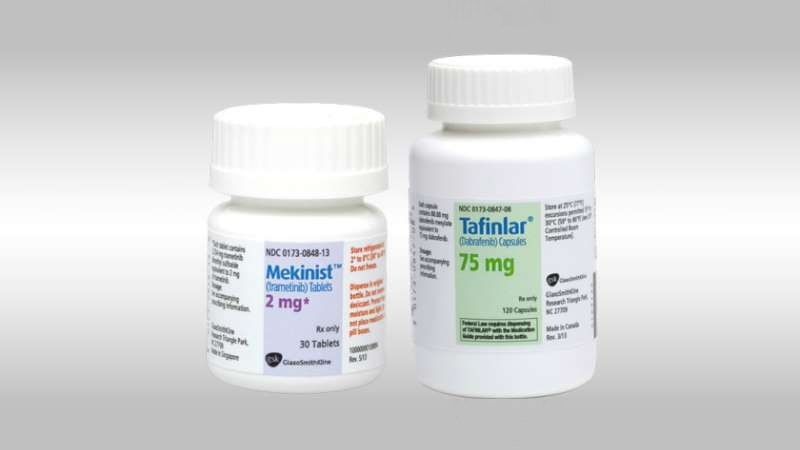 Novartis' two-drug regimen of Tafinlar and Mekinist has been approved by the FDA as the first therapy for solid tumours that have a BRAF V600E mutation – regardless of where they occur in the body.
The so-called "tumour-agnostic" indication for BRAF inhibitor Tafinlar (dabrafenib) and MEK inhibitor Mekinist (trametinib) covers patients aged six and over with tumours that have progressed after earlier treatment and have no alternative therapies available.
BRAF V600E mutations are seen in around 20 different types of cancer, said Novartis, which has previously won regulatory approvals for the combination as treatment for BRAF-mutated melanoma, non-small cell lung cancer (NSCLC) and thyroid cancers.
Use of Tafinlar/Mekinist in adjuvant (post-surgery) melanoma and NSCLC has been behind a surge in sales for the drugs, which added almost $1.7 billion to Novartis' top-line last year.
The latest approval is based mainly on the results of the ROAR and NCI-MATCH Subprotocol H, and X2101 studies, which showed that the regimen achieved overall response rates of up to 80% in patients with BRAF V600E cancers, including high- and low-grade glioma, biliary tract cancer and gynaecological and gastrointestinal tumours.
Approval for tumour-agnostic use is contingent on verification of their efficacy in a confirmatory clinical trial.
The findings reinforce the importance of genetic testing for cancers to enable the use of targeted treatment, according to ROAR's lead investigator Vivek Subbiah of MD Anderson Cancer Centre in Texas, US.
Tabrecta approved in Europe
Meanwhile, Novartis also has good news in its targeted oncology business on the other side of the Atlantic, as the European Commission has approved its Incyte-partnered MET inhibitor Tabrecta (capmatinib) for the treatment of METex14 skipping advanced NSCLC.
Tabrecta can be used to treat patients who have previously been treated with immunotherapy and/or platinum-based chemotherapy, based on the results of the GEOMETRY mono-1 trial which showed a 51% response rate in this setting.
METex14 mutations are seen in around 3% to 4% of NSCLC cases, and tend to be associated with a poor prognosis and limited response to standard therapies.
The approval keeps Novartis in contention with its main rival in this area – Merck KGaA – whose MET inhibitor Tepmetko (tepotinib) was approved by the Commission in February.