NIH digital tool aims to boost enrolment into Alzheimer's studies
News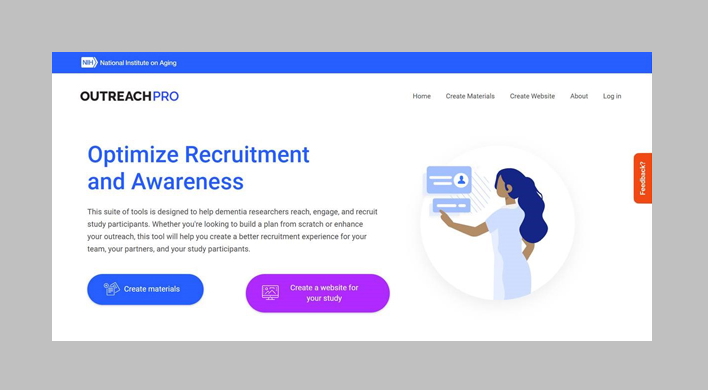 With a string of new drugs for Alzheimer's disease making their way through late-stage clinical testing, the demand for suitable subjects to enrol into trials is running at an all-time high – and threatens to outstrip supply.
Now, the National Institute on Aging (NIA) – part of the US National Institutes of Health (NIH) – has developed an online recruitment tool to reach out to potential trial candidates through a range of communication channels, including  websites, handouts, videos, and social media posts.
Outreach Pro has been designed to increase participation by traditionally underrepresented populations in clinical trials of interventions for Alzheimer's disease and other forms of dementia, including Black and Hispanic/Latino Americans, according to its developers.
"We are facing a critical and growing need for people living with Alzheimer's and related dementia, as well as those at higher risk, and healthy people, to participate in clinical trials," according to NIA director Richard Hodes.
The hope is that the recent approval of Biogen and Eisai's Aduhelm (aducanumab) as the first new therapy for Alzheimer's disease in almost two decades – while controversial – will raise awareness of the disease and the potential to participate in studies.
Biogen has acknowledged that some demographics including Black and Hispanic people were underrepresented in its trials of Aduhelm, and it has just launched a real-world study that aims to make sure at least 16% of the planned 6,000 participants will be from these groups.
https://twitter.com/BetterResearch/status/1420104600623910915
Outreach Pro has been designed to help researchers educate people about Alzheimer's and other dementias, increase awareness of the diseases and the role of clinical trials in developing new therapies, and inform patients them about specific studies that may be open for recruitment.
Initially, the materials will be available in English and Spanish, and there are plans underway to add Asian American and Pacific Islander resources and languages later this year, followed by American Indian and Alaska Native languages in 2022.
"It is critical that clinical trials have appropriate representation to ensure we have a complete understanding of how well different therapies or approaches to dementia care work in different populations," said Holly Massett, NIA's senior advisor on clinical research recruitment and engagement.
Outreach Pro was introduced to researchers and clinicians at the 2021 Alzheimer's Association International Conference (AAIC) this week, which also heard new research exploring the reasons why recruitment and retention of subjects in dementia trials is challenging.
One study conducted in a cohort of around 400 people in Wisconsin found that Black, Latino and American Indian subjects were more impacted than white participants to be impacted by the disruption to work and family life that can be associated with taking part in studies.
A second trial carried out by the NIA said that exclusion criteria commonly used in trials, including cardiovascular disease or psychological disorders, have the potential to disproportionately affect African Americans and Hispanics/Latinos.