NICE changes tack on 'game changer' rare cancer therapy Poteligeo
News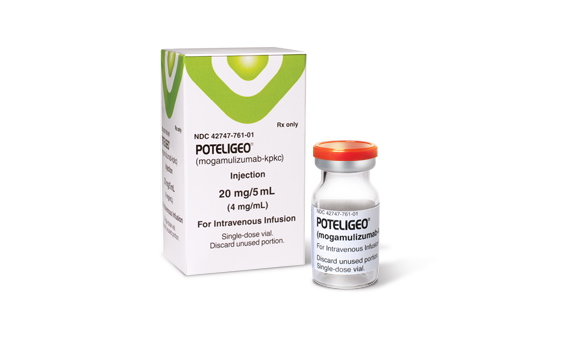 NICE has reversed an earlier decision not to recommend NHS use of Kyowa Kirin's Poteligeo for two rare blood cancers, ending the threat of a north-south divide in access to the drug in the UK.
The cost-effectiveness watchdog has now backed Poteligeo (mogamulizumab) for adults in England and Wales with mycosis fungoides (MF) and Sézary syndrome (SS) – two subtypes of cutaneous T-cell lymphoma (CTCL) – who have received at least one prior systemic therapy.
The decision comes five months after the Scottish Medicines Consortium (SMC) greenlit use of the drug, and after an appeal by the drug's manufacturer in collaboration with patient groups Lymphoma Action, Leukaemia Care and the UK Cutaneous Lymphoma Group.
Poteligeo has been approved in Europe since 2018 on the results of a phase 3 trial in which it demonstrated a median progression-free survival (PFS) of 7.7 months compared with 3.1 months for those prescribed Merck & Co/MS's HDAC inhibitor Zolinza (vorinostat).
NICE said previously that it was unable to back use of the drug by NHS England as clinical trial evidence for Poteligeo was "very uncertain" – mainly because Zolinza is neither used nor licensed in the UK.
Until now however, NHS doctors could only access it through a compassionate use scheme. Analysts at GlobalData – who describe the drug as a "game changer" in the treatment of CTCL – said they expect "rapid clinical uptake" of Poteligeo now it is fully reimbursable.
"Poteligeo is among the most well-tolerated drugs for CTCL, with minimal side effects, and the limited options available upon relapse for patients with MF and SS should place it high in the haematologists' armamentarium," said GlobalData's Sakis Paliouras.
He pointed to the drug's good safety profile, as well as its potential to generate rarely seen complete responses in some patients.
"With an incidence of around 1 person in 100,000, CTCLs are considered rare, which would normally speed up the process to market for innovative medicines," remarked Paliouras.
"While this was the case for the US and many European countries, the UK has lagged behind in its reimbursement review of Poteligeo," he added. GlobalData is anticipating peak sales of the drug will reach around $291 million globally by 2027.
Poteligeo is a humanised monoclonal antibody, which acts against the against CC chemokine receptor 4 (CCR4) that is often found in the blood cancer cells including CTCL.