NICE backs Cosentyx' use in thousands of children with psoriasis
News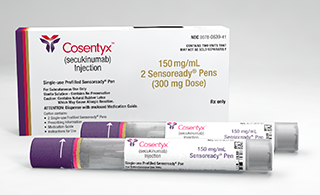 NICE has recommended broadening NHS use of Novartis' IL-17 inhibitor Cosentyx to include children aged six to 17 with severe plaque psoriasis.
The cost-effectiveness agency says in draft guidance that Cosentyx (secukinumab) should be offered as an option to patients in this age bracket who either don't respond to or cannot tolerate other systemic treatments.
NICE said that clinical evidence suggests Cosentyx is "equally or more effective" than AbbVie's Humira (adalimumab) and Amgen's Enbrel (etanercept) – both TNF inhibitors – and Janssen's IL-12 and IL-23 targeting drug Stelara (ustekinumab), which are already available on the NHS for these patients.
"Secukinumab is also a similar price to these alternative treatments and is considered a cost-effective use of NHS resources," said the health technology assessment (HTA) agency.
Novartis said that the decision means that up to 22,000 children and adolescents in England and Wales will not be able to access its drug, which is the first IL-17-targeting antibody to get a green light for psoriasis in this age group.
Crucially, after induction treatment Cosentyx can be given by subcutaneous injection every four weeks, so with training can be administered by a child's parent or carer at home, according to Novartis.
"This recommendation means we can reimagine psoriasis care by giving children and young people an effective treatment option they can have at home," said Chinmay Bhatt, managing director at Novartis Pharma UK, Ireland and Nordics.
"This will benefit patients and help ease pressure on the NHS as we build back services around the pandemic," he added.
Extension of Cosentyx use into younger patients also keeps some clear air between the antibody and new challenger Bimzelx (bimekizumab) from UCB, which has just claimed EU approval in adults and outperformed Novartis' $4 billion-a -year drug in a head-to-head trial.
Unusually, Bimzelx has already been pre-approved for NHS reimbursement by UK cost-effectiveness agency NICE, which said that it its costs are likely to be "similar or lower" than Cosentyx and other biologics used for psoriasis.