Keytruda combo set to become "standard of care" in kidney cancer
News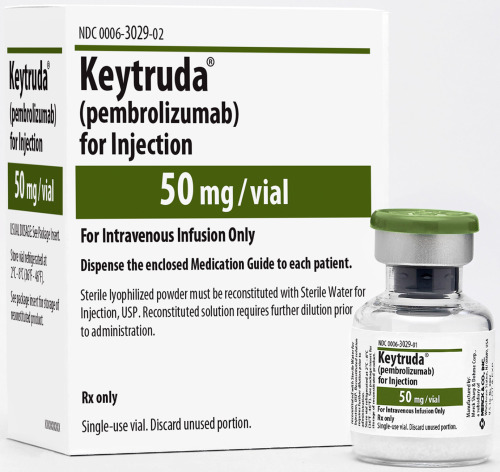 Analysts are predicting that a combination of Merck's Keytruda and Pfizer's Inlyta will become the standard of care in renal cell carcinoma (RCC) thanks to impressive trial results and a price advantage over BMS' rival drug.
The combination of anti-PD-1 therapy Keytruda with tyrosine kinase inhibitor Inlyta (axitinib) reduced risk of death in RCC by around 47%, compared with Pfizer's established cancer drug Sutent (sunitinib), in the phase 3 KEYNOTE-426 study – announced at the 2019 Genitourinary Cancers Symposium (ASCO GU) on Saturday.
The treatment also increased 12 month overall survival by 11.6% and overall response rate by 23.6%, as well as boosting progression free survival by four months compared to Sutent.
Results were consistent across all risk groups, and regardless of expression of the biomarker PD-L1.
The results will help Keytruda take a further bite out of its arch rival, Bristol-Myers Squibb's Opdivo, which is already approved in combination with the company's Yervoy (ipilimumab) for advanced renal cell carcinoma, but had demonstrated lower rates of progression-free survival.
Amrita Gujral, pharma analyst at GlobalData, noted that price could also become a factor that benefits Merck against BMS as Inlyta will lose its patent protection in 2025
"It would appear that Merck has managed to attain a competitive advantage over several other immuno-oncology drugs in the pipeline for renal cell cancer such as Merck KGaA's Bavencio, as clinicians report they are comfortable using Keytruda as it is licensed in several indications, hence they do not see it as a novel agent," added Gujral.
"With FDA approval due in 2019, it appears that Keytruda/Inlyta will and should become a new standard of care for the renal cancer patient population after posting this trial data."
The combo has already bagged priority review from the FDA.
Although Keytruda/Inlyta had a higher rate of adverse events than Sutent (62.9% vs 58.1%) it had lower discontinuation rates (6.3% vs 10.1%).
The novel treatment options involves patients attending bi-weekly for an IV infusion, allowing healthcare professionals to monitor patients more frequently than those taking Sutent who are seen on a monthly basis," explained Gujral. "Therefore, patients may have felt their adverse events were being managed more proactively and efficiently whilst participating in this trial."
Keytruda now appears to have firmly secured the advantage over Opdivo in terms of sales momentum, which began with its approval in the lucrative first-line lung cancer indication, where BMS' drug has failed to produce convincing trial results.
The drug also received priority review in head and neck cancer last week.