Keytruda combo cleared as first-line kidney cancer treatment in EU
News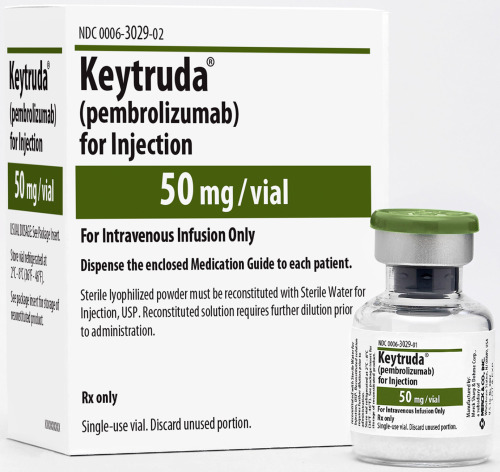 Merck & Co/MSD's Keytruda has added first-line kidney cancer treatment to its ever-lengthening list of approved uses in the EU, putting further pressure on rival Bristol-Myers Squibb.
The latest approval, which was also granted by the US FDA earlier this year, covers the use of PD-1 inhibitor Keytruda alongside Pfizer's targeted drug Inlyta (axitinib) in previously untreated patients with renal cell carcinoma (RCC) – the most common form of kidney cancer.
RCC is shaping up to be another lucrative new market for Keytruda, which is already approved for several different types of cancer and currently dominates the lung cancer market.
Keytruda has been given the nod by the European Commission in RCC on the strength of the phase 3 KEYNOTE-426 trial, which showed that the combination with Inlyta reduced the risk of death by 47% compared to Pfizer's older targeted drug Sutent (sunitinib).
The new approval opens another front in Keytruda's bid to displace the combination of BMS' PD-1 inhibitor Opdivo (nivolumab) and CTLA4 inhibitor Yervoy (ipilimumab) in first-line RCC, which was approved in the EU in January and in the US last year and is now considered a go-to regimen for first-line patients.
RCC is thought to have underpinned a lot of Opdivo's recent sales growth, along with the checkpoint inhibitor's use in adjuvant melanoma.
Both Keytruda and Opdivo will however also have to contend with combination from Merck KGaA/Pfizer's Bavencio (avelumab), which was approved for first-line RCC in combination with Inlyta in May.
And with generics of Inlyta only a few years away, BMS could face additional pressure based on cost to its combination, estimated to cost upwards of $250,000 per year in the US.
Analysts at GlobalData have suggested Keytruda plus Inlyta will become the standard of care in first-line RCC, in part because it is so widely used by oncologists across other indications and they are comfortable with prescribing it.
Louise Houson, managing director of MSD in the UK, said that the European Commission's decision "means that we are one step closer for these patients in the UK to have access to pembrolizumab in combination with axitinib."
She added: "People with advanced renal cell carcinoma have typically faced poor outcomes in the past so it is of paramount importance that we strive to secure the best treatment options. MSD is working collaboratively with the government, NHS and NICE to bring access to patients as rapidly as possible."