J&J defends Darzalex with FDA approval for faster dosing
News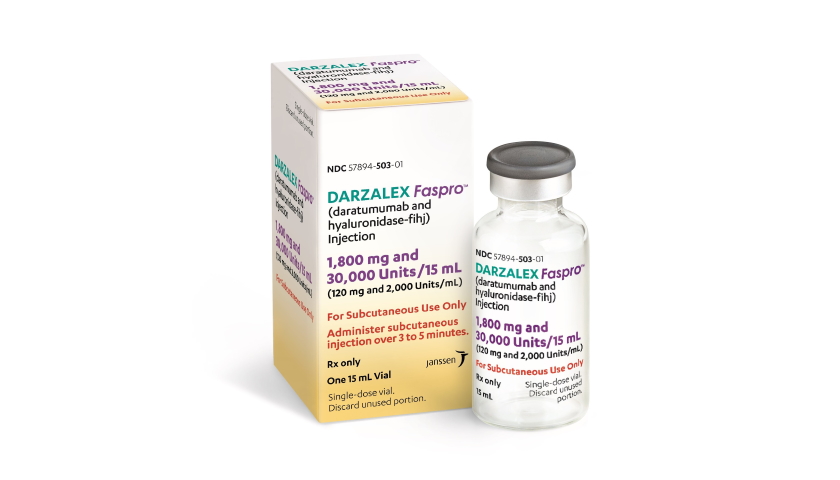 Johnson & Johnson has claimed FDA approval for new formulation of its blockbuster multiple myeloma drug Darzalex that cuts its dosing time to just a few minutes from hours and could help it fend off a challenge from Sanofi.
The US regulator cleared the subcutaneous formulation of  the drug – known as Darzalex Faspro (daratumumab/hyaluronidase) – across five indications, including newly-diagnosed, transplant ineligible and relapsed/refractory myeloma patients.
The FDA approval came shortly after it was recommended for approval in the EU by the CHMP, the human medicines committee of the EMA, setting up a possible approval in most of Europe within the next couple of months.
The two decisions are based on a phase 3 trial comparing the new version with the current intravenous formulation, which can take several hours to administer and requires a visit to a clinic.
In the study the subcutaneous injection was just as effective at achieving a response in myeloma patients, and was comparable to the infusion on the time patients lived without their disease worsening. Darzalex Faspro was also better tolerated as it avoided infusion-related side effects.
That shorter treatment time could become a particularly important advantage over the established formulation during the coronavirus pandemic, when getting access to healthcare has become more difficult under lockdown.
The original IV version of Darzalex has been a big earner for J&J ever since it was first approved in 2015 as a fourth-line myeloma therapy, growing rapidly on the back of successive approvals in earlier lines of therapy – including most recently in newly-diagnosed patients.
The product brought in almost $3 billion in sales last year, and shows no signs of slowing down, growing another 49% to reach $937 million in the first three months of 2020. J&J licensed the drug from Danish biotech Genmab in 2012 in a deal valued at $1.1 billion.
The subcutaneous formulation "will be a game changer for both patients and physicians as it reduces the time needed for those in daratumumab from several hours to just five minutes," said Genmab's chief executive Jan van de Winkel ahead of the FDA approval and CHMP positive opinion.
Last month however saw the approval of its first direct competitor – Sanofi's anti-CD38 antibody Sarclisa (isatuximab) – which was given the nod by the FDA as a third-line therapy for myeloma.
Sanofi's drug is delivered intravenously and – according to Sanofi – has simpler, two-hour dosing that improves on the current Darzalex formulation, although analysts think the availability of J&J's new subcutaneous version will likely cancel out that advantage.
That aside, Sarclisa is still tipped as having $1 billion-plus potential even though it is unlikely to displace Darzalex, according to Jefferies.
Sanofi has also said its drug could be safer for use in patients with inflammatory diseases like asthma as unlike J&J's drug it doesn't activate the complement system, and will also be useful in Darzalex treatment failures as Sarclisa targets a different location on the CD38 molecule.
Last year, J&J licensed a follow-up to Darzalex from Genmab, HexaBody-CD38, that it says could be used in Darzalex-resistant patients as well as in other cancer indications beyond myeloma, in the hope of extending its anti-CD38 franchise.