Iceland's Sidekick produces national COVID-19 patient tracker
News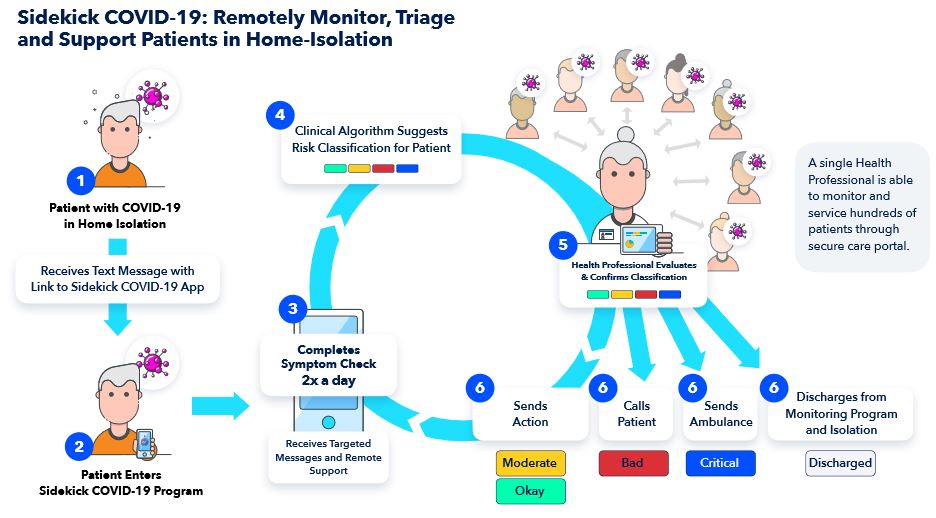 The Iceland-based digital health company Sidekick has adapted its technology to provide remote monitoring, triage and support for COVID-19 patients with the help of the Reykjavik-based computer games firm CCP.
Sidekick is providing the country's emergency management authorities with a national COVID-19 programme to help manage infected individuals in their homes.
The Sidekick COVID-19 programme is a CE-marked medical device allowing patients to self-report on a panel of symptoms and measurements on a predefined schedule several times a day if needed.
It is backed by an advisory board of nine infectious disease specialist doctors, as well as data-science and AI experts led by Gummi Hafsteinsson, the former head of product for Apple's Siri and Google's Assistant.
Sidekick said it had put the technology together in a matter of days and had borrowed resources from CCP, famous for producing the massively multiplayer online role playing space game Eve Online, to create an algorithm that classifies patients by disease severity.
It then alerts healthcare professionals from Iceland's emergency services if their condition deteriorates.
The technology gives an aggregate score used to stratify patients into four categories ranging from "okay" to "critical", using a symptom assessment scale from zero to 25.
Sidekick, which already works on gamified digital health products with companies including Bayer and Pfizer, is working on an updated version of the algorithm drawing on data from a development cohort of 450 different people.
This will be used to create an artificial neural network classifier that will be validated in 150 new patients randomly selected from the same national Icelandic cohort.
An application has been filed for an expedited ethics approval from the Icelandic National Bioethics Committee and Sidekick expect this validated model to be live next week..
Results will be submitted for publication in a peer-reviewed journal.
The remote care solution hopes to save hours of phone calls for symptom evaluation, allowing healthcare professionals to focus their efforts on the most urgent cases.
Patients also receive targeted information and support such as videos and messages from their clinical teams and prompts to hydrate and manage their medication.
Sidekick estimates that the programme, including integration into healthcare processes, programme content, and the clinical algorithm, can be adapted to different communities within one or two weeks.
Dr Ragnar Ingvarsson, chief physician of Iceland's COVID-19 Response Unit said:  "We have been carefully planning for the worst-case scenario possible, which is why all the relevant stakeholders in Iceland agreed that we should explore all possibilities to reduce the pressure on our healthcare resources and at the same time deliver quality care to patients.
"Sidekick's response has been excellent and within ten days they have delivered a very impressive remote care platform, which allows us to closely monitor patients diagnosed with COVID-19 in home isolation. This gives us that extra buffer needed in case of a sharp rise in cases in Iceland, allowing us to focus our resources on those patients who most urgently need it."