GSK's Benlysta claims first FDA okay for lupus kidney damage
News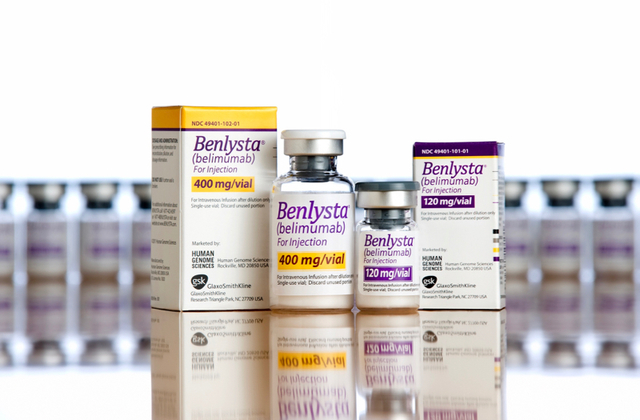 GlaxoSmithKline's Benlysta has been on the market for almost a decade, but it still has some tricks up its sleeve – it's just become the first and only FDA-approved treatment for lupus nephritis.
The US regulator has cleared both intravenous and subcutaneous formulations of Benlysta (belimumab) for the new indication, extending the use of the drug beyond its earlier label covering the treatment of active systemic lupus erythematosus (SLE) in combination with other medicines.
Originally approved in 2011 as an IV therapy for adults with SLE, a debilitating autoimmune disease, GSK got a green light for the subcutaneous formulation in 2017 and last year extended the label of the antibody to include paediatric patients aged over five.
Over that period sales have grown steadily to reach £514 million (almost $700 million) in the first nine months of 2020, boosted by its position as the only biologic approved to treat SLE. Approval in lupus nephritis is expected to push the product above the $1 billion threshold and into blockbuster sales territory.
Lupus nephritis is a severe form of SLE that can lead to late-stage renal failure and require dialysis or even a kidney replacement in the most severe cases. GSK estimates that around 60% of the 300,000-plus severe SLE patients in the US suffer from lupus nephritis each year, and a quarter of those develop end-stage renal disease.
The FDA approval comes on the back of the BLISS-LN trial results, which showed that 43% of patients on Benlysta hit the target of a significant improvement in kidney function, compared with 32% of those in the control arm.
GSK's drug also improved secondary outcome measures including time to death or a kidney-related complication.
"What is interesting is more than 80% of eligible patients remain untreated with Benlysta in the US and of course even more around the world," said GSK's head of global pharma Luke Miels on the firm's third-quarter results call.
"The number treated will increase further with the lupus nephritis indication and so there's plenty of opportunity for growth," he added.
GSK has been ramping up its manufacturing for Benlysta in anticipation of the new approval, including in-house capacity at its Rockville plant in Maryland, US, and through a contract manufacturing deal with Samsung Biologics.
GSK is also running a phase 3 combination study of Benlysta with rituximab, BLISS-BELIEVE, and the hope is that using the duo could drive the disease into clinical remission, according to Miels.
Both drugs work by targeting B cells, which are thought to be central to the disease process in SLE although the precise cause of the disease is unknown. Benlysta binds and neutralises the B cell survival factor BAFF, while rituximab targets CD20, a protein found on the surface of B cells.
The anti-CD20 mechanism could also lead to some competition for GSK in SLE and lupus nephritis. While Roche wasn't able to show efficacy for its Rituxan brand of rituximab in trials, follow-up Gazyva (obinutuzumab) did better than placebo when added to standard care in the NOBILITY trial.
Another potential lupus nephritis rival is Aurinia Pharma's voclosporin, which hit the mark last year in the phase 3 AURORA trial. AstraZeneca wasn't so fortunate with its anifrolumab candidate, which flunked a pivotal trial in SLE in 2018, but still thinks it has potential.