Regeneron: Biobank project offers hope for Alzheimer's R&D
News

Regeneron is to accelerate efforts to sequence a tranche of 500,000 genomes, including R&D to find new drugs for Alzheimer's and Parkinson's disease.
The UK Biobank's project to sequence 500,000 genomes was originally planned to be complete in 2022, in order to better understand the causes of incurable or difficult to treat diseases.
Begun more than a decade ago, the Biobank is housed in Stockport, Greater Manchester and reached its target of collecting 500,000 samples of genetic data from volunteer NHS patients in 2010.
Regeneron and GSK have been funding the sequencing of the first 50,000 samples, and this target was reached last year.
Regeneron is exceptional among biopharma companies in having its own genetics division, The Regeneron Genetics Center (RGC).  This has allowed the company to undertake the Biobank sequencing work itself, and claims its genetics databases are among the most comprehensive in the world, pairing the sequenced exomes and de-identified electronic health records of more than 180,000 people so far.
Now the formation of a consortium involving several other companies means sequencing of the exome - the protein coding sections of the DNA - will be completed in all 500,000 Biobank participants by the end of 2019.
The consortium has been created with AbbVie, Alnylam, AstraZeneca, Biogen and Pfizer all joining the project.
These have formed a "pre-competitive" consortium to fund generation of genetic data from the 500,000 volunteers. These individuals have also provided anonymised information about their general health that can be linked with insights from their DNA in a way that does not identify them.
The newly announced collaborators will each commit $10 million to enable a dramatic acceleration of sequencing timelines, and additional companies are considering joining the consortium.
[caption id="attachment_36151" align="alignnone" width="180"]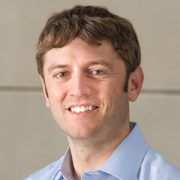 Aris Baras[/caption]
In an interview with pharmaphorum, Aris Baras, head of Regeneron Genetics Center, said the company has been able to accelerate the sequencing process by automating nearly every step of the process.
"This is going to revolutionise drug discovery and development," says Baras.
Automation
Tasks such as filling flasks with reagents are now conducted by robots, and combined with the increased computing power available on offer, this has vastly increased the speed of a process that took a decade when it was first attempted at the end of the last century.
The main benefit for pharma R&D will be identifying new biological targets for drugs. There are currently around 1,000 molecular targets, each corresponding to a different gene, that have been exploited so far.
But with around 20,000 active genes in the human genome, it's clear that we are still merely scratching the surface and that there are many more targets that could be exploited to treat a range of diseases.
Among newly-identified drug candidates the failure rate is about 90% and the hope is that the project could give insight into which will work, and will not, far earlier in the process.
Particularly useful are patients who lack certain genes – these so called 'knock out" mutations could give clues about the action of a certain gene in the body, suggesting how it could be targeted to fight diseases, either by turning off the enzyme it codes for, or amplifying its action.
Once the pre-competitive research phase is complete, pharma companies can swoop and fund R&D into drug candidates that are identified.
Consortium members will have a limited period of exclusive access to the sequencing data, before the data will be made available to other health researchers by UK Biobank. The consortium members have also committed to make all significant research findings public.
This approach could lead to treatments for diseases such as non-alcoholic steatohepatitis (NASH), the 'fatty liver disease' currently targeted by many pharma companies.
Alzheimer's disease
There are also hopes the project could help unravel the mysteries surrounding neurological diseases such as Alzheimer's and Parkinson's disease.
Unlike in cancer, the biological causes of these neurological conditions are still unclear, making finding drugs to treat them very difficult.
There have been a string of failures in Alzheimer's, and a single new Parkinson's drug in the last decade – but Baras hopes this will change thanks to the data gathered from the biobank.
Baras said: "I hope we can talk about what we are doing (in neurology)."
"For many reasons a lot of those diseases have not had the opportunity to have large scale gene sequencing. There is a lot of hope there – the Parkinson's community has done a lot of the fundamental work, there are large cohorts and some of the first round of analysis."
While Baras said that large-scale work has not yet begun into neurological diseases, Regeneron is "interested" in this research, and Baras hopes to provide more detail at a later date.